All-Time Single-Season Team: San Diego Padres
It's time for the Padres all-time single-season team. Think we might see Trevor Hoffman or Tony Gwynn, perhaps?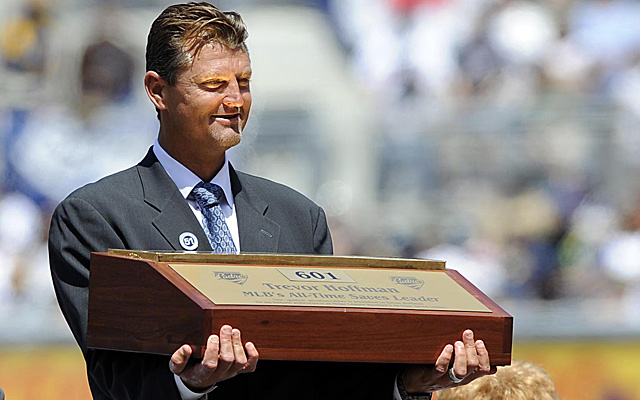 All-Time Single-Season Teams: CHC | STL | MIL | CIN | PIT | CHW | DET | KCR | CLE | MIN | ARI | COL
On the heels of two NL West franchises we could consider fledglings, historically and relatively speaking, we work our way gradually through the division by way of experience. This time around in our all-time single-season series, it's the San Diego Padres, who have existed since 1969.
As a reminder, this is a single-season series so we're going after the best single-season per position in the history of the franchise and not necessarily the best player in franchise history. We've also installed a rule that each player can only be used once, so if a stud player hopped around the diamond, we'll have to pick just one of his seasons.
And now, onto the Fathers.
CATCHER - Gene Tenace, 1979
WHAMMY!
What's the easiest way to find underrated players from the past? Find a player with a relatively low batting average who walked a lot. It's part of the reason it took so long for Ron Santo to get into the Hall of Fame and it applies to players like Bobby Grich and Tenace.
In his career, Tenace hit just .241 but he had an excellent -- for a catcher -- .388 on-base percentage. Some of the spreads between average and OBP are mind-boggling. In 1974, he hit .211 with a .367 OBP. In 1977 it was .233 and .415!
The point is, just looking at the .241 average says Tenace wasn't a good hitter, but not making outs (OBP) and hitting for power (slugging percentage) are more important. And Tenace sported a 136 career OPS+. He was a very good hitter.
In '79, Tenace hit .263/.403/.445 (139 OPS+) with 16 doubles, four triples, 20 homers, 67 RBI, 61 runs and 105 walks. He also threw out 48 percent of opposing would-be basestealers, far better than the league average of 34 percent.
Terry Kennedy's 1982 season or Benito Santiago's 1987 campaign will be the preferred choices of batting average enthusiasts, even though both made outs far more often (Kennedy's OBP was .328 while Santiago's was .324). Just remember when arguing the case against Tenace that on-base percentage isn't sabermetrics. It's very basic.
FIRST BASE - Adrian Gonzalez, 2009
Remember when he was a big-time power hitter? Despite playing in a cavernous Petco Park for his home games, Gonzalez hit 40 homers in '09, going along nicely with his .277/.407/.551 (162 OPS+) line. He also won a Gold Glove that season and led the majors with 119 walks.
While this wasn't quite as crowded as other first base groups we've seen thus far in the series, the Padres did have several very good choices. Fred McGriff (namely 1992), Wally Joyner (1997), Ryan Klesko (2002), Nate Colbert (1972), John Kruk (1987) and Phil Nevin (2004) all had at least one season worthy of consideration.
SECOND BASE - Mark Loretta, 2004
It sounds insane to take Loretta over Hall of Famer Roberto Alomar on the surface, but here's Loretta in '04 compared to Alomar's best season with the Padres, 1989.
Loretta: .335/.391/.495, 138 OPS+, 208 H, 47 2B, 2 3B, 16 HR, 76 RBI, 108 R, 5 SB
Alomar: .295/.347/.376, 107 OPS+, 184 H, 27 2B, 1 3B, 7 HR, 56 RBI, 82 R, 42 SB
Loretta also led the majors with 16 sac flies and finished ninth in MVP voting. It only happened a decade ago, but it seems to have been easy to forget. It was a decidedly remarkable season.
Bip Roberts, Quilvio Veras and Jedd Gyorko (from this past season, obviously) all got a quick look.
SHORTSTOP - Garry Templeton, 1985
WAR shows Ozzie Smith's 1980 season as the tops here due to his off-the-charts defense, but I just can't do it with that dreadful hitting -- .230/.313/.276 (71 OPS+).
Templeton played good defense -- albeit not the stellar glove-work provided by Senor Backflip -- while hitting .282/.332/.377 (99 OPS+) with 30 doubles, six homers, 55 RBI, 63 runs and 16 stolen bases.
I can definitely see an argument for Smith, as he did steal 57 bases and shortstop is a defense-oriented position, given that this isn't that loaded a position. This is all subjective, after all. The other candidates were Khalil Greene (2004, 2007), Tony Fernandez (1991, 1992) and the immortal Enzo Hernandez (cough, Bootbuster, COUGH!).
THIRD BASE - Ken Caminiti, 1996
The NL MVP that season, Caminiti hit .326/.408/.621 (174 OPS+) with 37 doubles, 40 homers, 130 RBI, 109 runs and 11 steals. He also led the NL in sac flies, won a Gold Glove and hit three homers in three games in the NLDS. It was truly one of the best single seasons in Padres history and a good memory of Caminiti as a great player.
While the decision here was clear, it was far from the only choice. Chase Headley was excellent in 2012, just as Gary Sheffield was in 1992 and Phil Nevin was in 2001.
LEFT FIELD - Greg Vaughn, 1998
Time for the lumber. In '98, Vaughn hit a franchise-record 50 homers (the second-best total is just 41) to go with 119 RBI and a line of .272/.363/.597 (156 OPS+). It was good for a fourth-place finish in MVP voting -- and remember, that was the year of the Sammy Sosa-Mark McGwire home run chase.
This wasn't particularly close, though Kevin McReynolds and Reggie Sanders merit mention.
CENTER FIELD - Cito Gaston, 1970
There were lots of worthy choices here, such as Steve Finley in 1996, George Hendrick in 1977, Mike Cameron in 2006, Mark Kotsay in 2002 and Kevin McReynolds in 1984. We're going with Gaston's only great season, though.
For a terrible Padres team that season, Gaston hit .318/.364/.543 (146 OPS+) with 26 doubles, nine triples, 29 homers, 93 RBI and 92 runs. That season marked the only All-Star trip for the future two-time World Series champion manager.
RIGHT FIELD - Tony Gwynn, 1987
We knew it was going to be a Hall of Famer here, that's for sure. Dave Winfield's 1979 season and Gwynn's 1987 season are arguably the two best in the history of the franchise, regardless of position, so someone had to get the short end of the stick.
The lines:
Winfield: .308/.395/.558, 166 OPS+, 27 2B, 10 3B, 34 HR, 118 RBI, 97 R, 15 SB
Gwynn: .370/.447/.511, 158 OPS+, 36 2B, 13 3B, 7 HR, 54 RBI, 119 R, 56 SB
We can see some different skill sets in there and, for what it's worth, both won Gold Gloves. Fangraphs version of WAR has Winfield by a narrow margin while baseball-reference.com's WAR has Gwynn, barely.
Obviously, an argument could be made for either, but here's my ultimate rationale: I just can't imagine any sort of "all-time" Padres team without Gwynn. He has to be included here. Like it or not, that's my personal tiebreaker.
Brian Giles had several good seasons while Sixto Lezcano's 1982 season deserves mention as well -- if for no other reason than his Hall of Fame worthy name -- but this was only a decision between about 10 Gwynn years and several Winfield seasons.
STARTING PITCHERS - 1998 Kevin Brown, 2007 Jake Peavy, 1975 Randy Jones, 1971 Dave Roberts, 1978 Gaylord Perry
The lines:
Brown: 18-7, 2.38 ERA, 164 ERA+, 1.07 WHIP, 257 K, 257 IP, 7 CG, 3 SHO
Peavy: 19-6, 2.54 ERA, 158 ERA+, 1.06 WHIP, 240 K, 223 1/3 IP
Jones: 20-12, 2.24 ERA, 156 ERA+, 1.05 WHIP, 103 K, 285 IP, 18 CG, 6 SHO
Roberts: 14-17, 2.10 ERA, 157 ERA+, 1.11 WHIP, 135 K, 269 2/3 IP, 14 CG, 2 SHO
Perry: 21-6, 2.73 ERA, 121 ERA+, 1.18 WHIP, 154 K, 260 2/3 IP, 5 CG, 2 SHO
Brown's only season in San Diego included a great first two rounds of the playoffs to help advance the club to the World Series.
Peavy's Cy Young winning season gets the nod over an outstanding 2004 season due to workload (he missed about seven starts in '04 due to injury).
Jones actually won the Cy Young the following season and had to settle for second place in the '75 season. He was better in '75, but in voting that year he had to deal with a stellar Tom Seaver effort.
Roberts' 1971 season is a great example of how misleading pitcher record can be due to having terrible teammates. The Padres went 61-100 that season. That Roberts was able to get close to .500 is a testament to how great he was.
Some of the other names that surfaced in our search: Ed Whitson, Bruce Hurst, Andy Benes, Mat Latos and Clay Kirby.
RELIEF PITCHERS - 1998 Trevor Hoffman, 1985 Goose Gossage, 1989 Mark Davis
This was a loaded group. Many teams would have seen the inclusion of 2010 Heath Bell, 1984 Craig Lefferts, 1978 Rollie Fingers, 2010 Mike Adams, 2005 Scott Linebrink, 2012 Luke Gregerson or a litany of others. For it being a relatively new franchise, the crop of stud relievers is beyond impressive.
Future Hall of Famer Hoffman put together his best season in '98, when he saved 53 games and only blew one. He boasted an ERA of 1.48 (265 ERA+), a WHIP of 0.85 and struck out 86 hitters in 73 innings. In a franchise loaded with stellar relief seasons from individuals, Hoffman's 1998 effort stands out as the clear-cut best. Obviously most of Hoffman's career was under consideration here as well.
Gossage had one of his better seasons in 1985, following a very impressive 1984 season. In '85, he saved 26 games in 32 chances with a 1.82 ERA (195 ERA+), 1.03 WHIP and 52 strikeouts in 79 innings. In facing 308 hitters, Gossage allowed only nine extra base hits, including just one home run, good for a slugging percentage of .272.
Davis took home the NL Cy Young in 1989 for his work. He closed down 44 saves in 48 chances with a 1.85 ERA (191 ERA+), 1.05 WHIP and 92 strikeouts in 92 2/3 innings. Take note of those innings pitched. As we know, the closer of today's game has evolved over time to become basically just a one-inning role. In 1989, 22 of Davis' saves required at least four outs. Ten were at least two innings and six came in outings longer than two innings.
---
THE LINEUP
1. 1987 Tony Gwynn, RF
2. 2004 Mark Loretta, 2B
3. 1996 Ken Caminiti, 3B
4. 1998 Greg Vaughn, LF
5. 2009 Adrian Gonzalez, 1B
6. 1970 Cito Gaston, CF
7. 1979 Gene Tenace, C
8. 1985 Garry Templeton, SS
Not bad at all, considering we could only go back to 1969 -- especially with that good rotation and stacked bullpen.
Up next: The Brooklyn/Los Angeles Dodgers
The 26-year-old lefty had a 1.63 ERA before the game

Our advanced computer model simulated Sunday's Nationals vs. Dodgers game 10,000 times

SportsLine's Mike McClure, a DFS pro with more than $1M in winnings, gives optimal lineup...
"The situation the game was in, they might have been searching for something and they found...

Plus the Phillies won again. Here's everything you need to know from the world of baseball...

He thought Marcus Semien's dropped pop-up was ruled a hit a few innings earlier