All-Time Single-Season Team: San Francisco/New York Giants
It's time to declare the greatest single-season performances at each position in Giants franchise history.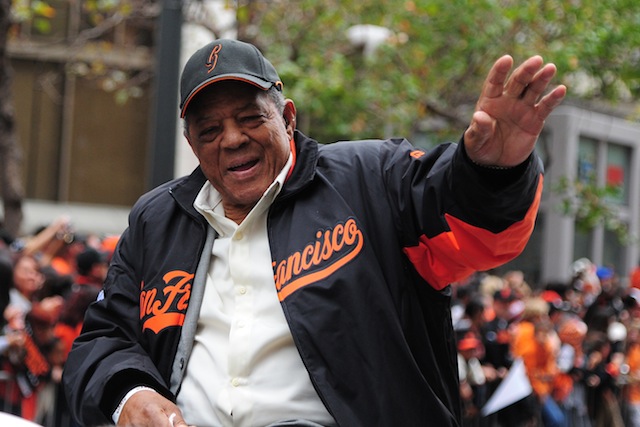 ALL-TIME SINGLE-SEASON TEAMS: 
CHC | STL | MIL | CIN | PIT | CHW | DET | KCR | CLE |MIN | ARI | COL | SD | LAD
Let the people rejoice: For it is time for another entry into out All-Time Single-Season Teams series! What's this, you ask? Regard:
Obviously, the term "single-season" implies that we're focused on brilliance within the confines of one campaign and not, say, career value or even value across a handful of seasons in the same uniform. While this is no doubt a largely subjective undertaking, please bear that in mind before airing objections. Or not. Whatever.

Also, we're largely limiting the selections to those of modern era (i.e., from 1900 onward) in large part because the "primordial soup" days of the sport bear only the most basic resemblances to the game played today. That's more a general principle than hard-and-fast rule, though. As well, a player can appear only once on the team in question. So even those who excelled at multiple positions over the years will be assigned one spot and one spot only.
Today's team is ... the Giants. The Giants have been playing this, our baseball since way back yonder in 1883 (back when they were called the New York Gothams) and have enjoyed quite a bit of success along the way, so we have lots from which to choose.
Let's light this candle ...
CATCHER - Buster Posey, 2012
Yes, Posey's NL MVP outputs in 2012 take top honors behind the plate. That year, Posey batted .336/.408/.549 with 24 homers, 39 doubles and a majors-leading OPS+ of 171. As well, he spent almost 1,000 defensive innings at catcher while putting up those numbers. 
Other contenders include a handful of Roger Breshnahan seasons, some 19th-century campaigns from Buck Ewing, Dick Dietz in 1970 and Walker Cooper's tremendous efforts in 1947. 
FIRST BASE - Willie McCovey, 1969
You knew this honor was going to Stretch, right? In '69, the Hall of Famer was at his best, as he authored some absurdly good numbers: .320/.453/.656 (209 OPS+), 45 homers, 126 RBI and an MLB-leading 45 intentional walks. That season, McCovey led all of MLB in AVG, OBP, SLG, OPS and OPS+. When it came time to crown the NL MVP, McCovey prevailed in a tight race over Tom Seaver of the Mets. Maybe it's the justfiably long shadow cast by Willie Mays, but McCovey may actually be a bit underrated. 
Other McCovey seasons of course merit mention (seriously, check out his mid- to late-60s peak), as do 19th-century star Roger Connor and Will Clark in 1989. Other notables include Bill Terry in '30 and Johnny Mize in '47. 
SECOND BASE - Rogers Hornsby, 1927
For those counting, this is this the third all-time single-season team of which Hornsby has been a part (he's also in the lineup for the Cubs and Cardinals). In December of 1926, the Cardinals, in a true blockbuster, sent Rajah to the Giants in exchange for Frankie Frisch (more on him in a moment) and veteran right-hander Jimmy Ring after Hornsby and Cards owner Sam Breadon were unable to come to terms on a multi-year contract. As it turned out, Hornsby would spend only one season in a Giants uni, but it was a certifiably great one: .361/.448/.586 (175 OPS+) with 26 homers, 125 RBI and 133 runs scored in 155 games played. 
Other mentionables include Jeff Kent's MVP season of 2000 and Kent again in 2002, Eddie Stanky in 1950, a handful of Frisch seasons, Robby Thompson in '93 and Larry Doyle back in 1911. 
SHORTSTOP - Rich Aurilia, 2001
Hall of Famer Travis Jackson gets due consideration for this spot, as does Dave Bancroft. But Aurilia's standout 2001 season tops all. That year Aurilia batted .324/.369/.572 (146 OPS+) and led the NL with 206 hits. Most impressive, though, is that Aurilia tallied 38 homers on the year, which stands as the most homers in a season by a primary NL shortstop not named Ernie Banks. 
THIRD BASE - Frankie Frisch, 1921
Frisch is primarily known as a Hall of Fame second baseman, but he was a regular third-sacker in three different seasons. In 1921, the 23-year-old Frisch batted .341/.384/.485 (134 OPS+) for John McGraw's New York Giants with 17 triples, 300 total bases and a majors-leading 49 stolen bases. All of that, of course, is in addition to Frisch's stellar fielding. 
Speaking of stellar fielding, here's what legendary baseball scribe Bob Broeg wrote of Frisch's defensive contributions during the championship season of 1921 (source: SABR): 
"Frisch was tremendous, a whirling dervish of the diamond, knocking down hot smashes with his chest, diving for others that seemed out of reach, ranging far and wide for pop flies ..."
Aside: Frisch in 1914 reached the highest rung of the minor leagues ... as a 16-year-old. 
All that said, this wasn't an easy call. Hall of Famer Freddie Lindstrom was a serious contender with his 1930 efforts, and Bobby Thomson -- author of the iconic "Shot Heard 'Round the World" -- gets a nod for his 1951 season. Mel Ott may have had the best season by a third baseman in Giants history (1938), but I'm holding him back for his primary position of right field. Matt Williams clouted 43 homers in just 112 games in strike-shorted '94, and Jim Ray Hart's work in '66 and '67 is also worthy. There's also Pablo Sandoval in 2009 and Art Devlin in 1906. In other words, third base is a crowded fray for the Giants.  
LEFT FIELD - Barry Bonds, 2001
Clutch those pearls and safely position yourself over the fainting couch: For Bonds is the easy choice.
I'm aware of the credible allegations against him and the sweeping distaste for him, but the only serious question is which Bonds season to choose. I'm going with his utterly coconuts 2001 season: .328/.515/.863 (259 OPS+), 73 homers, 177 walks, 13 stolen bases, 153 games played. Really, I could choose any of Bonds's seasons from 2001-04. Part of me would like to crown his 2004, when he posted a patently risible .609 OBP. I'll go with the 73 spanks, though.
Again, your vociferous objections to Bonds's inclusion are noted, if ultimately ignored. 
Others considered but not really considered include Kevin Mitchell in '89 and Monte Irvin in '51. 
CENTER FIELD - Willie Mays, 1965
Obviously, the only debate here was which of Mays's many great seasons to choose. I've opted for his MVP campaign of 1965, when, at the age of 34, the Say Hey Kid batted .317/.398/.645 with a majors-leading and career-best 52 homers (McCovey was second in MLB that year with 39). Mays that year also drove in 112 runs, racked up 360 total bases and walked more times than he struck out. In the NL MVP balloting, he topped Sandy Koufax of the Dodgers. 
Other contenders include, well, pretty much every Willie Mays season from 1954 through 1966 -- a 13-season span (!) in which he can be described as "ruthlessly durable, mercilessly excellent." 
Obvious but necessary: Man, what a ballplayer he was.
RIGHT FIELD - Mel Ott, 1936
Serviceable outfield, eh? In '36, Ott, who cracked the big leagues in 1926 at the age of 17, hit .328/.448/.588 (177 OPS+) with 33 homers, 135 RBI, 120 runs scored and just 41 strikeouts against 111 walks. Ott's SLG, OPS and OPS+ figures paced the senior circuit that year. 
In addition to a number of other Ott seasons, Bobby Bonds in '73 also deserves to be name-checked.
STARTING PITCHERS - 1905 Christy Mathewson, 1933 Carl Hubbell, 1966 Juan Marichal, 1904 Joe McGinnity, 2009 Tim Lincecum
The numbers ... 
Mathewson: 31-9, 1.28 ERA, 230 ERA+, 0.93 WHIP, 338 2/3 IP, 206 K, 32 CG, 8 SHO
Hubbell: 23-12, 1.66 ERA, 193 ERA+, 0.98 WHIP, 308 2/3 IP, 156 K, 22 CG, 10 SHO
Marichal: 25-6, 2.23 ERA, 167 ERA+, 0.86 WHIP, 307 1/3 IP, 222 K, 25 CG, 4 SHO
McGinnity: 35-8, 1.61 ERA, 168 ERA+, 0.96 WHIP, 408 IP, 144 K, 38 CG, 9 SHO
Lincecum: 15-7, 2.48 ERA, 171 ERA+, 1.05 WHIP, 225 1/3 IP, 261 K, 4 CG, 2 SHO 
How strong is this rotation? Lincecum, the active two-time Cy Young winner, is the only member of this starting five who's not in the Hall of Fame.
How tough is this rotation? Marichal tossed 307 1/3 frames in his season of interest, and he ranks fourth among these five starters in innings. 
We lead, of course, with the luminous Mathewson, who, on a run-prevention basis, enjoyed his best season in 1905. The Meal Ticket is next with his MVP season of 1933. Marichal in '66 issued just 33 unintentional walks all season, his K/BB ratio of 6.17 was the highest in the majors since ... Mathewson in 1908. Yes, it was the deadball era, but still: "Iron Man" McGinnity yielded just eight homers in those 408 innings. As for Lincecum, we're going with his second Cy campaign. 
Others? Obviously, a host of other Mathewson, Hubbell and Marichal seasons were considered, as were Jason Schmidt in 2003, Johnny Antonelli in 1954 and Jeff Tesreau in 1912. 
RELIEF PITCHERS - 1982 Greg Minton, 1998 Robb Nen and 2009 Jeremy Affeldt
Minton gets "pack mule" honors with his 1.83 ERA (196 ERA+) over 123 relief innings in '82. Nen will be the closer on the strength of his 1998 season: 88 2/3 IP, 1.52 ERA, 266 ERA+, 110 K, 20 unintentional walks, 4 HR allowed, 40 saves in 45 chances. 2009 Affeldt (62 1/3 IP, 1.73 ERA, .583 OPS allowed) gets lefty-specialist detail. 
Others of note include Frank Williams in 1986, Steve Reed in 1998, Gene Thompson in '46, Frank Linzy in '65, Jeff Brantley in 1990 and Brian Wilson in 2010.   
---
THE LINEUP
1. Frankie Frisch, 1921
2. Barry Bonds, 2001
3. Willie Mays, 1965
4. Willie McCovey, 1969
5. Rogers Hornsby, 1927
6. Mel Ott, 1936
7. Buster Posey, 2012
8. Rich Aurilia, 2001
Without question, this is one of the strongest teams to date.
Coming Monday, the Seattle Mariners 
CBS Sports HQ Daily Newsletter
Get the best highlights and stories - yeah, just the good stuff handpicked by our team to start your day.
Please check the opt-in box to acknowledge that you would like to subscribe.
Thanks for signing up!
Keep an eye on your inbox for the latest sports news.
Sorry!
There was an error processing your subscription.
Keep up with all the latest trade rumors around Major League Baseball

Hand has turned into one of the best left-handed relievers in baseball

Trout, the Angels, and Manfred have all taken turns throwing in their two cents
Our advanced computer model simulated Thursday's Cardinals-Cubs game 10,000 times

SportsLine's Mike McClure, a DFS pro with nearly $2M in winnings, gives optimal lineup adv...

Arenado is set to become a free agent after the 2019 season