All-Time Single-Season Team: St. Louis Cardinals
Of offseason series continues Monday with a look at the best single-season performances by those who wore the birds on the bat.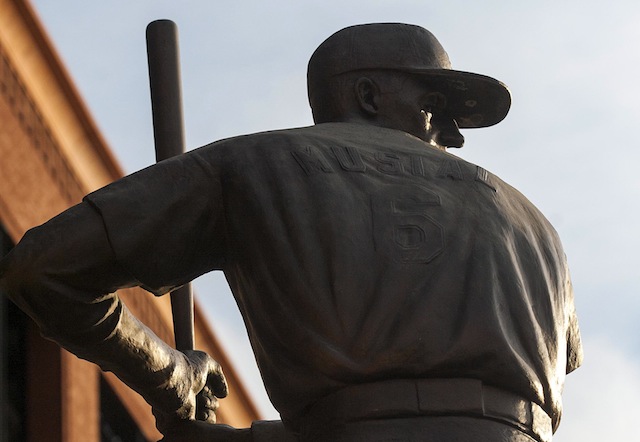 More All-time Single-Season Teams: CHC
In order to pass the time between now and that holy day of obligation when the first pitchers and catchers report to spring training, we're in the early stages of naming the "All-Time Single-Season Team" for all 30 clubs. 
Obviously, the term "single-season" implies that we're focused on brilliance within the confines of one campaign and not, say, career value or even value across a handful of seasons in the same uniform. While this is no doubt a largely subjective undertaking, please bear that in mind before airing objections. Or not. Whatever.  
Also, we're largely limiting the selections to those of modern era (i.e., from 1900 onward) in large part because the "primordial soup" days of the sport bear only the most basic resemblances to the game played today. That's more a general principle than hard-and-fast rule, though. 
And now on to the Cardinals' All-Time Single-Season Team ...
CATCHER - Yadier Molina, 2012
I'm comfortable calling Molina, given his body of work, one of the very best defensive catchers of all-time. In 2012, the bat was exceptional, as well, as he hit .315/.373/.501 (137 OPS+) with 22 homers in 563 plate appearances. That season, Molina also snuffed out 48 percent of would-be base-stealers, and that's versus a league average of 27 percent. All of that is in addition to his top-level chops as a game-caller, pitch-blocker and pitch-framer. In other words, Molina's 2012 was certifiably Johnny Bench-ian when it comes to the full complement of catching and hitting skills. 
Also under consideration were Joe Torre in 1970, Tim McCarver in 1967, Darrell Porter in 1983 and a whole slew of seasons by the criminally underrated Ted Simmons. 
FIRST BASE - Albert Pujols, 2009
This was a tough call. The luminous Stan Musial, provided you break down his outfield appearances into specific positions, played a plurality of his games at first base, so obviously he's a candidate. Mark McGwire in 1998 clouted a then-record 70 home runs, so obviously he's a candidate. There's Johnny Mize, Orlando Cepeda (NL MVP in '67) and Keith Hernandez (co-NL MVP in '79), too.   
But we're going with Pujols. In 2009, he batted .327/.443/.658 with a majors-leading OPS+ of 189. As well, he tallied 93 extra-base hits and 115 walks. This was also when Pujols was still a top-level defender and plus base-runner (16 steals in 20 attempts). It's his skills in the field and on the bases that give him the edge over McGwire. Pujols also logged 160 games that season.   
SECOND BASE - Rogers Hornsby, 1924
With all due acknowledgement to Frankie Frisch, Red Schoendienst and 2013 Matt Carpenter, the Rajah takes this one going away. In '24, Hornsby authored a patently ridiculous line of .424/.507/.696 with an OPS+ of 222. That OPS+ of 222, it so happens, ranks 15th on the all-time single-season list, 12th if you exclude 19th-century players. Sure, Hornsby wasn't much with the glove and was famously a bit of a misanthrope, but as a counter-counterpoint I'd refer you back to those unthinkable numbers. No one's competing with that. 
SHORTSTOP - Ozzie Smith, 1987
Smith wasn't "merely" the best defensive shortstop of all-time; he was perhaps the most valuable fielder at any position of all-time. In '87, he also completed his evolution from a complete sinkhole in the lineup into a useful hitter. That season, Smith batted .303/.392/.383 with 43 stolen bases. For his efforts at the plate in tandem with his peerless glove-work, he finished second in the NL MVP balloting and won the both the Gold Glove and the Silver Slugger. When you're an elite defensive shortstop who's getting on base almost 40 percent of the time, you're making the all-time team. 
Others meriting mention include Hornsby (he was a primary shortstop from 1916-18), Marty Marion (NL MVP in '44), Dick Groat in '63 and Edgar Renteria in 2003. 
THIRD BASE - Joe Torre, 1971
On a career basis, Ken Boyer is the franchise third baseman, and he has multiple seasons worthy of this spot ('59, '60, '61 and '64 in particular). Scott Rolen was a beast at the plate in 2004 and also was an elite defender; however, he gets docked just a bit for missing 20 games that year. Pujols in his rookie campaign of 2001 is also in the fray. With all that said, I'm giving the laurel wreath to Torre. 
In '71, Torre authored a robust slash line of .363/.421/.555 (171 OPS+) with a majors-leading 352 total bases in 161 games, and he did so despite the distractions of being a primary third baseman for the first time in his career. For his efforts, Torre was granted the NL MVP award. 
LEFT FIELD - Joe Medwick, 1937
Relax: Musial is forthcoming. In 1937, "Ducky" punished oppposing twirlers to the dance-able tune of .374/.414/.641 (MLB-leading 182 OPS+) with 31 homers, 56 doubles and 154 RBI. The informed observer will note that the preceding numbers can be characterized as "cracking good." Medwick narrowly edged out Gabby Harnett of the Cubs for the NL MVP. 
Others? There's Musial (relax: he's forthcoming), Pujols, Matt Holliday, Jesse Burkett way back yonder in 1901, Lou Brock and Chick Hafey. 
CENTER FIELD - Jim Edmonds, 2004
Jimmy Baseball! Besides manning a nifty center, Edmonds in '04 crushed the cowhide orb: .301/.418/.643 (171 OPS+) with 42 homers and 38 two-baggers in 153 games. Also impressive is that Edmonds grounded into just four double plays all season. Needless to say, he won the Gold Glove and Silver Slugger that year. Other worthies include Curt Flood, Terry Moore, Edmonds again in '03, a couple of Ray Lankford years and Willie McGee's MVP campaign of 1985. It's not unusual to see teams have trouble finding certainty at center and third base, but over the years the Cardinals at those two positions have enjoyed something of an embarrassment of riches. 
RIGHT FIELD - Stan Musial, 1948
Please genuflect. Musial, as mentioned, spent more time over his career at first and left than in right, but in '48 he was a primary right-fielder, and there's no way I'm leaving his '48 bestowals off this list. Regard: The NL MVP that year thumped .376/.450/.702 (200 OPS+) with 39 homers, 46 doubles, 18 triples (!) and 429 total bases (!!). Within those numbers, much beauty is housed.
Oh, and he struck out 34 times all year. Oh, and he took the extra base 57 percent of the time. We could go on. We could go on because it's Stan Musial, and one can talk about Stan Musial until the seas dry up and the mountains are reduced to embers. 
Others considered but not seriously considered because it's Stan Musial ahead of them: A number of Enos Slaughter seasons, Ryan Ludwick in 2008, Reggie Smith in 1974, Lance Berkman in 2011. 
STARTING PITCHERS - 1968 Bob Gibson, 1985 John Tudor, 1934 Dizzy Dean, 1948 Harry Breechen, 1942 Mort Cooper
The relevant numbers for the rotation ... 
Gibson: 22-9, 1.12 ERA, 258 ERA+, 0.85 WHIP, 268 K, 304 2/3 IP, 28 CG, 13 SHO
Tudor: 21-8, 1.93 ERA, 185 ERA+, 0.94 WHIP, 169 K, 275 IP, 14 CG, 10 SHO
Dean: 30-7, 2.66 ERA, 159 ERA+, 1.17 WHIP, 195 K, 311 2/3 IP, 24 CG, 7 SHO
Cooper:  22-7, 1.78 ERA, 192 ERA+, 0.99 WHIP, 152 K, 278 2/3 IP, 22 CG, 10 SHO
Breechen: 20-7, 2.24 ERA, 182 ERA+, 1.03 WHIP, 149 K, 233 1/3 IP, 21 CG, 7 SHO 
Obviously, Gibson's '68, which is on the short-short-list of best pitcher seasons of all-time, is present with authority. (Aside: Nothing puts the lie to the idea that pitcher win-loss records are in any way useful quite like the fact that Gibson managed to suffer nine defeats that year.)
Tudor's superlative and somewhat out-of-the-blue 1985 is deservingly represented, as is Dean's legendary 30-win campaign. Cooper and Brecheen round out our five-man corps. We of course could have chosen other Gibson seasons to join his '68 iteration, but we're trying to keep it to one season per player.
Adam Wainwright has a case to join their ranks, as does Chris Carpenter in 2005, Joaquin Andujar in '82, Howie Pollet in '46, Jesse Haines in '27, Cooper again in '43 or '44 and maybe even a Larry Jackson season here or there.  
RELIEF PITCHERS - 1984 Bruce Sutter; 1975 Al Hrabosky; 2001 Steve Kline
Sutter in '84 racked up 122 2/3 relief innings, which is unthinkable these days, and pitched to a 1.54 ERA over that span while notching a majors-leading 45 saves. As well, just 20 of Sutter's 71 appearances that season were lasted one inning or less. As for Hrabosky, his '75 numbers are almost as impressive: 13-3, 97 1/3 IP, 1.66 ERA, just three homers allowed. Kline, meanwhile, gets "lefty specialist" detail with his 1.80 across a tops-in-MLB 89 appearances in 2001. On the year, left-handed batters hit just .149 with no extra-base hits against him.  
---
THE LINEUP
1. 1924 Hornsby, 2B
2. 2009 Pujols, 1B
3. 1948 Musial, RF
4. 1937 Medwick, LF
5. 2004 Edmonds, CF
6. 1971 Torre, 3B
7. 2012 Molina, C
8. 1987 Smith, SS
Yes, I'll take OBP over speed in the leadoff spot at all times. 
How will the Cardinals' squad compare to others? The Brewers are up next on Tuesday.   
The projections continue to favor an Astros-Dodgers World Series

The story centers around a building in Chicago, where Billy Jurges was shot by a jilted lo...

From 1 to 25, the L.A. Dodgers have the squad to overcome the pitfalls of October baseball
After Tuesday night's win over the Cubs, the Dodgers are now 6-0 in the 2017 playoffs

Los Angeles beat Chicago once more in Game 3 of the NLCS in Chicago

The 2017 World Series begins Oct. 24