All-Time Single-Season Team: The Worst of the Worst
It's time to flip the script on our all-time single-season team series and look at the very worst seasons at each position.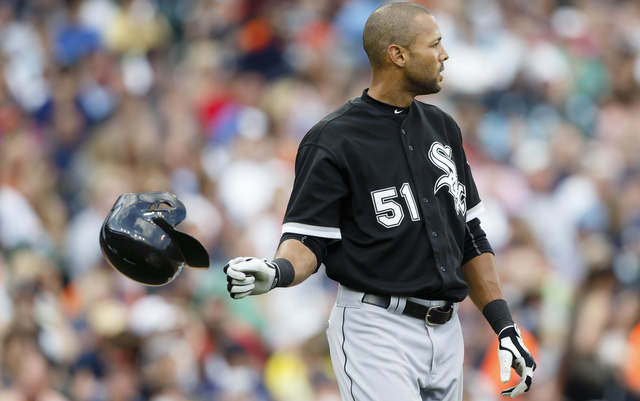 ALL-TIME SINGLE-SEASON TEAMS: CHC | STL | MIL | CIN | PIT | CHW | DET | KCR | CLE | MIN | ARI | COL | SD | LAD | SF | SEA | HOU | LAA | TEX | OAK | BOS | NYY | BAL | TOR | TBR | MIA | NYM | ATL | WAS | PHI | AL and NL teams | By the numbers
Over the last few weeks, we've been looking at the all-time best single-season teams in the history of each franchise. That is the best season by a catcher, the best season by a first baseman, so on and so forth. All the results are linked above.
Now we're going to flip the coin and look at the very worst seasons at each position. No, we're not going to do team by team breakdowns again, we're going to do one post for all of MLB. It's safe to consider these the worst individual seasons at each position in the history of the game. Enjoy.
CATCHER -- 1909 Bill Bergen
During that 1909 season with the Brooklyn Superbas*, Bergen hit an unfathomable .139/.163/.156 (1 OPS+ ... 1!) in 372 plate appearances. He had three extra-base hits: one double, one triple and one home run. Bergen did throw out attempted base-stealers at a league average rate, but geez. The total package worked out to -2.1 WAR.
Bergen's career batting line was .170/.194/.201 (21 OPS+) in 3,228 plate appearances, and hey, that's a lot better than what I would hit. Some other Bergen seasons as well as 2001 Michael Barrett (Expos) were also considered.
* They just don't make team names like they used to.
FIRST BASE -- 1914 Hughie Miller
Back in 1914, the league average first baseman hit .265/.324/.352, but Mr. Miller was no league average first baseman. He hit .222/.264/.284 (53 OPS+) with 20 doubles and zero homers in 533 plate appearances. That's good for -3.3 WAR. The St. Louis Terriers did not get their money's worth at first that year. Rico Brogna's 1997 season with the Phillies was also in the running.
SECOND BASE -- 1937 Del Young
Tough rookie year for Young, who hit .194/.235/.231 (23 OPS+) with nine doubles and no homers in 386 plate appearances for the Phillies. He was out of baseball four years later, sadly. Both Young and Fred Raymer (1905 Boston Beaneaters) were worth -2.7 in their worst seasons at second, but Young gets the nod here because he did it in 110 games. Raymer did it in 137 games. Believe it or not, Future Hall of Famer Craig Biggio was almost the choice here for his ugly 2007 season (-2.1 WAR).
SHORTSTOP -- 1933 Jim Levey
I get that shortstop isn't an offensive position, at least it wasn't until about 20 years ago, but Levey's .195/.237/.240 (24 OPS+) line for the St. Louis Browns in 1933 was especially bad. He also played pretty shaky defense, hence his -3.9 WAR. Ouch. Chris Gomez (1997 Padres) was his primary competition.
THIRD BASE -- 1975 Ken Reitz
Another St. Louis player, this one with the Cardinals. Reitz hit .269/.298/.340 (74 OPS+) with five home runs in 627 plate appearances that year, plus he managed to make 23 errors at the hot corner (-2.5 WAR). Best of all, he won the Gold Glove that year. Baseball! A bunch of guys you've never heard of were Reitz's primary competition.
LEFT FIELD -- 1973 Lou Piniella
There have been some truly awful left field seasons over the years, but Sweet Lou's 1973 effort with the Royals takes the cake. He hit .250/.291/.361 (79 OPS+) with nine homers at a time when the average left fielder was hitting .277/.345/.420 (117 OPS+). Throw in some terrible defense and you get -3.1 WAR. Weirdly enough, Piniella deservingly received MVP votes in both 1972 (138 OPS+ and 3.5 WAR) and 1974 (116 OPS+ and 3.4 WAR), so that terrible season was sandwiched between two very good ones.
The list of terrible left field seasons is long, but 1993 Luis Polonia (Angels), 2010 Carlos Lee (Astros) and 2011 Raul Ibanez (Phillies) deserve an honorable mention.
CENTER FIELD -- 2011 Alex Rios
I knew we'd run into an active player at some point. Rios was dreadful three years ago, hitting only .227/.265/.348 (63 OPS+) with 13 homers in 570 plate appearances for the White Sox. The various defensive metrics crushed him that year and we can't blame it on inexperience -- Rios was in his second (of two) season as a full-time center fielder after spending the majority of his career in right. Add it all up and you get -1.7 WAR. He bounced back with a 4.6 WAR season in 2012. Go figure. Von Joshua with the 1977 Brewers was Rios' primary competition.
RIGHT FIELD -- 1997 Jose Guillen
Simply put, Guillen was Jeff Francoeur without the glove. He hit .267/.300/.412 (82 OPS+) with 14 homers for the Pirates in 1997, though, to be fair, he was a 21-year-old rookie that season. The average right fielder hit .280/.356/.468 (117 OPS+) that year, by the way. A couple of Francoeur seasons and Ruben Sierra's 1993 season with the Athletics were considered.
DESIGNATED HITTER -- 1991 Alvin Davis
DH is pretty straight forward because it's all about the bat. If you don't hit, you can't help your team. Davis didn't help the '91 Mariners at all by putting up a .221/.299/.335 (76 OPS+) batting line with a dozen homers. It's pretty tough for a DH to be worth -1.8 WAR in a season, but Alvin did it. Dave Parker (1991 Angels and Blue Jays), Dave Kingman (1986 Athletics) and Adam Lind (2010 Blue Jays) all have terrible DH seasons to their credit.
STARTING PITCHERS -- 1940 George Caster, 1940 Chubby Dean, 1952 Bob Feller, 1995 Terry Mulholland, 2013 Edinson Volquez
The stats:
Caster (Athletics): 4-19, 6.56 ERA, 68 ERA+, 1.70 WHIP, 178 1/3 IP, 69 BB, 75 K, -2.9 WAR
Dean (Athletics): 6-13, 6.61 ERA, 67 ERA+, 1.78 WHIP, 159 1/3, 63 BB, 38 K, -2.0 WAR
Feller (Indians): 9-13, 4.74 ERA, 71 ERA+, 1.58 WHIP, 191 2/3 IP, 83 BB, 80 K, -2.9 WAR
Mulholland (Giants): 5-13, 5.80 ERA, 69 ERA+, 1.53 WHIP, 149 IP, 38 BB, 65 K, -2.8 WAR
Volquez (Padres, Dodgers): 9-12, 5.71 ERA, 60 ERA+, 1.59 WHIP, 170 1/3 IP, 77, 142 K, -2.4 WAR
I like to think that Chubby Dean is just the fat version of Dizzy Dean. Maybe he is; their careers overlapped a bit. (They were distant cousins, supposedly.) Anyway, those 1940 Philadelphia A's went 54-100 thanks in part to Caster and Dean, who put together two of the worst starting pitching seasons in history at the same time in the same rotation.
As for Feller, he endured the worst season of his Hall of Fame career at age 33 in 1952, but he rebounded in 1953 and finished his career with a few more strong seasons. I am secretly happy we worked at least one Hall of Famer into this post.
RELIEF PITCHERS -- 1973 Lloyd Allen, 1986 Ron Davis, 2009 Brad Lidge
This is like shooting fish in a barrel. There have been so many terrible, horrible, no good, very bad relief seasons in baseball history that we could put about 50 of these posts together and still not cover them all. I picked those three because they seemed especially bad. The stats:
Allen (Angels, Rangers): 9.42 ERA, 40 ERA+, 2.36 WHIP, 49 2/3 IP, 44 BB, 29 K, -2.9 WAR
Davis (Twins, Cubs): 8.59 ERA, 49 ERA+, 2.01 WHIP, 58 2/3 IP, 32 BB, 40 K, -2.7 WAR
Lidge (Phillies): 7.21 ERA, 59 ERA+, 1.81 WHIP, 58 2/3 IP, 34 BB, 61 K, -2.6 WAR
Lidge actually saved 31 games that year and the Phillies made it all the way to the World Series anyway.
---
THE LINEUP
1973 Lou Piniella
1991 Alvin Davis
1997 Jose Guillen
1975 Ken Reitz
2011 Alex Rios
1914 Hughie Miller
1933 Jim Levey
1937 Del Young
1909 Bill Bergen
When you run that abomination of a lineup through the Lineup Analyzer at Dave Pinto's Baseball Musings, it says they would score an average of 2.49 runs per game, or 403 runs per 162 games. The fewest runs in history is 372 by the 1908 Cardinals, who went 49-105. So that lineup is bad, but not historically bad.
Up Next: Simulations! We simmed a season using our all-time single-season teams and the results will be posted on Wednesday.
And the team that first drafted Cole is interested

This scout was SUPER into Jeter

Stanton warned Marlins fans about the lean years that are forthcoming
The World Series champions aren't complacent

Stanton swiped at his old team on his way out

Your one-stop shop for all things MLB Winter Meetings-related