All-Time Single-Season Team: Toronto Blue Jays
Today belongs to the Blue Jays, so let's check off the best single-season performances in franchise history.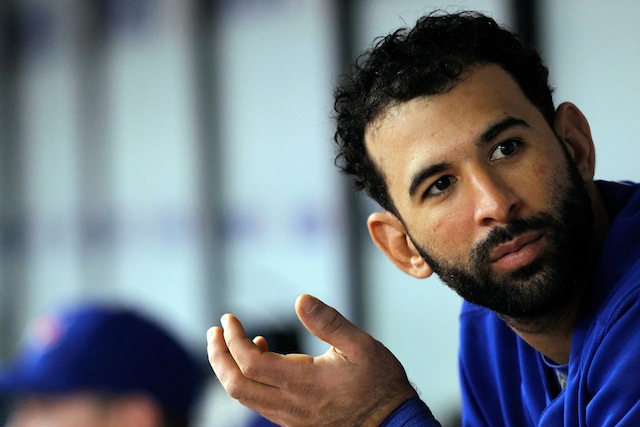 ALL-TIME SINGLE-SEASON TEAMS: CHC | STL | MIL | CIN | PIT | CHW | DET | KCR | CLE | MIN | ARI | COL | SD | LAD | SF | SEA | HOU | LAA | TEX | OAK | BOS | NYY | BAL
It is time, once again, for another entry into our all-time single-season series. What is this, you ask? Here's the explanation:
Obviously, the term "single-season" implies that we're focused on brilliance within the confines of one campaign and not, say, career value or even value across a handful of seasons in the same uniform. While this is no doubt a largely subjective undertaking, please bear that in mind before airing objections. Or not. Whatever.

Also, we're largely limiting the selections to those of modern era (i.e., from 1900 onward) in large part because the "primordial soup" days of the sport bear only the most basic resemblances to the game played today. That's more a general principle than hard-and-fast rule, though. As well, a player can appear only once on the team in question. So even those who excelled at multiple positions over the years will be assigned one spot and one spot only.
Today's team is the Blue Jays. The Jays have been around since just 1977, so they're working from behind in that sense. However, over that brief span, they've tallied two World Series trophies and five playoff berths, so they've had their share of good teams. Let's see how things shake out ...
CATCHER - Ernie Whitt, 1987
Whitt, who, let it be said, has an excellent catcher's name, batted .269/.334/.455 (105 OPS+) in this, his age-35 season. Whitt tallied 19 homers in 135 games and threw out 36 percent of would-be base-stealers versus a league-average mark of 31 percent. 
Also considered: Other Whitt seasons, Pat Borders in 1990, Darrin Fletcher in 2000, Greg Myers in 2003
FIRST BASE - Carlos Delgado, 2000
This is one of the toughest calls I've had to make in this entire series. Let's compare Olerud in '93 to Carlos Delgado in 2000 …
Olerud: .363/.473/.599 (186 OPS+), 24 HR, 54 2B, 679 PA
Delgado: .344/.470/.664 (181 OPS+), 41 HR, 57 2B, 711 PA
Olerud was of course the better defender and had the higher OPS+ (i.e., he was more productive on a park-adjusted rate basis relative to the league-average hitter). Delgado, though, logged a few more plate appearances, and there's no ignoring the power numbers (378 total bases and 99 extra-base hits). Heck, they each hit into the same number of double plays on the season (12). 
Ultimately, I side with Delgado by the narrowest of margins in part because of his impossible-to-ignore power outputs, his edge in playing time and his modestly better clutch performance (6.6 WPA for Delgado versus 6.1 for Olerud). Really, though, this one's a coin-flip. 
Also considered: Fred McGriff, 1989; other Delgado seasons
SECOND BASE - Roberto Alomar, 1993
The Hall of Famer Alomar enjoyed one of his best seasons in '93, as he batted .326/.408/.492 (141 OPS+) with 17 homers, 35 doubles, 55 stolen bases and 80 walks versus 67 strikeouts. Alomar also claimed the third of his 10 career Gold Gloves. 
Also considered: More Alomar, Aaron Hill in 2009, Tony Fernandez in 1998
SHORTSTOP - Tony Fernandez, 1987
Underrated player, this one. Fernandez was a standout defender at short, and in '87 he batted .322/.379/.426 with 29 doubles, 32 stolen bases and 51 walks against 48 strikeouts. Fernandez also won the Gold Glove and finished in the top 10 in AL MVP vote.  
Also considered: Other Fernandez seasons, Tony Batista in 1999, Yunel Escobar in 2012, Marco Scutaro in 2009
THIRD BASE - Kelly Gruber, 1990
Gruber played in 150 games in his All-Star season of 1990 and batted .274/.330/.512 (127 OPS+) with 31 homers, 36 doubles, 303 total bases and a 1.026 OPS with runners in scoring position. For his troubles, Gruber won the Gold Glove and the Silver Slugger and finished fourth in the AL MVP balloting. Note at this point that the Jays boast a pretty strong infield defense. 
Also considered: 2006 Troy Glaus, 1999 Tony Fernandez, 2002 Eric Hinske, 1984 Rance Mulliniks, 1996 Ed Sprague, 1977 Roy Howell
LEFT FIELD - George Bell, 1987
It was with good reason that Bell claimed the AL MVP in '87: .308/.352/.605 (146 OPS+) with 47 homers, an MLB-leading 369 total bases and an AL-leading 134 RBI. 
Also considered: None
CENTER FIELD - Devon White, 1991
Look just below at the "also considered" names, and you'll see players who had better seasons at the plate than did White in '91. However, it's White's stellar glove-work at the vital position of center field in tandem with his quality numbers with the bat and speed on the bases that earn him the nod. That year, White batted .282/.342/.455 (116 OPS+) with 17 homers, 10 triples, 40 doubles and 33 stolen bases. As well, Devo hit into just seven double plays in 715 plate appearances and of course won the Gold Glove. 
Also considered: Lloyd Moseby, 1983; Vernon Wells, 2003; Jose Cruz Jr., 2001
RIGHT FIELD - Jose Bautista, 2011
I'll take Joey Bats's 2011 season over his 54-homer season in 2010. In 2011, Bautista batted .302/.447/.608 (182 OPS+) with 43 homers, 132 walks and 312 total bases. He paced MLB in SLG, OPS, OPS+ and homers and easily logged a career-best OBP. 
Also considered: Jesse Barfield in '86, Bautisa in 2010
DESIGNATED HITTER - Paul Molitor, 1993
Another tough call, what with 2012 Edwin Encarnacion's also meriting serious consideration. Molitor it is, though, on the strength of his .332/.402/.509 (143 OPS+) batting line. That year, Molitor tallied an MLB-leading 211 hits and also chipped in 22 homers and 37 doubles. As well, he stole 22 bases in 26 attempts and took the extra base an impressive 58 percent of the time. 
Also considered: 2012 Encarnacion, 2007 Frank Thomas, 2009 Adam Lind, 1992 Dave Winfield, 1983 Cliff Johnson
STARTING PITCHERS - 1997 Roger Clemens, 2003 Roy Halladay, 1985 Dave Stieb, 1987 Jimmy Key, 1996 Pat Hentgen
To the numbers ... 
Clemens: 21-7, 2.05 ERA, 222 ERA+, 1.03 WHIP, 292 K, 264 IP, 9 CG, 3 SHO
Halladay: 22-7, 3.25 ERA, 145 ERA+, 1.07 WHIP, 204 K, 266 IP, 9 CG, 2 SHO
Stieb: 14-13, 2.48 ERA, 171 ERA+, 1.14 WHIP, 167 K, 265 IP, 8 CG, 2 SHO
Key: 17-8, 2.76 ERA, 164 ERA+, 1.06 WHIP, 161 K, 261 IP, 8 CG, 1 SHO
Hentgen: 20-10, 3.22 ERA, 156 ERA+, 1.25 WHIP, 177 K, 265 2/3 IP, 10 CG, 3 SHO 
Your suspicions regarding Clemens are noted, but, as pointed out many times before, this is an at-face-value kind of thought experiment. Given that, Clemens's '97 stands as a truly great season. That year he of course won the AL Cy Young and also finished 10th in the MVP balloting. In related matters, Clemens in '97 paced the AL in ERA, strikeouts and WHIP and led all of MLB in innings and ERA+. 
Halladay in 2003 won the first of his two Cy Youngs. In addition to the numbers listed above, Halladay led the majors with a sparkling K/BB ratio of 6.38, and he also went at least 7.0 innings in 26 of his MLB-leading 36 starts. The underrated Stieb in 1985 won the only ERA title of his career and notched a career-best ERA+. Stieb also recorded a quality start in 75 percent of his opportunities on the season. 
Key in his age-26 campaign led the majors in ERA, ERA+ and WHIP and finished runner-up to Clemens in the AL Cy Young balloting. Key also induced 24 double plays on the year and, like Stieb in '85, logged a quality start percentage of 75.0. As for Hentgen, he edged out Andy Pettitte for the Cy in '96 and paced the bigs in innings, complete games, shutouts and pitcher WAR.  
Also considered: 1996 Juan Guzman, 2011 Ricky Romero, 1984 Doyle Alexander, 1987 Jim Clancy, 2000 David Wells, 1995 Al Leiter
RELIEF PITCHERS - 2006 B.J. Ryan, 1986 Mark Eichhorn, 1992 Duane Ward
Also considered: 1989 Tom Henke, many others (I decree: enough with naming every single reliever that merits a mention).
Ryan's numbers speak for themselves: 72 1/3 innings, 1.37 ERA, 335 ERA+ (!), only one unearned run allowed, 86 strikeouts, 19 unintentional walks, three homers allowed, .444 OPS against, converted 90 percent of save opps.
As for Eichhorn, he notched a 1.72 ERA and 246 ERA+ across an astounding 157 relief innings. Of his 69 appearances, 53 spanned more than one inning, and 26 of those appearances lasted three or more innings.
We round out the corps with Ward, who in '92 pitched to a 1.95 ERA and 209 ERA+ in 101 1/3 innings (79 games). He also struck out 103, gave up just five home runs all year and allowed an opponents' SLG of just .286. 
---
THE LINEUP
1. Roberto Alomar, 1993
2. Paul Molitor, 1993
3. Carlos Delgado, 2000
4. Jose Bautista, 2011
5. George Bell, 1987
6. Kelly Gruber, 1990
7. Tony Fernandez, 1987
8. Devon White, 1991
9. Ernie Whitt, 1987
Coming Wednesday: The Tampa Bay Rays 
deGrom is set to become a free agent after the 2020 season

Perkins missed most of the last two seasons due to injury

Jonathan Singleton was suspended after a third positive test for a drug of abuse
Rodriguez will join Jessica Mendoza and Matt Vasgersian on the "Sunday Night Baseball" boo...

Jeff Wilpon talked about payroll on Tuesday, and it won't make any Mets fan happy

Yelich's agent recently asked the Marlins to trade him before the spring