All-Time Single-Season Teams: The American League simulation
For the final entry into our all-time single-season series, we've run a simulation of a virtual 162-game season. Here are the AL regular season standings and leaderboards, along with our picks for MVP and Cy Young.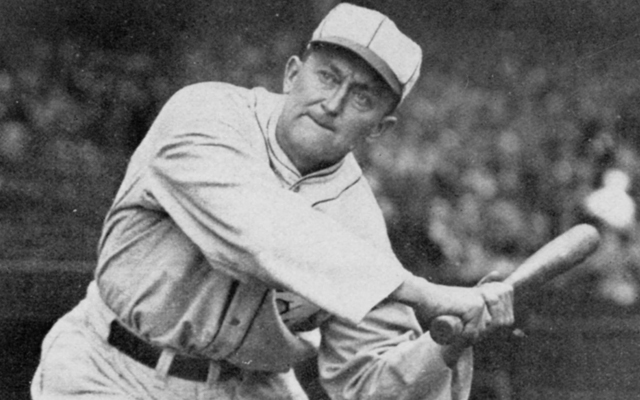 ALL-TIME SINGLE-SEASON TEAMS: CHC | STL | MIL | CIN | PIT | CHW | DET | KCR | CLE | MIN | ARI | COL | SD | LAD | SF | SEA | HOU | LAA | TEX | OAK | BOS | NYY | BAL | TOR | TBR | MIA | NYM | ATL | WAS | PHI | AL & NL | By the numbers | Worst team
SIMULATION RESULTS: National League

Over the last few weeks, we've been looking at the best all-time single-seasons at each position for all 30 clubs. That is the best season by a catcher, the best season by a first baseman, the best season by a second baseman, so on and so on. The results for every team is linked above, ditto our combined AL and NL squads.
So, now that we have all those teams put together, we had to simulate a season, right? Of course we did. We used the Diamond Mind Baseball system (http://www.diamond-mind.com) with the help of Dream Time Baseball's Michael Cimilluca (www.dtbaseball.com). He did all the grunt work, so give him thank you and a big round of applause.
In a perfect world we would simulate about a thousand seasons and post the averages, but that really wasn't practical for us. We simulated only one season, so the data is more subject to randomness. That makes it kind of fun, in my opinion. The simulation was run using present day divisions and ballparks, and the rosters were filled out with "others," meaning the guys who were honorable mentions in each post. Injuries were turned off so the starters played pretty much all game, every game. Got all that? Good.
This post will wrap up the American League regular season. The National League results are linked above and the postseason simulation results will be posted later today. Let's dive into the AL results.
FINAL STANDINGS
So, how about those Indians? They had both the best record and run differential (+328) in the simulation and it wasn't all that close either. The Red Sox finished second in both categories. The (Devil) Rays, on the other hand, had by far the worst record and run differential (-378). They won 37 games and no other team in the simulation won fewer than 60. Ouch.
The three division races really weren't races at all. The Red Sox, Indians and Athletics all won their divisions easily. We used the old single wild-card playoff system, so the Yankees and Orioles tied for the final postseason spot. Our tiebreaker was head-to-head record, which New York won in the simulation. If this had been real life, the Yankees and O's would have played a one-game tiebreaker. Baltimore got hosed, but it's nothing compared to what happened in the NL Central. Make sure you click the NL link at the top of the post for that mess.
Here are the AL postseason matchups:
ALDS 1: Yankees (WC) at Indians
ALDS 2: Athletics at Red Sox
Those are best-of-5 series while both the ALCS and World Series are best-of-7 series. Now let's dive into the individual player results.
BATTING LEADERS
American League Batting Leaders
Average
Player
AVG
Ty Cobb, DET
.418
Nap Lajoie, CLE
.415
Frank Baker, OAK
.351
Nap Lajoie, OAK
.351
George Brett, KC
.348

 

Home Runs
Player
HR
Babe Ruth, NYY
63
Jeff Bagwell, HOU
62
Jim Thome, CLE
61
Roger Maris, NYY
55
Travis Hafner, CLE
54

 

Runs Batted In
Player
RBI
Frank Thomas, CHW
167
Ted Williams, BOS
159
Jim Thome, CLE
150
M. Cabrera, DET
149
Danny Tartabull, KC
148

 

Hits
Player
H
Ty Cobb, DET
307
Nap Lajoie, CLE
257
Nap Lajoie, OAK
245
Frank Baker, OAK
242
Ichiro Suzuki, SEA
235
On Base
Player
OBP
Ted Williams, BOS
.477
Nap Lajoie, CLE
.459
Norm Cash, DET
.459
Ty Cobb, DET
.457
George Brett, KC
.419

 

Slugging
Player
SLG
Babe Ruth, NYY
.700
Nap Lajoie, CLE
.679
Ty Cobb, DET
677
George Brett, KC
.626
Lou Gehrig, NYY
.623

 

Stolen Bases
Player
SB
Ty Cobb, DET
77-13
H. Baker, OAK
55-22
Henderson, OAK
47-17
C. Cedeno, HOU
46-17
R. Alomar, TOR
46-19

 

Triples
Player
3B
Ty Cobb, DET
40
George Stone, BAL
17
Devon White, TOR
16
Norm Cash, DET
14
Joe Jackson, CHW
14
Yes, Ty Cobb actually had 307 hits, including 241 against right-handed pitchers. Forty of those 307 hits were triples while 53 were doubles. He also stole 77 bases in 90 attempts and had a 34-game hitting streak at one point. That's what happens when you post a .454 BABIP. Ridiculous.
Babe Ruth unsurprisingly tops the home run, extra-base hit (118) and slugging percentage leaderboards while Ted Williams took home the walks (160) and on-base percentage crowns. Tris Speaker had the most and second most doubles -- he doubled 66 times with Boston and 59 times with Cleveland. Poor Jason Castro was overmatched in our all-time single-season league, striking out a record 250 times.
Make sure you click through for the full AL batting leaderboard for all sorts of stats, including splits. Bret Boone managed to hit .431/.520/.719 against left-handed pitchers, for example. Reggie Jackson was intentionally walked 43 times. Danny Tartabull drove in 126 runs against righties. Fun!
PITCHING LEADERS
American League Pitching Leaders
Wins
Player
W-L
P. Martinez, BOS
21-6
M. Mussina, BAL
21-6
R. Clemens, BOS
19-6
D. McLain, DET
19-7
A. Joss, CLE
17-7

 

Earned Run Average
Player
ERA
R. Johnson, SEA
3.00
J. Santana, MIN
3.14
B. Saberhagen, KC
3.43
R. Halladay, TOR
3.50
L. Tiant, CLE
3.63

 

Strikeouts
Player
K
P. Martinez, BOS
275
R. Johnson, SEA
268
Y. Darvish, TEX
228
M. Scott, HOU
227
H. Iwakuma, SEA
217

 

Saves
Player
S-BS
J. Papelbon, BOS
41-5
J. Putz, SEA
37-7
J. Mesa, CLE
36-4
R. Myers, BAL
36-6
H. Wilhelm, CHW
34-8
I'm kind of bummed the pitching numbers are so ... normal. Pedro Martinez going 21-6 with a 3.83 ERA, a 1.04 WHIP and 275 strikeouts in 251 2/3 innings is pretty believable. The ERA might be high, but this is a league where a guy had 307 hits. Randy Johnson and Johan Santana have a real nice lead in ERA over everyone else while Yu Darvish's 12.3 K/9 was two full strikeouts better than anyone else.
My favorite quirky stats: David Robertson led the league in balks (seven) despite only throwing 83 2/3 innings, Tim Hudson led in ground ball double plays (43) and Larry Dierker had the lowest BABIP (.219). The Big Unit held left-handed hitters to a .162/.242/.294 batting line, which is actually better (in terms of OPS) than the actual .199/.278/.294 line they put up against him during his career. Again, make sure you click through for the full AL pitching leaderboards.
SEASON AWARDS
We can't really hand out a Rookie of the Year award and a Manager of the Year is pretty pointless, but we can name an MVP and a Cy Young winner. You bet we can.
MVP: Ty Cobb, 1911 Tigers. Had to be the Georgia Peach and not just because of that insane hit total. He led the league in hits, batting average (.418), runs (184), triples (40), steals (77), total bases (497) and runs created (230.6) while ranking top four in on-base percentage (.457), slugging percentage (.677), extra-base hits (112) and OPS (1.134). Do all that while playing a premium up-the-middle position (center field) and you're getting my MVP vote. Nap Lajoie, the 1904 Indians version, would be my runner-up.
Cy Young: Pedro Martinez, 2000 Red Sox. This was a tough choice. Randy Johnson, Johan Santana and Roger Clemens all had excellent seasons as well. Ultimately, I went with Pedro because he led the league in wins (21), strikeouts (275), on-base percentage against (.273), innings (251 2/3) and WHIP (1.04) while also finishing top 10 in ERA (3.83), batting average against (.216), hit rate (7.2 H/9), walk rate (2.2 BB/9) and strikeout rate (9.8 K/9). Yeah, he did lead the league with 50 home runs allowed, but that's a function of his home ballpark and throwing so many innings more than anything. Like I said, this was a close call, but Martinez gets my vote for the Cy Young.
Our Latest Stories
There's no reason to run over the cases for and against Bonds, so let's have fun instead

The coveted right-hander would certainly be a fit in Milwaukee

We rate the best mustaches from random baseball cards because, why not?
Colon wants to break a Dennis Martinez record

The Twins have been rumored to be interested in Darvish all winter

Rolen is one of the best third basemen of all time, but you wouldn't know it based on this...