All you need to know: MLB news and rumors roundup for Dec. 17
Let's have a look at all that's worth mentioning around MLB for Tuesday.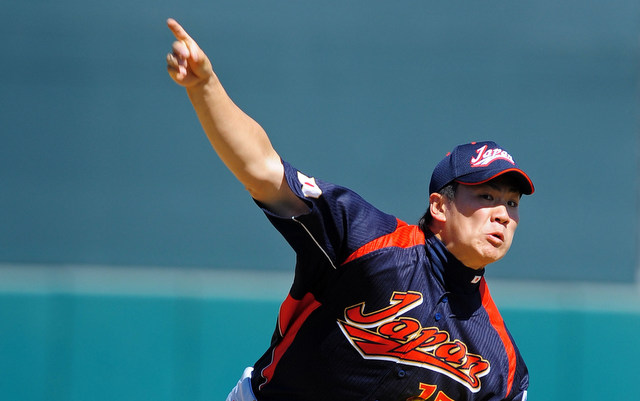 MORE: FA tracker: position players | FA tracker: pitchers
Another offseason day has come and gone, and it's time to recap all that went on and that was rumored to maybe be going on at some point in the indeterminate future. Let's roll tape on "All you need to know" for Tuesday ... 
SIGNINGS AND AGREEMENTS
- Chicago Cubs : Agreed to terms with reliever/potential closer Jose Veras on a one-year deal worth a guaranteed $4 million. The cotract also includes an option for 2015. 
- Baltimore Orioles : Agreed to terms with closer Grant Balfour on a two-year contract worth $15 million.
- Boston Red Sox : Have signed Japanese reliever Shunsuke Watanabe to a minor-league contract.
- New York Yankees : Agreed to terms with 2B Brian Roberts on a one-year deal worth $2 million ... The Yanks also struck a two-year, $7-million deal with lefty reliever Matt Thornton . 
RUMORS AND SPECULATION
- Mark Reynolds : The Yankees, Los Angeles Angels and Minnesota Twins are among those interested in the right-handed slugger, reports Jon Heyman.
- Masahiro Tanaka: The coveted Japanese right-hander has informed his current club, the Rakuten Golden Eagles, that he wants to be posted and pitch in MLB next year. Speaking of Tanaka, Jeff Passan of Yahoo! tweets that the Texas Rangers are showing heightened interest in the 25-year-old. Meanwhile, Joel Sherman tweets that the Yankees seem to be positioning themselves for a strong run at Tanaka. The Angels may be in on Tanaka, writes Ken Rosenthal of FoxSports.com, but if the process drags out then they may prefer to focus on Matt Garza so that they can move on to other needs in a timely manner. Given Tanaka's relatively young age and the newly whittled down posting fee, it's hard to think of any team that wouldn't have at least cursory interest in him. 
- Arizona Diamondbacks : Are discussing a minor-league deal with reliever Jose Valverde, reports our own Jon Heyman.
- San Francisco Giants : Had some interest in lefty Mark Mulder , who's attempting a comeback, but were not inclined to offer Mulder a major-league contract. (Alex Pavlovic via Twitter) 
- Seattle Mariners : Are reportedly closing in on a one-year contract with OF Franklin Gutierrez . (Jon Morosi via Twitter)
- Miami Marlins : The Fish are willing to trade pitching depth in exchange for help at third base. (Joe Frisaro, MLB.com)
- San Diego Padres : Reliever/closer Joaquin Benoit is still a possibility for the Pads. (Corey Brock via Twitter)
- Pittsburgh Pirates : Jon Heyman reports that the Buccos may have interest in trading for Ike Davis of the New York Mets or Mitch Moreland of the Rangers. 
- Rangers: GM Jon Daniels tells the Dallas Morning News that he doesn't expect free agent outfielder Nelson Cruz to be back.
- Tampa Bay Rays : Have interest in free agent infielders Jamey Carroll and Mark Reynolds. (Marc Topkin via Twitter)
- Red Sox: It's still possible that the Sox will trade away a starting pitcher this offseason. (Ken Rosenthal, FoxSports.com)
- Twins: Minnesota still has an eye on free agent lefty (and former Twin great) Johan Santana . (Darren Wolfson via Twitter)
- Yankees: Add Jeff Baker 's name to the list of free agent infielders potentially of interest to the Yanks. (Joel Sherman via Twitter) 
They still would much rather grab the AL East, however

Sale becomes the first AL pitcher to reach 300 strikeouts since 1999

Steve Balboni's long-standing record of 36 has finally fallen
Several players called for the netting to be extended down the base lines following Wednesday's...

Maria made landfall as a Category 4 on Wednesday

The players are trying to do their job and don't want to see anyone hurt