All you need to know: MLB news, rumors for Dec. 23
Here's our nightly roundup of MLB offseason comings, goings, rumors and speculation.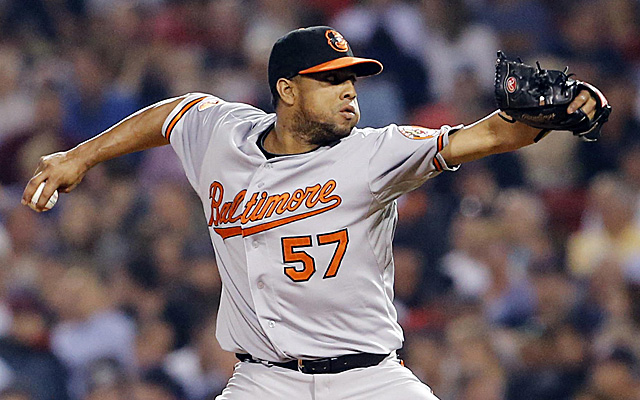 MORE: FA tracker: position players | FA tracker: pitchers
Another offseason day, another nightly roundup of what we saw. It was pretty slow, which is to be expected right now. With so few players of note still free agents, it's unlikely we'll see a flurry. Instead, maybe one big signing a la Shin-Soo Choo per week?
Regardless, it's time to get to this very brief roundup.
SIGNINGS
-The Dodgers have beefed up their bullpen by adding both Chris Perez and Jamey Wright.
WAIVERS
- There were a litany of waiver-wire moves Monday. Mike Axisa has you covered.
REPORTS, RUMORS AND SPECULATION
- The Cubs have shown some interest in free agent, All-Star reliever Jesse Crain, reports ESPN Chicago's Bruce Levine.
- The Orioles have "significant interest" in Fernando Rodney to fill their void at closer, according to the Baltimore Sun. As for potentially bringing back Francisco Rodriguez, the Sun calls it "highly unlikely" while MASN.com notes the "Orioles seem content to sever ties with him."
- Will the Orioles have problems with other free agents after the Grant Balfour snafu? Ken Rosenthal of Fox Sports has posted an examination of the situation, which includes the following quote from an agent (not Balfour's, either): "This will factor into every competent agent's thought process going forward."
- Speaking of Balfour, the Yankees have shown some interest, per the New York Post.
COMEBACK TRAIL?
- On MLB Network's "Hot Stove" show Monday morning, future Hall of Fame Jim Thome said he isn't officially retired and wouldn't rule out a comeback. It seems unlikely we'll ever see him in the batter's box again during an actual MLB game, but you never know.
This would undoubtedly be the worst trade in Miami Marlins history

The Pirates recently shipped Gerrit Cole and Andrew McCutchen to Houston and San Francisco,...

Surely, Martinez and his agent are holding out for more
The reliever had a very good 2017 season with the NL Central champs

We don't need to discuss Chipper's Hall of Fame case, so let's have fun instead

Dioner Navarro still hopes to return someday