All you need to know: MLB news, rumors for Jan. 20
Here's our nightly roundup. We'll cover the Brewers, Indians, Pirates, Dodgers, Chone Figgins, Chad Gaudin and, of course, Masahiro Tanaka.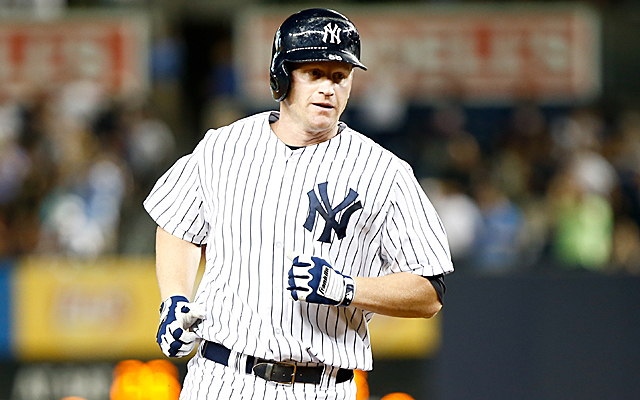 MORE: FA tracker: position players | FA tracker: pitchers
Time to sum up all the news and notes from another slow offseason news day. Let's get after it.
SIGNING
•Brewers: They have signed Lyle Overbay to join Mark Reynolds in competing for the first base job.
POSSIBLE SHIFT?
•Carlos Santana/Indians: A recent report indicated that Santana is preparing to be the starter at third base this coming season, but Ken Rosenthal of Fox Sports reports that no decision will be made until spring training. Lonnie Chisenhall still has a shot to enter the season as the starter at third, meaning Santana would either catch or DH. 
REPORTS, RUMORS AND SPECULATION
•A.J. Burnett/Pirates: We've known for a while that Burnett has said that he'll either come back to the Pirates or retire. He still hasn't made a final decision, though, as the Pirates have said he's "still working through the process" of making his decision. (post-gazette.com)
•Dodgers/Hanley Ramirez: Talks about a contract extension for the All-Star shortstop are "in early stages and ongoing," reports Tim Brown of Yahoo Sports.
•Chone Figgins: His attempted comeback included a workout for the Red Sox last week, reports Nick Cafardo of the Boston Globe.
•Logan Forsythe: "A number of teams" have called the Padres about a possible trade for Forsythe, reports Chris Cotillo of MLB Daily Dish.
•Chad Gaudin: Six teams are talking to the free agent pitcher, reports Cotillo.
•Brett Tomko: He'll throw for the Orioles this week, per Brown.
MASAHIRO TANAKA
The Cubs will outbid the entire field for Tanaka both in years and dollars, according to Bruce Levine of ESPN Chicago. The Astros may have met with Tanaka, though there's no word on whether or not they made a formal offer for him, per Cotillo. The Mariners were either priced out of the Tanaka sweepstakes or his interest in the club wasn't very high, according to Ryan Divish of the Seattle Times. Remember, the deadline to sign Tanaka is this coming Friday, so expect to hear a decision very soon.
The Red Sox and Cardinals are expected to make trade offers next

The free agent first baseman may be a fit in St. Louis

The front office changes in Atlanta continue
The Marlins are more likely than you think on our list

Judge finished a distant second in the balloting and he paid respect to the winner

Stanton just won the 2017 NL MVP award but could wind up being dealt this offseason