All you need to know: MLB news, rumors for Jan. 31
Our daily roundup includes hits on the Cubs, Angels, Rangers, Orioles, Marlins, Rays, Reds and more.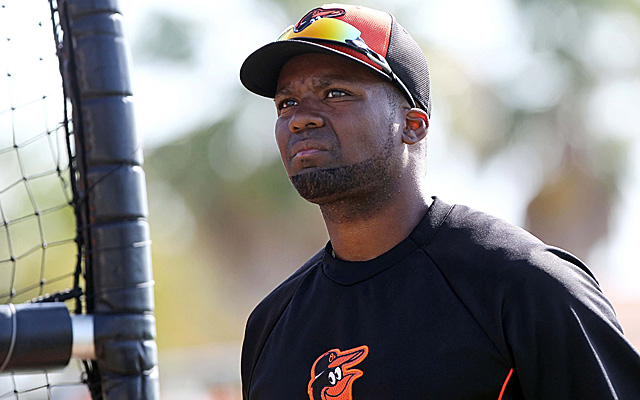 MORE: FA tracker: position players | FA tracker: pitchers
Here we are: The end of the the last month of the offseason that doesn't have players gathering together as teammates in uniform. Wake up Saturday morning and you're now in the same month that pitchers and catchers report to camp. Sure, it's not the start of the regular season or anything, but it's baseball. That's a pretty fun time of the year.
Onto the action from the last day in January, 2014.
SIGNINGS
Angels: They have signed catcher Yorvit Torrealba to a minor-league deal (via Jon Heyman of CBSSports.com).
Cubs: They grabbed a few lower-cost starting pitchers in Jason Hammel (link here) and James McDonald (a minor-league deal, reports ESPN Chicago).
Marlins: Veteran outfielder Reed Johnson has been signed to a minor-league deal, the club announced via press release.
Orioles: Free agent infielder Alex Gonzalez has signed with the Orioles on a minor-league contract with an invitation to big-league camp, reports Ken Rosenthal of Fox Sports.
Rangers: They've signed former stud reliever Daniel Bard to a minor-league deal (Heyman). He's recovering from thoracic outlet surgery, but showed great promise a few years ago with Boston.
Rays: Infielder Wilson Betemit has been signed to a minor-league deal (Heyman).
Red Sox: They have brought back left-handed reliever Rich Hill on a minor-league deal, according to Joel Sherman of the New York Post.
Reds: Outfielder Roger Bernadina has been signed to a minor-league deal with a big-league invitation to camp, Mark Sheldon of Reds.com reports.
AVOIDED ARBITRATION
Angels: David Freese has agreed at $5.05 million for this coming season, reports Jeff Fletcher of the OC Register. The club has also avoided arbitration with reliever Kevin Jepsen by settling at $1.4625 million, reports Alden Gonzalez of Angels.com.
Royals: Reliever Aaron Crow has agreed to a $1.475 million deal for the season, reports Sherman.
Tigers: Catcher Alex Avila has agreed upon a $4.15 million contract for the 2014 season and the deal also has an option for the 2015 season, reports Sherman.
REPORTS, RUMORS AND SPECULATION
Qualifying offer free agents: Ervin Santana, Ubaldo Jimenez, Nelson Cruz, Stephen Drew and Kendrys Morales all turned down a one-year, $14.1 million qualifying offer from their 2013 clubs and, thus, have draft pick compensation attached to them in the free agent market. And all five remain unsigned as we head into February. Jon Heyman takes a look at the five in a must-read.
Orioles: Rosenthal reports that the current payroll sits at around $85 million and it's expected to end up over $100 million. He also adds that "the question is how much" over $100 million.
The lefty starter is coming off a terrible season

After acquiring Ian Kinsler and Zack Cozart in recent days, the Angels are trending upward

Cozart's coming off a big season as the Reds' shortstop
The veteran slugger spent the last eight seasons with Cleveland

The Padres may be poised for an active winter

Yes, Bryce Harper is going to make a lot of money next winter