All you need to know: MLB news, rumors from Feb. 16
It's time to hit our nightly roundup, with updates on the Red Sox, Braves, A's, Phillies, White Sox, Brewers, Indians, Orioles, Reds, Tigers and Yankees.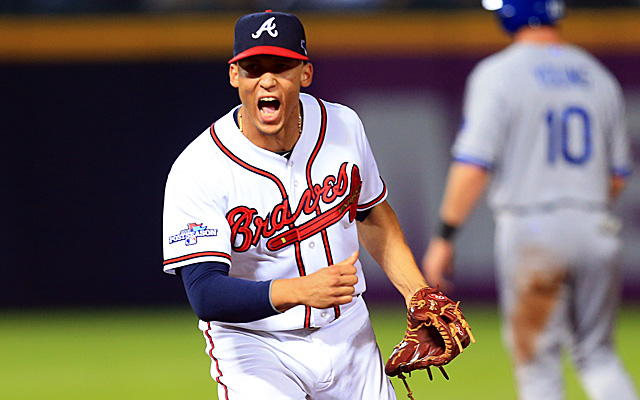 MORE: FA tracker: position players | FA tracker: pitchers
Can we start calling Ubaldo Jimenez , Ervin Santana , Stephen Drew , Kendrys Morales and Nelson Cruz "The Free Agent Five?" It has a bit of a LOST feel to it, so I like it and I'm sticking with it as long as the five men with draft compensation attached remain free agents.
Anyway, yes, the five remain unsigned. Jon Heyman has the latest on Jimenez. As for the rest of baseball, let's get to it.
SIGNING
Boston Red Sox : They've brought in former All-Star closer Francisco Cordero on what appears to be a minor-league deal, reports John Tomase of the Boston Herald.
CONTRACT EXTENSION
Atlanta Braves : The club agreed to a four-year, $42 million deal with All-Star closer Craig Kimbrel . A club option could make it worth $58 million over the course of the next five years.
POSSIBLE RETIREMENT
Red Sox: Ryan Dempster has decided to sit out the 2014 season due to neck issues -- among other things like spending time with his family -- and he may retire. He has not, however, ruled out a return in 2015.
AVOIDS ARBITRATION
Oakland Athletics : They have agreed to a deal for this season with Josh Reddick , for $2.7 million (Susan Slusser).
Red Sox: They settled with reliever Andrew Miller at "just over" $1.9 million (Alex Speier).
INJURY UPDATES
Athletics: Both Sean Doolittle and Drew Pomeranz are improving from minor issues (mercurynews.com).
Philadelphia Phillies : Reliever Jonathan Pettibone is dealing with a sore shoulder (csnphilly.com).
Chicago White Sox : How about a butt injury? Yep, we've got one. Possible closer Nate Jones is out for three or four days with a gluteal strain (csnchicago.com).
REPORTS, RUMORS and SPECULATION
Braves: It is "safe to say" that Andrelton Simmons will be the next Braves youngster to see a contract extension, reports David O'Brien of the Atlanta Journal-Constitution. He believes Simmons' deal will happen either this season or next.
Milwaukee Brewers : Club-friendly, long-term extensions to young players are all the rage right now, and the Brewers will likely discuss one with shortstop Jean Segura , reports Chris Cotillo of MLB Daily Dish.
Cleveland Indians : There haven't been any talks regarding an extension for Asdrubal Cabrera , according to Nick Cafardo of the Boston Globe.
Baltimore Orioles : The club isn't worried about losing draft compensation as they eye the free agent market, according to Ken Rosenthal of Fox Sports. Might this be a precursor to a signing of either Jimenez or Santana?
Red Sox: In the wake of Dempster retiring, the Red Sox still don't plan to pursue starting pitching from outside the organization, reports WEEI.com's Speier. He also reports they "could" bring back Drew, but that it "remains to be seen."
Cincinnati Reds : There's talk that the club and starting pitcher Homer Bailey are close to agreeing on a six-year deal worth around $100 million.
Detroit Tigers : They've taken a quick glance at free agent reliever Ryan Madson, but a deal is unlikely, according to Jason Beck of MLB.com.
New York Yankees : They are not considering any more free agent deals (major-league deals, at least), according to Joel Sherman of the New York Post.
The 2017 season has been, by far, the worst season of Cabrera's career

Check out all of Sunday's action, including a single-season record getting closer to falli...

The Mariners were eliminated from postseason contention with Sunday's loss
Maxwell became the first MLB player to kneel during the national anthem Saturday

The Blue Jays are not expected to bring Bautista back next season

The Dodgers have already clinched the NL West title, so the D-Backs will be a wild card te...