All you need to know: MLB news, rumors from Feb. 17
Time for our one-stop roundup for the happenings of the day. Updates included on the Indians, Orioles, A's, Royals, Braves, Mets, Padres, Red Sox, Twins, Astros, Cardinals, D-Backs, Mariners, Pirtes, Rangers, Barry Zito and Kendrys Morales.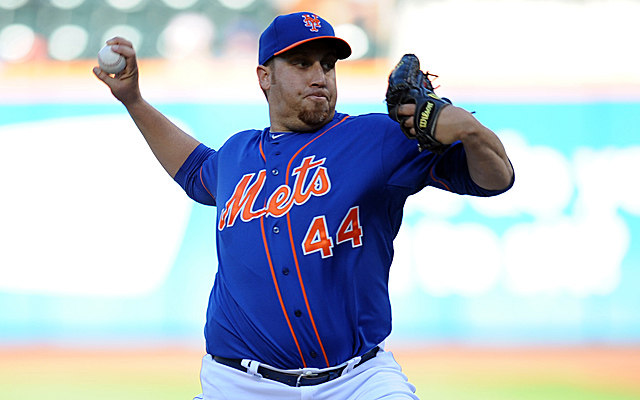 MORE: FA tracker: position players | FA tracker: pitchers
The Free Agent Five is now the Free Agent Four, as Ervin Santana , Nelson Cruz , Kendrys Morales and Stephen Drew remain unsigned but Ubaldo Jimenez has found a home -- in a deal I believe is unlikely to succeed.
Let's dive in.
SIGNINGS
Cleveland Indians : They've brought in veteran starting pitcher Aaron Harang and he could make $1 million this season if he earns a rotation spot (Jon Heyman).
Baltimore Orioles : Ubaldo Jimenez has been signed to a four-year, $50 million deal.
WAIVER CLAIMS
Oakland Athletics : They claimed reliever Joe Savery from the Philadelphia Phillies , who was removed from the 40-man roster with the signing of A.J. Burnett .
Kansas City Royals : Infielder/outfielder Jimmy Paredes has been claimed off waivers from the Orioles. Paredes has been with the Houston Astros , Miami Marlins , Orioles and Royals now this offseason.
TAKING A BREAK
Similar to Ryan Dempster , Barry Zito says that he's taking a break in 2014 but isn't retiring from baseball.
REPORTS, RUMORS and SPECULATION
Atlanta Braves : In an article about the recent contract extensions by the club, beat writer David O'Brien says that he doesn't think Jason Heyward will be signed long-term. Heyward is set to be a free agent after the 2015 season.
New York Mets : There's a "significant gap" in what the Mets would like to pay free agent shortstop Stephen Drew and what he wants (newsday.com).
Kendrys Morales: The Seattle Mariners and Orioles are possibilities for the free agent.
San Diego Padres : Third baseman Chase Headley hasn't had discussions with the club about a possible contract extension. He's set to hit free agency after this season.
Boston Red Sox : Jon Lester says that he hasn't had any discussions with the front office about a possible contract extension. He's only locked up for this season before hitting free agency.
Minnesota Twins : Outfielder Josh Willingham wants to finish his career with the club (twincities.com).
INJURY UPDATES
Astros: All-Star reliever Jesse Crain is hoping to be ready to pitch in the majors sometime in April, following offseason surgery on his right biceps tendon (MLB.com).
Braves: Star setup man Jonny Venters is taking a "slow, steady" approach to rehabbing from Tommy John surgery. If things go well, he could begin a rehab assignment about the time the Braves break camp in late March (MLB.com).
St. Louis Cardinals : Reliever Kevin Siegrist skipped his scheduled bullpen session Monday due to some left arm soreness, but the move has been termed precautionary (MLB.com).
Arizona Diamondbacks : Outfielder Cody Ross is ahead of schedule in his return from hip surgery. He might even be ready to start with the club on opening day (MLB.com).
Mariners: Rookie pitcher Taijuan Walker threw off the mound and reported no issues (seattletimes.com). He had experienced some soreness previously.
Pittsburgh Pirates : Closer Jason Grilli hasn't thrown off a mound since Thursday, but he says he's perfectly fine. Also, starter Wandy Rodriguez had a very encouraging bullpen session (triblive.com).
Texas Rangers : Second baseman Jurickson Profar has been cleared to begin his throwing program (dallasnews.com). He was dealing with a shoulder injury.
Twins: Shortstop Pedro Florimon will be sidelined at least two weeks after having surgery to remove his appendix Monday. It wasn't an emergency appendectomy, however, so his timetable for a return is significantly shorter than it could have been (MLB.com).