All you need to know: MLB news, rumors from Feb. 21
It's time to conclude the day with our quick-hitting round. We'll touch on the Dodgers, A's, Cubs, Nationals, Orioles, Padres, Rangers, Rays, Reds, White Sox, Yankees, Mariners, Mets, Pirates and Red Sox.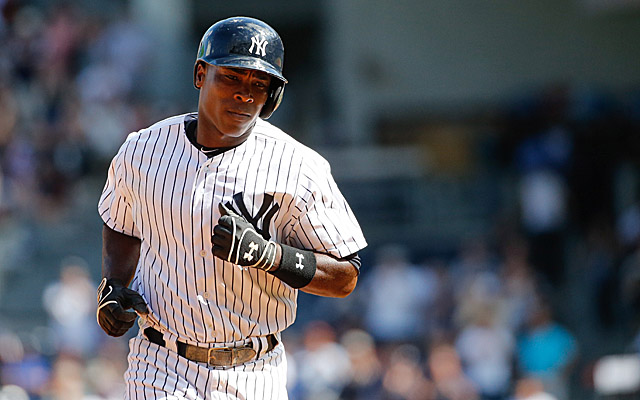 MORE: Spring Training | FA tracker: position players | FA tracker: pitchers
The Free Agent Four -- Ervin Santana, Stephen Drew, Nelson Cruz and Kendrys Morales -- remain unsigned, and my colleague Jon Heyman has a great look at the situation from the perspective of Drew. As for everything else, let's take our daily stroll through baseball.
SIGNING
Dodgers: They've inked Cuban shortstop Erisbel Arruebarruena to a five-year deal.
INJURY UPDATES
Athletics: Outfielder Craig Gentry missed Friday's workout with tightness in his lower back. He's had an MRI (sfgate.com).
Cubs: Right fielder Nate Schierholtz was struck in the head during a collision with Junior Lake during a popup drill. Thus far, Schierholtz is expected to return Saturday in good condition (chicagotribune.com), but it's still a head issue, so it's worth monitoring.
Dodgers: Center fielder Matt Kemp isn't expected to be ready for the club's season-opening series against Arizona in Australia. Also, Yasiel Puig -- who has packed on a few lbs. this offseason -- missed his second straight day of practice Friday due to a bruised thigh (MLB.com). Finally, starting pitcher Paul Maholm is dealing with a tender pitching elbow (MLB.com).
Nationals: Reliever Tyler Clippard was held back from throwing Friday due to tightness in his back. It isn't deemed serious; instead being called a precautionary measure (washingtonpost.com).
Orioles: Big-time pitching prospect Dylan Bundy is throwing from 150 feet now in his rehab back from Tommy John surgery. Also, starting pitcher Miguel Gonzalez is feeling "100 percent" after some brief back spasms in camp (MLB.com).
Padres: Top pitching prospect Max Fried has been shut down for two weeks due to forearm soreness (MLB.com).
Rangers: Possible closer Neftali Feliz had some soreness in his throwing arm earlier in the week, but came through a session Friday without issue (dallasnews.com). Starting pitcher Matt Harrison had an MRI on his latest back problem and the results showed no serious issues (MLB.com). Catcher Geovany Soto is dealing with left ankle/Achilles soreness and is seeing a specialist (dallasnews.com).
Rays: Second baseman Ben Zobrist has battled a sore back early in camp, but is "feeling a lot better" and may be again active in camp Sunday (tampabay.com).
Reds: After having knee surgery just a week ago, Mat Latos is already throwing from 60 feet (MLB.com). Setup man Jonathan Broxton is recovering from forearm surgery (last August) and is making great progress. He's now throwing every day (MLB.com).
White Sox: Outfielder Avisail Garcia is out two days with -- seriously -- an ingrown toenail (csnchicago.com).
Yankees: First baseman Mark Teixeira won't be playing in exhibition games until March.
REPORTS, RUMORS and SPECULATION
Mariners: They are eyeing a reunion with free agent designated hitter/first baseman Kendrys Morales, according to Jon Heyman. One of the club's young infielders -- either Nick Franklin or Brad Miller -- is likely to be traded, according to Adam Rubin of ESPN New York, who cites the Mets as a possible landing spot.
Mets: See the Mariners entry.
Orioles: They're still in on starting pitcher Ervin Santana, per Jon Heyman. Not only that, but Heyman also reports they've discussed Nelson Cruz and Morales.
Pirates: They have at least taken a glance at Morales, per Heyman.
Red Sox: Extension talks with designated hitter David Ortiz are underway, says club president Larry Lucchino (via Providence Journal).
Yankees: I wouldn't expect a Rivera (or Jeter) type retirement tour, but Alfonso Soriano is pondering retirement after the 2014 season, he tells the New York Post.
Where might the Orioles third baseman land?

Kinsler will slot in at second base for the Angels

The Marlins got a better return for Ozuna than Stanton or Gordon
The two teams are going about things in very different ways

The Marlins are indeed in teardown mode under new ownership

The Marlins still have more attractive pieces