All you need to know: MLB news, rumors from Feb. 4
Your one-stop shop for MLB news and rumors for the day. We'll hit on the Braves, A's, Mariners, Marlins, Padres, Stephen Drew, Ervin Santana and more.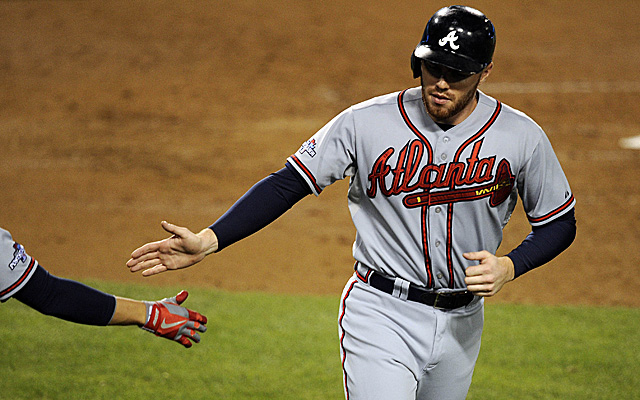 MORE: FA tracker: position players | FA tracker: pitchers
Though none of the five remaining free agents with draft compensation attached signed (broken record alert!), there was some actual MLB news Tuesday. Let's check it out.
SIGNINGS, AVOIDING ARBITRATION, ETC.
Athletics: They have signed outfielder Sam Fuld to a minor-league deal, worth $800,000 plus incentives (Jon Heyman reports).
Braves: The big news of the day came from Atlanta. The Braves granted an eight-year, $135 million contract extension to first baseman Freddie Freeman, effectively making him the face of the franchise. The Braves also avoided arbitration with outfielder Jason Heyward, who signed a two-year deal, eating up his remaining arbitration years. 
Mariners: The club avoided arbitration with Logan Morrison, settling at $1.75 million plus incentives (Heyman).
Marlins: They signed utility man Jeff Baker to a two-year contract. Baker hit .314/.407/.667 with 10 homers in 123 plate appearances against lefties last season (Heyman).
MAJOR INJURY
Padres: Cory Luebke will miss his second straight full season. A real shame.
REPORTS, RUMORS AND SPECULATION
Stephen Drew: He's still hanging around on the open market. Some reports Tuesday connected Drew to the Mets and Red Sox.
Ryan Madson: The relief pitcher hasn't seen regular-season action since 2011. He's reportedly going to work out for multiple teams Friday, with the Twins being among the teams looking (Darren Wolfson of ESPN 1500 in Minnesota).
Tracy McGrady: Yes, the basketball player. He's got a shot to join the Sugar Land Skeeters of the independent Atlantic League this season and is being trained as a pitcher by Roger Clemens.
Ervin Santana: Once asking for a long-term deal and nine figures, the free agent starter's asking price has dropped significantly -- maybe even down to three years, reports Buster Olney of ESPN.com.
Suk-Min Yoon: The right-handed pitcher from Korean Baseball Organization worked out for the Cubs and Rangers in Arizona, reports the Dallas Morning News.
---
Dodgers: The club remains "active" in talks with free agent starting pitcher Bronson Arroyo, reports Jon Morosi of FoxSports.com. I guess you can never have too many pitchers.
Mariners: The club is in talks with free agent slugger Nelson Cruz and also eyes free agent closer Fernando Rodney. Jon Heyman has the full story.
Rangers: General manager Jon Daniels told MLB Network that he's looking at starting pitching options, but says not to expect the club to make a "big-ticket acquisition." (Heyman)
The lefty starter is coming off a terrible season

After acquiring Ian Kinsler and Zack Cozart in recent days, the Angels are trending upward

Cozart's coming off a big season as the Reds' shortstop
The veteran slugger spent the last eight seasons with Cleveland

The Padres may be poised for an active winter

Yes, Bryce Harper is going to make a lot of money next winter