All you need to know: MLB news, rumors from Jan. 28
Carlos Pena is an Angel, A.J. Burnett isn't going to retire after all and the Astros might hire Nolan Ryan. All this and more in a roundup of Tuesday's baseball notes.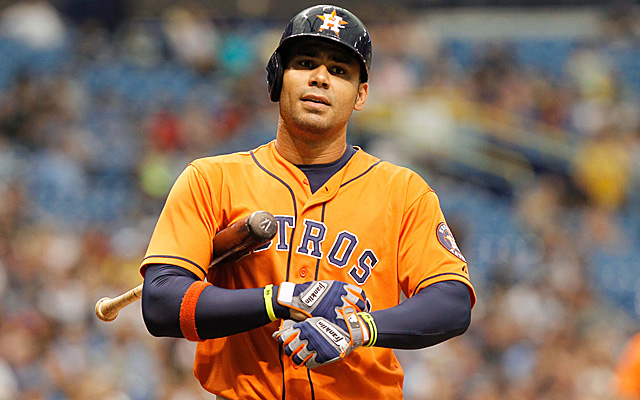 MORE: FA tracker: position players | FA tracker: pitchers
Pitchers and catchers report within just a few weeks and there's still a decent group of starting pitchers sitting there unsigned. Things seem to be moving, even if slowly. Let's take a look at the day that was.
SIGNINGS
The Angels have agreed to minor league contracts with 1B/DH Carlos Pena and OF Brennan Boesch, per Mike DiGiovanna of the Los Angeles Times.
AVOIDS ARBITRATION
The Reds and Aroldis Chapman have agreed on a $5 million deal for the 2014 season, avoiding arbitration (via Joel Sherman). The club was originally offering $4.6 million while Chapman was asking for $5.4, so it's a 50-50 compromise. How nice.
NOT RETIRING
A.J. Burnett is not retiring, ending a few months of decision-making time. He'd previously said he would either retire or remain with the Pirates, but now he's open to signing with another club.
REPORTS, RUMORS AND SPECULATION
Astros: Hall of Famer and former Rangers president Nolan Ryan met with the Astros owner (Jim Crane) and president (Ryan's son Reid) over a possible return to the franchise in some capacity. If he does return, expect his role to be something along the lines of "advisor" and not nearly as hands-on as he was in Texas, reports MLB.com's Brian McTaggart.
Blue Jays: Jon Heyman has a column up discussing the Blue Jays situation that is a must-read.
Mariners: Jon Heyman reports the Mariners might have one last bullet left to fire this offseason.
---
Jeff Baker: Several teams are interested in the services of utility man Jeff Baker, including the Marlins and Nationals.
Yuniesky Betancourt: The now-former MLB infielder has signed a one-year deal with the Orix Buffaloes in Japan's Nippon Professional Baseball. (Heyman)
Yoon Suk-min: The Korean export has received four offers and is currently in discussions with two of those four -- and could sign very soon, per a Korean report (via @MyKBO). We knew that previously the Twins were in on Yoon, but that was back in late October and the Twins have already landed two starting pitchers this offseason.
Boston wants to add two big bats to their lineup, not just one

Even more relievers signed on the final day of the Winter Meetings

Keep tabs on the top 50 free agents right here
The league is not happy Ohtani's medical information leaked

Kansas City and Baltimore were quite busy at the Rule 5 Draft

Piscotty's mother was diagnosed with ALS earlier this year