All you need to know: MLB rumors and news roundup for Feb. 24
Monday's full hot stove recap can be found within.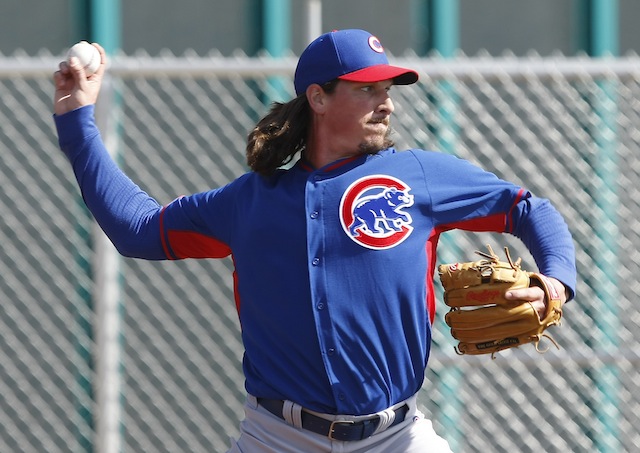 MORE: Spring Training | FA tracker: position players | FA tracker: pitchers
On the MLB hot stove front, here's all that's worth knowing for Monday, Feb. 24 ...
From Jon Heyman ... First, our man in the chopper reports that the Rockies may have some interest in free agent starter Ervin Santana. Heyman also name-checks the Orioles, Rangers and Mariners as having some interest in Santana. Elsewhere, Heyman reports that the Indians have approached 2B Jason Kipnis regarding a contract extension. 
Now for the rest ... 
SIGNINGS & AGREEMENTS
- Rangers: Have signed MGR Ron Washington to a contract extension through the 2015 season.
RUMORS, SPECULATION, ETC.
- Nick Franklin: The Mariners and Mets have reportedly talked about a trade involving the 22-year-old shortstop. 
- Cubs: Regarding the trade status of RHP Jeff Jeff Samardzija, Gordon Wittenmeyer of the Chicago Sun-Times is hearing differing opinions. Two "industry sources" tell Wittenmeyer that there's a good chance Samardzija is traded before opening day, while a third source says there are no current trade talks to that end. 
- Mets: COO Jeff Wilpon says the team intends to exercise its 2015 option on GM Sandy Alderson. (Kristie Ackert, New York Daily News) ... Tim Rohan of the New York Times writes that Daisuke Matsuzaka has a shot at winning the Mets' fifth-starter job. 
- Orioles: Last week, the Orioles approached J.J. Hardy's agent about a contract extension. Hardy is eligible for free agency after the upcoming season. (Eduardo A. Encina via Twitter)
- Reds: Cincy will give Alfredo Simon some work as a starter this spring just in case Mat Latos isn't healthy for the start of the regular season. (Mark Sheldon via Twitter)
- Yankees: May have some interest in free agent reliever Joel Hanrahan, who's working his way back from Tommy John surgery. 
INJURY UPDATES
- Rangers: An MRI on the back of LHP Matt Harrison showed no damage, and he's expected to resume throwing soon. While he's not expected to be ready for opening day, consider this something close to a best-case scenario. Harrison last year underwent a pair of back surgeries during his lost 2013 season. (Evan Grant, Dallas Morning News) ... RHP Colby Lewis (Tommy John surgery, hip replacement) will pitch in an intra-squad game on Tuesday. Lewis has sent regular-season action since July of 2012 and is in camp on a minor-league contract. (T.R. Sullivan, MLB.com)
We heard about it being awful for years, but was it?

Then again, three trades in four days might be behind Jerry Dipoto's usual pace

Ohtani is arguably the best hitter and pitcher in Japan
The O's need rotation help, and Cobb is available for hire

The Red Sox and Cardinals are expected to make trade offers next

The free agent first baseman may be a fit in St. Louis