All you need to know: MLB rumors and news roundup for Feb. 7
Friday's full hot stove recap can be found within, including reports of big plans for the Yankees when it comes to international free agents.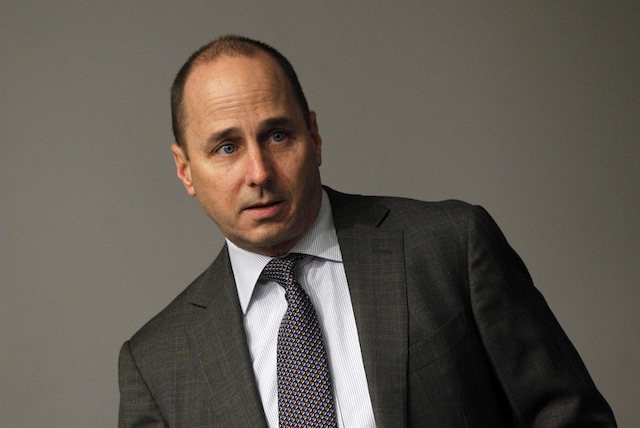 MORE: FA tracker: position players | FA tracker: pitchers
On the MLB hot stove front, here's all that's worth knowing for Friday, Feb. 7 ...
SIGNINGS & AGREEMENTS
- Oakland Athletics : Have agreed to terms of OF Coco Crisp on a two-year contract extension. The deal is worth a reported $22.75 million guaranteed plus a vesting option for a third year.
- Milwaukee Brewers : Are set to sign RHP Francisco Rodriguez to a one-year deal worth $3.25 million plus another $550,000 in potential incentives. 
- Arizona Diamondbacks : Agreed to terms with RHP Bronson Arroyo on a two-year deal that will pay him a mininum of $23.5 million and includes an option for 2016. 
- Washington Nationals : CBSSports.com's Jon Heyman reports that the Nats have agreed to terms with free agent reliever Luis Ayala on a minor-league contract. 
- Chicago White Sox : Have signed reliever Mitchell Boggs to a one-year, $1.1-million contract. 
RUMORS, SPECULATION, ETC.
- Dan Wheeler: The 36-year-old reliever has decided to retire from baseball. (Chris Cotillo via Twitter)
- Joel Zumaya: The 29-year-old reliever has decided to retire from baseball. (Chris Cotillo via Twitter)
- Athletics: OF Yoenis Cespedes would like to sign a contract to keep him in Oakland beyond the 2015 season, when his current contract expires. (John Hickey via Twitter)
- Seattle Mariners : Even after signing closer Fernando Rodney , the M's are still in talks with free agent outfielder Nelson Cruz . (Jon Morosi via Twitter)
- New York Mets : On Friday the Mets watched a light bullpen session by free agent reliever Joel Hanrahan , who's coming back from Tommy John surgery. (Marc Carig via Twitter)
- Nationals: The Nats could emerge as a suitor for free agent RHP A.J. Burnett , reports our own Jon Heyman. 
- Baltimore Orioles : The O's may have little shot at signing A.J. Burnett because Burnett is believed to be set on the pitching in the NL. (Roch Kubatko via Twitter)
- Texas Rangers : Are reportedly working toward a deal with free agent RHP Tommy Hanson . 
- New York Yankees : Andrew Marchand and Wallace Matthews of ESPN New York write that the the Yanks are expected to spend up to $18 million on the international free agent market this summer despite facing penalties if they exceed just $2 million ... 3B Alex Rodriguez voluntarily withdrew his suit against MLB and the MLBPA. This means that A-Rod will likely serve his full-season suspension without further fight. 
Will Tanaka or Upton try their luck in free agency again in the offseason?

Pujols smacked his 610th career home run Tuesday night

Who will be the wild cards? Who will be most healthy? Who will be hot? This could be fun.
The story of a game that had 22 innings, one run, one mascot ejection and so much more

Plus Adrian Gonzalez and J.D. Martinez reach milestones and everything else from Tuesday b...

The Cubs had run out of bench players, so Anthony Rizzo moved across the diamond