All you need to know: MLB rumors and news roundup for Jan. 27
Monday's hot stove recap can be found within.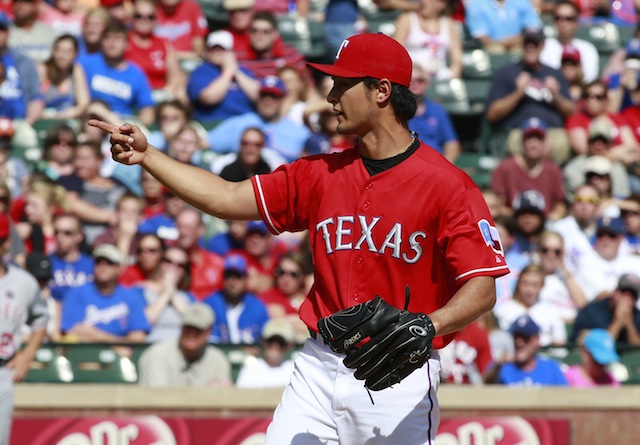 MORE: FA tracker: position players | FA tracker: pitchers
On the MLB hot stove front, here's all that's worth knowing for Monday, Jan. 27 ...
SIGNINGS & AGREEMENTS
- Milwaukee Brewers : Signed INF Pete Orr to a minor-league contract. 
- Cleveland Indians : Signed INF Elliot Johnson to a minor-league contract with an invitation to spring training. 
- Cincinnati Reds : Signed INF Chris Nelson to a minor-league contract. 
- Colorado Rockies : Signed 1B Paul Janish to a minor-league contract with an invitation to spring training.
RUMORS, SPECULATION, ETC.
- Michael Young : Still hasn't decided whether he'll play in 2014 or retire. (Dylan Hernandez via Twitter)
- Angels: Mike DiGiovanna of the Los Angeles Times tweets that if the Angels add another starting pitcher, then it's likely to be someone like Chris Capuano or Jason Hammel rather than Bronson Arroyo or Paul Maholm. 
- Atlanta Braves : MLB.com's Mark Bowman tweets that RHP Brandon Beachy (Tommy John surgery) will have no limitations in spring training. 
- Indians: Talks with RHP Justin Masterson regarding a multi-year contract have tapered off, and now the Indians are focused on signing the arbitration-eligible hurler to a one-year deal. (Paul Hoynes, Cleveland Plain Dealer) ... Speaking of multi-year deals, 2B Jason Kipnis says he's "absolutely" open to signing on with Cleveland. (Stephanie Storm, Akron Beacon Journal)
- Texas Rangers : GM Jon Daniels says there's no rush to talk contract extension with RHP Yu Darvish , who's in the third year of a six-year, $56-million pact. That's understandable, as Darvish's deal must be considered one of the most team-friendly in all of baseball. (Richard Durrett, ESPN Dallas)
- Boston Red Sox : DH David Ortiz suggests he'd be willing to play elsewhere if the Red Sox don't make a multi-year offer that's to his liking. Ortiz is in the final year of a two-year pact ... Long-time Sox broadcaster Jerry Remy says he'll return to the booth in 2014. Remy took a leave of absence late last season after his son was charged with murder. 
Will Tanaka or Upton try their luck in free agency again in the offseason?

Pujols smacked his 610th career home run Tuesday night

Who will be the wild cards? Who will be most healthy? Who will be hot? This could be fun.
The story of a game that had 22 innings, one run, one mascot ejection and so much more

Plus Adrian Gonzalez and J.D. Martinez reach milestones and everything else from Tuesday b...

The Cubs had run out of bench players, so Anthony Rizzo moved across the diamond