All you need to know: MLB rumors and news roundup for March 1
Saturday's full hot stove recap -- transactions, rumors and injury updates -- can be found within.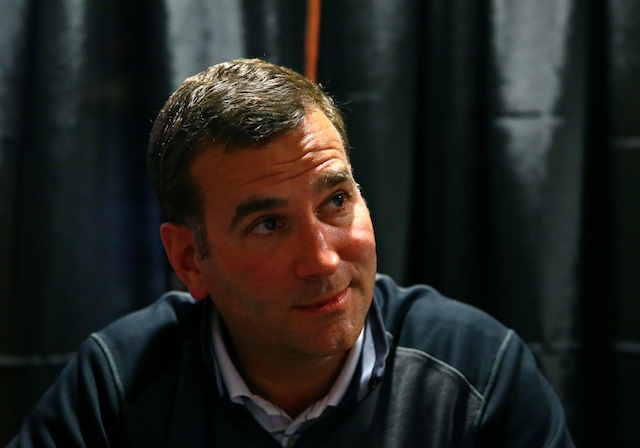 MORE: Spring Training | FA tracker: position players | FA tracker: pitchers
On the MLB hot stove front, here's all that's worth knowing for Saturday, March 9 ...
JON HEYMAN
- In case you missed it, our man in the chopper has the latest on lefty Jon Lester's prospects of signing an extension with the Red Sox. 
SIGNINGS & AGREEMENTS 
- Marlins: Have given RHP Jose Fernandez a $635,000 contract for 2014. That's $135,000 more than the MLB minimum and a nice sum for a second-year player. (Juan C. Rodriguez via Twitter)
- Tigers: The team announced that eight arbitration-eligible players have come to terms on contracts for 2014. Those players include reliever Bruce Rondon and catcher Bryan Holaday. 
- White Sox: The Sox have agreed to one-year contracts with a total of 24 arbitration-eligible players. The list of players includes OF Avisail Garcia and LHP Jose Quintana. (Daryl Van Schouwen via Twitter)
RUMORS, SPECULATION, ETC.
- Astros: Houston received plenty of calls on arbitration-eligible catcher Jason Castro this offseason, but the organization decided against trading him. "We take all of those elements into account, and we really feel he's a player we can't be without at this point," GM Jeff Luhnow told MLB.com's Brian McTaggart.
- Rays: MGR Joe Maddon says Ryan Hanigan, and not Jose Molina, will be the team's primary catcher in 2014. (Joe Smith via Twitter)
- Twins: A source tells Darren Wolfson of ESPN 1500 that the Twins may have interest in free agent lefty Joe Saunders. 
INJURY UPDATES
- Blue Jays: Closer Casey Janssen will likely miss the next handful of games because of a sore shoulder. (Arden Zwelling via Twitter)
- Braves: OF Justin Upton (sore muscle in right side) is hoping to make his spring debut on Sunday. (Carroll Rogers, Atlanta Journal-Constitution)
- Cardinals: CL Trevor Rosenthal (groin) is now able to lift weights and should be back on the mound soon. (Derrick Goold via Twitter)
- Dodgers: OF Matt Kemp (ankle, shoulder) was able to run on Saturday (Dylan Hernandez via Twitter). Kemp was cleared to do so after an MRI came back clean. (Ken Gurnick via Twitter)
- Mets: Reliever Bobby Parnell (neck surgery) faced hitters on Saturday for the first time since July. He says he'll be ready for opening day. (Adam Rubin, ESPN New York)
- Phillies: Lefty Cole Hamels (shoulder) is ready to face hitters after a second clean bullpen session on Saturday. (Todd Zolecki, MLB.com) ... RHP Ethan Martin will be shut down for at least three weeks with a strained right shoulder capsule. (Matt Gelb via Twitter)
- Rangers: SS Elvis Andrus will take it easy for the next few days because of tendinitis in his throwing forearm. (Richard Durrett via Twitter)
- Rays: 2B Ben Zobrist (back) will likely make his spring debut on Monday or Tuesday. (Joe Smith via Twitter)
- Reds: RHP Mike Leake was scratched from his scheduled Sunday start because of an abdominal strain. (Mark Sheldon, MLB.com)
- Twins: 3B prospect Miguel Sano will soon undergo Tommy John surgery and miss the entirety of the 2014 season.
The Nats will host the All-Star Game in 2018

The Orioles are looking to trade Machado heading into his walk year

The Cardinals have been linked for a while to the Baltimore star
Gallardo spent the first eight years of his career in Milwaukee

MLB revenues are at a record high right now, but teams aren't spending it on players

Chicago added Tyler Chatwood earlier this offseason but might not be done adding to the ro...