All you need to know: MLB rumors and news roundup for March 8
Saturday's full spring training recap -- transactions, rumors and injury updates -- can be found within.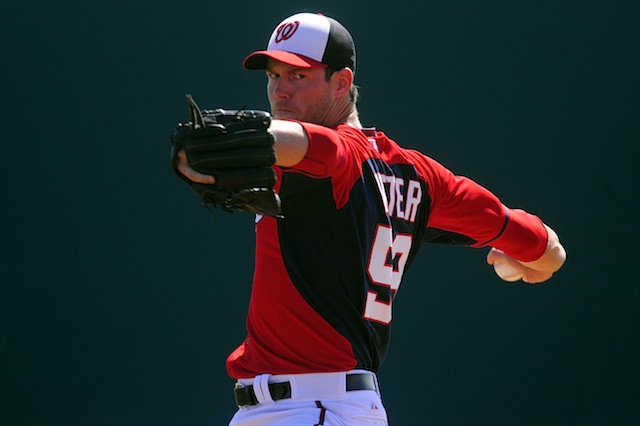 MORE: Spring Training | FA tracker: position players | FA tracker: pitchers
On the MLB hot stove front, here's all that's worth knowing for Saturday, March 8 ...
JON HEYMAN
- Our man in the chopper reported that Ervin Santana may be close to signing a one-year deal with the Blue Jays, Orioles or unnamed National League team. Santana had earlier been angling for a deal worth almost $50 million, but the market is such that he now looks set to accept something close to qualifying offer (i.e., $14 million).  
SIGNINGS & AGREEMENTS
- Athletics: Have renewed 3B Josh Donaldson for the 2014 at a salary of $500,000, or the MLB minimum. 
- Cardinals: Have agreed to a six-year, $52-million contract extension with 3B Matt Carpenter. The deal also includes an option for the 2020 season. 
RUMORS, SPECULATION, NEWS
- MLBPA: The Players Association isn't likely try to re-open CBA negotations this offseason in an effort to change the qualifying offer system for free agents, says Diamondbacks player rep Brad Ziegler. The current CBA expires in 2016. (Bob Nightengale, USA Today)
- Royals: Wade Davis has been removed from the fifth starter's competition and permanently installed in the bullpen. (Andy McCullough, Kansas City Star)
INJURY UPDATES
- Angels: OF Josh Hamilton (calf) is slated to take on-field batting practice on Sunday. He should be ready to make his spring debut in about a week. (Mike DiGiovanna, Los Angeles Times)
- Dodgers: RHP Zack Greinke says his injured calf still isn't 100 percent after throwing a 35-pitch simulated game followed by another 50 pitches in the bullpen on Saturday. (J.P. Hoornstra via Twitter)
- Mets: RHP Matt Harvey, who's working his way back from October Tommy John surgery, continues to suggest he'll pitch toward the end of the upcoming season. 
- Nationals: An MRI on the sore elbow of RHP Doug Fister turned up no structural concerns. He's been diagnosed with inflammation, and he tells MLB.com's Andrew Simon that he's not concerned.
Jonathan Singleton was suspended after a third positive test for a drug of abuse

Rodriguez will join Jessica Mendoza and Matt Vasgersian on the "Sunday Night Baseball" boo...

Jeff Wilpon talked about payroll on Tuesday, and it won't make any Mets fan happy
Yelich's agent recently asked the Marlins to trade him before the spring

I've only been in the BBWAA three years, but here's what my ballot would've looked like this...

In the last two votes, Clemens has gained nearly 17 percent in Hall of Fame voting