All you need to know: MLB rumors, news roundup for Feb. 11
The retirement of an All-Star pitcher headlines Tuesday's hot stove news. Here's a recap of the day that was.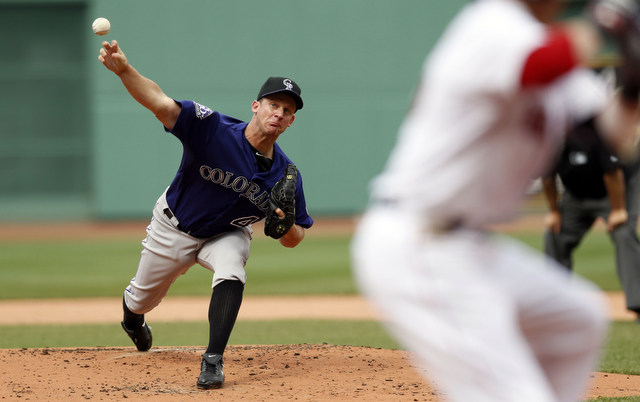 MORE: FA tracker: position players | FA tracker: pitchers
Nearly a month after signing him, the Yankees introduced Masahiro Tanaka to the media at a Yankee Stadium press conference on Tuesday. Here's the video. Tanaka has already left for Florida and will begin spring training with his new teammates on Friday.
There was no significant movement with the remaining top free agent starters on Tuesday, however, as Ervin Santana and Ubaldo Jimenez remain unsigned and not particularly close to a deal. Given how many teams need pitching, it's hard to believe those two are still available. There seem to be a lot of clubs overvaluing a late first round draft pick. Here is a recap of Tuesday's hot stove news.
RETIREMENTS
RHP Roy Oswalt: Officially retired from baseball and is now working with his agent Bob Garber.
FREE AGENT SIGNINGS
Mariners: Agreed to minor league contracts with LHP Randy Wolf and RHP Zach Miner. Both get invitations to spring training. Wolf is returning from Tommy John surgery. (Jon Heyman and Seattle Times)
Rangers: The team's one-year deal with RHP Tommy Hanson, which was reported on Monday, is a guaranteed major league contract. Not a minor league deal. (Jon Heyman)
AVOIDED ARBITRATION
Dodgers: Agreed to a one-year deal worth $4.3 million with RHP Kenley Jansen. (Jon Heyman)
ROSTER CUTS
Marlins: Designated RHP Chris Hatcher for assignment, the team announced. The ex-catcher was removed from the 40-man roster to clear a spot for Carlos Marmol.
RUMORS & SPECULATION
UTIL Emilio Bonifacio: Will clear release waivers tomorrow, at which point the Royals will owe him $575,000 termination pay. A number of teams are interested in signing him once he clears waivers. (Fox Sports)
RHP Rich Harden: Wants to pitch this year but won't sign until he is finished rehabbing from shoulder surgery. He had a torn capsule repaired way back in January 2012. (1500 ESPN)
Could catcher J.T. Realmuto be the next Miami player to be traded?

If the slow-play for Martinez, Hosmer and Arrieta sounds familiar, it should

The Nats will host the All-Star Game in 2018
The Orioles are looking to trade Machado heading into his walk year

The Cardinals have been linked for a while to the Baltimore star

Gallardo spent the first eight years of his career in Milwaukee