All you need to know: MLB rumors, news roundup for Feb. 28
Friday's daily recap includes a host of injury updates, including several on big name Dodgers players.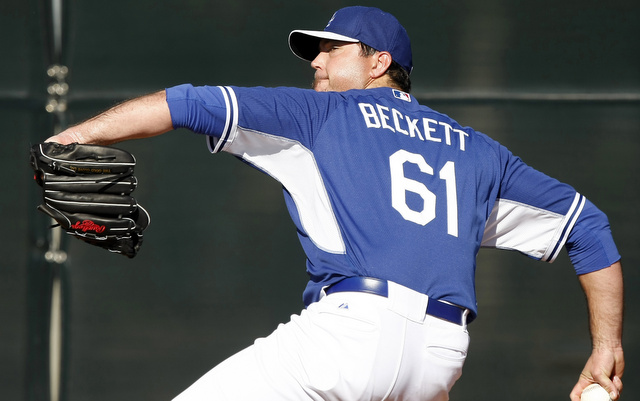 MORE: Spring Training | Scoreboard | FA tracker: position players | FA tracker: pitchers
The highlight of Friday's baseball action did not happen on the field. No, it's our 2014 Opening Day Advent Calendar. Make sure you check it out if you missed it earlier. You won't regret it. Here is everything else that happened in the baseball world on Friday.
RETIREMENTS
Diamondbacks: OF Todd Glaesmann voluntarily retired. The 23-year-old was part of the three-team trade that sent Heath Bell and Ryan Hanigan to the Rays this offseason. (Baseball America)
RUMORS & SPECULATION
Angels: Could trade or release RHP Joe Blanton before opening day since they are not committed to carrying a long man. (Los Angeles Times)
INJURY UPDATES
Braves: OF Justin Upton (side) took batting practice with no problem, but it's unclear when he will return to the lineup. (Atlanta Journal-Constitution)
Cardinals: LHP Jaime Garcia (shoulder) is still 10-15 days away from throwing (MLB.com) ... Top prospect OF Oscar Taveras (ankle) is not yet ready to play in games after having ankle surgery last August. (St. Louis Post-Dispatch)
Cubs: 3B Mike Olt is dealing with a sore shoulder but it is not expected to be a major problem going forward. (CSN Chicago)
Dodgers: RHP Zack Greinke (calf) did not throw his scheduled bullpen and will miss his next start (Los Angeles Times) ... OF Carl Crawford (quad) expects to return to the lineup on Saturday (Los Angeles Times) ... RHP Josh Beckett will make his spring debut on Sunday after missing most of last season due to surgery to correct thoracic outlet syndrome (Los Angeles Times) ... LHP Scott Elbert (appendectomy, elbow) threw off a mound for the first time on Friday (MLB.com) ... RHP Ross Stripling will have an MRI after feeling pain his elbow during Thursday's outing. (Los Angeles Times)
Mariners: RHP Hisashi Iwakuma (finger strain) is still three weeks away from throwing ... RHP Taijuan Walker (shoulder) has been shut down for at least a week.
Mets: IF Wilfredo Tovar left Friday's game with a minor hamstring problem and is only expected to miss a few days. (ESPN New York)
Padres: 3B Chase Headley (calf) has resumed playing catch but he is not yet hitting. (San Diego Union-Tribune)
Reds: IF Jack Hannahan has not yet played in any games after having offseason shoulder surgery, which had not been previously reported. (MLB.com)
Rockies: RHP Jhoulys Chacin (shoulder) will resume throwing in the coming days (Denver Post) ... Prospect RHP Jayson Aquino does not have a concussion after being hit in the head by a line drive on Thursday. (Denver Post)
Tigers: SS Jose Iglesias will be held out of action for a few days due to a recurring shin problem, which has bothered him on and off for years. (MLB.com)
Twins: 3B Miguel Sano (elbow) was sent for tests after feeling some soreness in Thursday's intrasquad game ... SS Pedro Florimon may start the season on the DL after a recent appendectomy. (Pioneer Press)
White Sox: RHP Matt Lindstrom has a mild oblique strain but will throw again as soon as Saturday. (CSN Chicago)
Yankees: RHP Michael Pineda (shoulder) will pitch a simulated game on Sunday before starting his first spring game next week. (MLB.com)
The Pirates recently shipped Gerrit Cole and Andrew McCutchen to Houston and San Francisco,...

Surely, Martinez and his agent are holding out for more

The reliever had a very good 2017 season with the NL Central champs
We don't need to discuss Chipper's Hall of Fame case, so let's have fun instead

Dioner Navarro still hopes to return someday

Christian Yelich's agent says his client's relationship with Marlins is 'irretrievably bro...