All you need to know: MLB rumors, news roundup for Jan. 21
Tuesday's hot stove recap can be found within.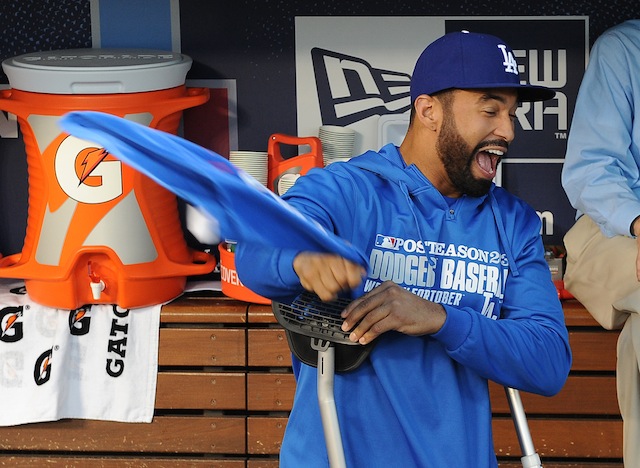 MORE: FA tracker: position players | FA tracker: pitchers
On the MLB hot stove front, here's all that's worth knowing for Thursday, Jan. 9 ...
SIGNINGS & AGREEMENTS
- Los Angeles Dodgers : Signed C Miguel Olivo to a minor-league contract with an invitation to spring training. 
- Washington Nationals : Signed reliever Clay Hensley to a minor-league contract with an invitation to spring training. 
- Philadelphia Phillies : Agreed to a minor-league deal with OF Bobby Abreu ... Avoided arbitration with LHP Antonio Bastardo by signing him to one-year, $2-million contract ... Signed RHP Chad Gaudin to a minor-league contract with an invitation to spring training. 
- Kansas City Royals : Agreed to terms with OF Justin Maxwell on a one-year contract and thus avoided arbitration. 
RUMORS, SPECULATION, ETC.
- Grant Balfour : Adam Kilgore of the Washington Post writes that the free agent closer is expected sign within the next week and possibly within the next few days. The Nationals are among the teams reported to be seriously interested in Balfour.
- Masahiro Tanaka: The list of serious contenders for Tanaka, coveted Japanese free agent right-hander, is reportedly down to five teams: The New York Yankees , Dodgers, Chicago Cubs , Chicago White Sox and Arizona Diamondbacks . Tanaka has until Friday to make his decision ... Houston Astros owner Jim Crane has confirmed that his team has interest in Tanaka. (Brian McTaggart via Twitter)
- MLB: Will require all MLB ballparks to use handheld or walk-through metal detectors starting with the 2015 season.
- Astros: There's reportedly mutual interest in bringing back Nolan Ryan in an executive capacity. 
- Atlanta Braves : Have no had any recent contract talks with free agent lefty reliever Eric O'Flaherty . (David O'Brien via Twitter)
- Dodgers: According to Matt Kemp 's agent Dave Stewart Kemp (shoulder, ankle surgeries) is not likely to be ready for the Dodgers' opening series in Australia against the Diamondbacks, which begins Mar. 22. He should, however, be in playing shape by April 1. (Jon Morosi via Twitter)
- New York Mets : Mike Puma tweets that the Mets are "somewhat" interested in free agent reliever Mitchell Boggs . 
- Rays, Padres: Have reportedly agreed to a deal that would send INF Logan Forythe to the Rays in exchange for reliever Alex Torres. As well, each team figures to receive an additional prospect in the deal.