All you need to know: MLB rumors, news roundup for Nov. 16
Here are some news and rumors that came to light on a very, painfully slow news day. Mark Lowe is our headline signing, if that tells you anything.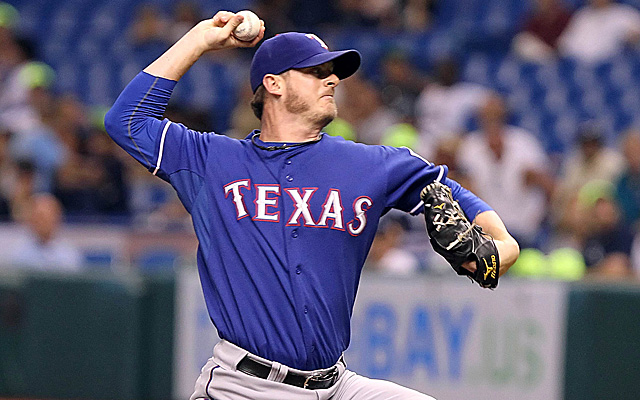 MORE: FA tracker: position players | FA tracker: pitchers
One of the funniest things to see in the offseason in the comments section is something along the lines of "must be a slow news day." Not only is it woefully uncreative, but it entirely misses the point of the Internet as compared to print news days of yesteryear. Furthermore, in the offseason there are some painfully slow news days.
Saturday was one of them.
We're nestled firmly between the GM Meetings and Winter Meetings with Thanksgiving buried in between. It's very early in free agency season and most inquiries between teams and free agents -- or between two teams working on a trade -- are in the introductory phases.
Thus, it was a slow news day -- again, a painfully slow news day. Let's dive in.
•The Rays have added reliever Mark Lowe on a minor-league deal, according to Jerry Crasnick of ESPN.com. He's a bit of a reclamation project, given that he's 30, was awful last season in limited action but has put together a small handful of productive seasons before. He totally feels like one of those relievers who flourishes for the Rays.
Mariners are planning on aggressively pursuing a big-name starting pitcher, a closer and "two frontline power hitters," according to Buster Olney of ESPN.com. That's quite a wishlist, but the Mariners should have money to spend.
Dodgers are looking for a starting pitcher on a short-term deal and don't want to lose a draft pick, per Ken Rosenthal, so they're looking at the pool of pitchers who were not offered qualifying offers. That means no Hiroki Kuroda, Ubaldo Jimenez or Ervin Santana. The latter two couldn't be had on short-term deals anyway, so the news here is that they are unlikely to pursue a reunion with Kuroda. Bartolo Colon, Bronson Arroyo, Roy Halladay and Tim Hudson come to mind as names that would work, but that's pure speculation on my part, not a report of interest.

Robinson Cano is the biggest name on the free agent market by far, and he's in no hurry to come off the market. Using a source "close to" Cano, the New York Daily News has the following quote: 
"He's ready for this to go past Christmas, into January if necessary," the person said. "He's been told all along that it could take time for a market to develop for him, and he's fine with that."
Mets general manager Sandy Alderson is insisting that his club will make a splash this offseason, per newsday.com. 
•The Phillies are looking at starting pitchers Jason Vargas and Paul Maholm, according to csnphilly.com.
•It's no secret the Tigers are looking for a closer and they've been connected to Joe Nathan in rumors. Olney threw Brian Wilson's name in the mix, though it doesn't exactly sound firm, as Olney said the Tigers' "preference among available closers may well be" Wilson.
•The Blue Jays announced that they've signed first baseman Dan Johnson to a minor-league deal.
And that's about it. Told ya it was slow. Viva la early offseason.
Adell shows part of the reason why Los Angeles drafted him 10th overall in 2017

And, well, they're probably right

Supposedly, MLB execs have discussed letting teams hit any three hitters they want in the...
Keep tabs on the top 50 free agents on the market right here

After the departures of Steven Souza and Corey Dickerson, the Rays add a right-handed bat

Rasmus essentially walked away from baseball during last season