All you need to know: MLB rumors, news roundup for Nov. 21
Thursday's hot stove action featured one notable free agent signing and a whole bunch of rumors. Here's a recap of the day's news.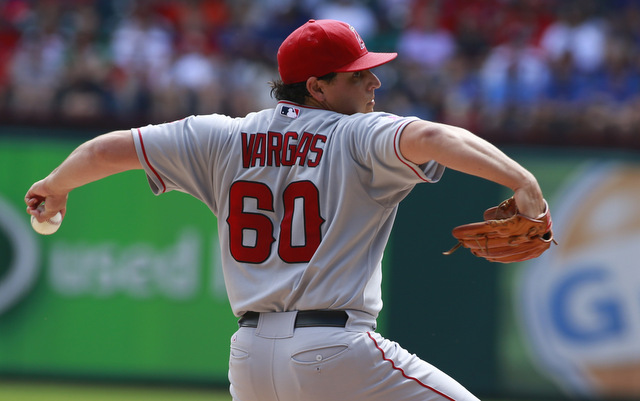 MORE: FA tracker: position players | FA tracker: pitchers
The baseball world is still reeling from Wednesday night's Prince Fielder-for-Ian Kinsler blockbuster. As long as David Price remains on the block, there's a chance we'll see an even bigger trade at some point this winter.
Thursday didn't bring anything as exciting as Fielder-for-Ian Kinsler, but there was one notable free agent signing and plenty of rumory goodness. Here's a recap of the day's hot stove news.
SIGNINGS
• Indians: Signed lefty Mike Zagurski to a minor league contract with an invitation to spring training. (ESPN)
• Red Sox: Re-signed utility man Brandon Snyder to what appears to be a minor league deal with an invite to spring training. (WEEI.com)
• Royals: Signed lefty Jason Vargas to a four-year, $32 million contract. He's likely to replace free agent Ervin Santana in the rotation.
• Tigers: Avoided arbitration with southpaw Phil Coke by agreeing to a one-year contract, the team announced. He'll earn $1.9 million in 2014. (MLB Daily Dish)
• Yankees: Signed infielder Yamaico Navarro to a minor league contract with an invitation to spring training. (New York Post)
ROSTER CUTS
• Royals: Designated catcher George Kottaras for assignment, the team announced. The move clears a 40-man roster spot for Vargas.
RUMORS & SPECULATION
• Lance Berkman: The long-time slugger is reportedly leaning towards retirement. A Hall of Fame debate will follow whenever he does call it a career.
• David Freese: The Cardinals and Angels are talking about a trade involving the former World Series MVP. St. Louis is said to be seeking outfield depth in return.
• Curtis Granderson: Yankees GM Brian Cashman called Granderson a "serious part" of their offseason plan. The team is interested in re-signing him and considers him more than a backup plan. (New York Post)
• Dan Haren: Both the Dodgers and Giants have expressed interest in the free agent right-hander. The two NL West rivals are trying to fill out the back of their rotations.
• Brewers: GM Doug Melvin said the team has "no intentions of trading" Ryan Braun. There had been rumors suggesting he could be on the block.
• Indians: Will listen to offers for shortstop Asdrubal Cabrera. His production has slipped in recent years but he should still have plenty of value given the dearth of quality shortstops. Cleveland figures to prioritize pitching in return. (Cleveland Plain-Dealer)
• Padres: Adding a left-handed bat to the lineup is a priority. Yonder Alonso and Will Venable are the team's only regular lefty swingers. (MLB.com)
• Rays: Working to re-sign catcher Jose Molina to a two-year contract. It would be wrapped up within a matter of days. (ESPN and Tampa Bay Times)
• Royals: Have internally discussed pursuing lefty Brett Anderson in a trade with the Athletics. It's unclear if this is off the table following the Vargas signing. (ESPN)
• Red Sox: They consider free agent backstop Dioner Navarro a backup plan in case their other catching targets fall through. He has some pop, if nothing else. (Boston Herald)
Gallardo spent the first eight years of his career in Milwaukee

MLB revenues are at a record high right now, but teams aren't spending it on players

Chicago added Tyler Chatwood earlier this offseason but might not be done adding to the ro...
The Dodgers and Braves pulled off a whopper on Saturday

Sabathia will reportedly spend a 10th season in the Bronx

Fowler suffered a knee injury at Chicago's Guaranteed Rate Field