All you need to know: MLB rumors, news roundup for Nov. 22
Two trades and a free agent signing headline Friday's hot stove action.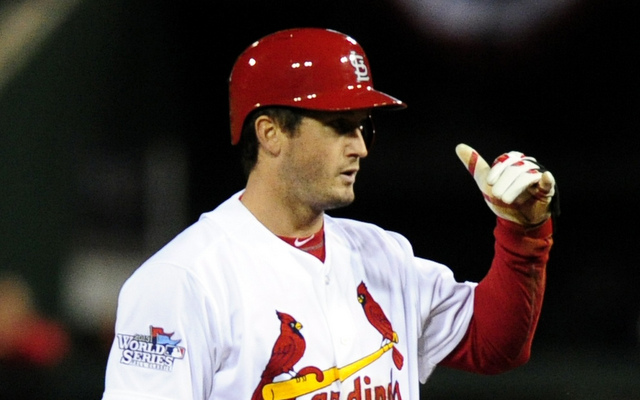 MORE: FA tracker: position players | FA tracker: pitchers
The offseason finally feels like it's in feel swing, doesn't it? Friday brought two trades and one free agent signing plus a whole bunch of juicy rumors.
As always, make sure you head over Jon Heyman's blog for the latest and greatest. Today he has news about a potential reunion between Carlos Beltran and the Kansas City Royals . Here's a recap of the rest of Friday's action.
TRADES
• St. Louis Cardinals : Traded 3B David Freese and RHP Fernando Salas to the Los Angeles Angels for CF Peter Bourjos and prospect OF Randal Grichuk .
• Boston Red Sox : Acquired RHP Burke Badenhop from Milwaukee Brewers for prospect LHP Luis Ortega.
SIGNINGS
• New York Mets : Agreed to sign OF Chris Young to a one-year contract worth $7.25 million.
• Royals: Signed RHP Cory Wade to a minor league contract. He presumably received an invitation to spring training. (MLB Daily Dish)
• ROSTER CUTS
• IF Scott Sizemore : Elected free agency after being outrighted off the 40-man roster by the Oakland Athletics .
RUMORS & SPECULATION
• IF Jhonny Peralta : Has a four-year, $52 million offer in hand but is seeking $56 million across four years and as much as $75 million across five years.
• Angels: In an effort to rebuild their bullpen, they're looking at free agents Joe Smith , LHP J.P. Howell , RHP Edward Mujica and Joaquin Benoit .
• Seattle Mariners : Have interest in both RHP Grant Balfour and RHP Brian Wilson . (Fox Sports)
• Miami Marlins : Made contact with IF Yuniesky Betancourt . (Miami Herald)
• Mets: Remain interested in OF Nelson Cruz even after signing Young. (Fox Sports)
• Washington Nationals : They want to add a starting pitcher but do not want to forfeit their first round pick in next summer's draft. That rules out RHP Ubaldo Jimenez , RHP Ervin Santana and RHP Hiroki Kuroda , but leaves RHP Matt Garza and RHP Ricky Nolasco in play. (Washington Post)
• Red Sox: They're one of several teams to call the Los Angeles Dodgers about OF Matt Kemp .
• Minnesota Twins : Interested in both RHP Gavin Floyd and LHP Chris Capuano . (St. Paul Pioneer Press)