All you need to know: MLB rumors, news roundup for Nov. 23
Here's a roundup of the MLB news and rumors from a mildly slow Saturday, which includes the Red Sox being connected with Matt Kemp in trade rumors.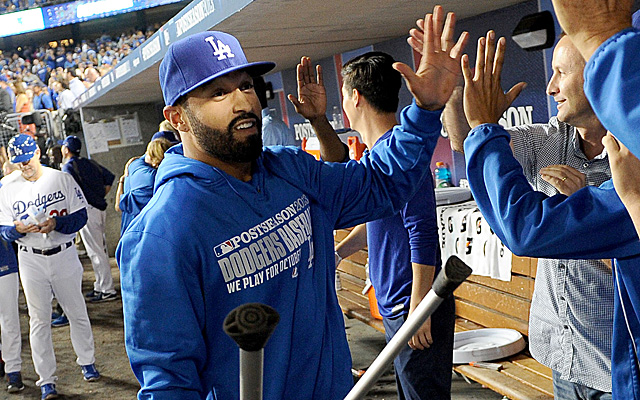 MORE: FA tracker: position players | FA tracker: pitchers
It was an unbelievably slow day on the Hot Stove until two big names made a splash later in the afternoon/early evening. Let's run it down in your one-stop shop.
Signings
•The big news of the day was the Yankees signing Brian McCann to a five-year, $85 million deal (pending physical). Are the Yankees abandoning their previous stance that they'll stay under the luxury tax threshold? 
•It's not definitely a signing, but it appears a good bet that the Cardinals will sign Jhonny Peralta to fill their need at shortstop. But how high did they go with the deal?
i team that offered $52M for 4 yrs for peralta was told they're not even in game. will be fascinating how high it goes.

— Jon Heyman (@JonHeymanCBS) November 24, 2013
•The Angels signed veteran reliever Joe Smith to a three-year deal. 
•The Rangers re-signed Colby Lewis to a minor-league deal. 
•The Cubs have signed outfielder Casper Wells to a minor-league deal and, in turn, released outfielder Dave Sappelt.
Rumors and speculation
•The Red Sox have discussed trading for Dodgers center fielder Matt Kemp, reports Nick Cafardo of the Boston Globe. There will be a hole in center field if Jacoby Ellsbury skates via free agency, of course, while the Dodgers have four starting-caliber outfielders. Kemp is still owed six years and over $130 million in his contract and the Dodgers would surely have to eat a chunk of that in order to move him. 
•About that wacky Robinson Cano in a Detroit-area airport rumor, Tigers general manager Dave Dombrowski tells MLive.com's Tigers beat writer Chris Iott that they are planning on having Ian Kinsler as the everyday second baseman in 2014 and beyond.
•Nationals general manager Mike Rizzo noted in an interview with the club's official website that they would like to extend the contracts of shortstop Ian Desmond and starting pitcher Jordan Zimmermann. He said the club has "made overtures" on the subject with both but nothing has materialized and he doesn't know it either would get done before spring training. Both players are under team control through 2015. 
•The Blue Jays are putting together a package of young players in an attempt to get starting pitcher Jeff Samardzija from the Cubs, says Bruce Levine of ESPN Chicago. 
And that's really about it. Again, slow news day other than the two huge splashes and the Kemp nugget.
The Astros scored seven runs in Game 6 after scoring nine runs total in Games 1-5

The Astros are still alive, and Justin Verlander is the reason why

With a six-run lead in the ninth, the Astros used closer Ken Giles for 23 pitches
On Saturday night in Houston, it'll be CC Sabathia against Morton

The ALCS will go the distance after all with the Astros offense coming back to life in Game...

Verlander's stuff was insane during Game 6 of the ALCS