(Almost literally) no one watched Wednesday's Astros-A's game on TV
Did you see Wednesday's Athletics-Astros game on television? You were one of the only ones.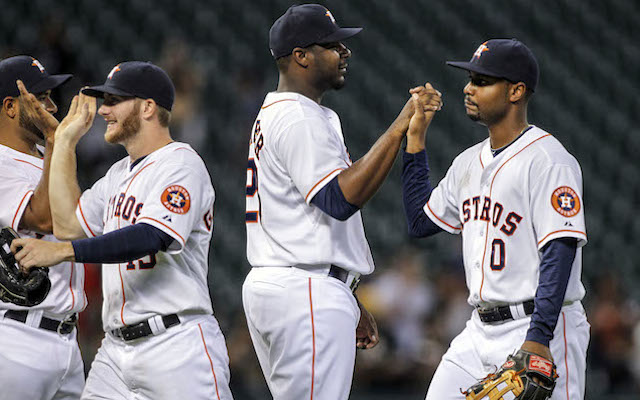 More MLB: Power Rankings | Expert Picks | Latest news & notes | Fantasy news
The Athletics are a very good team, but their Wednesday encounter against the Astros -- for reasons sufficient unto the sinister bean-counters who afflict us -- was not televised back home in Oakland. Meantime, the Astros -- a very bad team -- are available for viewing in a mere minority of Houston-area households because of an ongoing carriage dispute. 
What happened with these two considerations merged for that Wednesday tilt? Take it away, Awful Announcing ... 
The Athletics-Astros game drew a 0.0 rating on CSN Houston, the third time this has happened since the network's launch nearly two years ago. While this in and of itself isn't strange, the other side of the equation is – the game wasn't available at all in Oakland on CSN California, meaning that the two local ratings for the game were 0.0 and N/A. This is absurd, considering the size of both markets.
The deep, almost risible flaws in Nielsen's methodology are noted, but even with the wide error bars these numbers remain pretty dismal. 
Let's give a special nod of ridicule to MLB.tv's local blackout policy, in the absence of which fans in Oakland and Houston might have been able to, you know, watch their teams play. Things as they were, though, literally almost no one saw the game. 
Spoiler alert: The Astros won, 8-1. 
Our annual look back at the preseason predictions and rankings shows lots of good and bad

Keep it locked right here for everything you need to know about the world of baseball Tues...

There have been several racially charged incidents at Fenway Park this year
Washington's right fielders have sputtered offensively since Harper went down

The good news? Wichita still has a chance to win the series Tuesday night

The 2017 season is going to shatter the all-time collective home run record