Although he looks healthy, Utley may not be enough to save the Phillies
Chase Utley looks healthy, but the Phillies don't. The early reports on Utley have been good, but his team keeps losing and looks more and more headed for a July sell-off.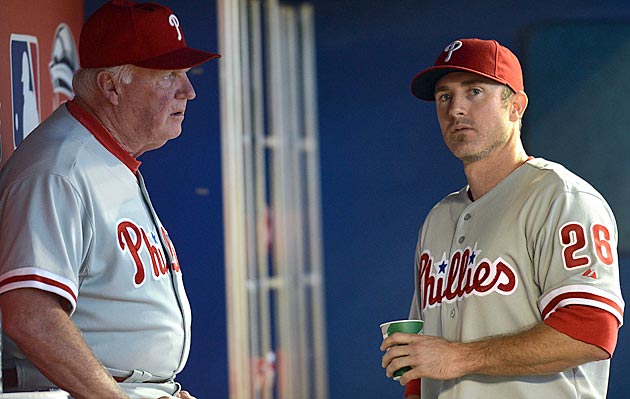 Charlie Manuel is glad to have him back, but his team hasn't won since Chase Utley's return. (US Presswire)
NEW YORK -- Chase Utley looks healthy.
The Phillies don't.

Remember, the idea was for the Phillies to keep the season from falling apart while they waited for Utley and Ryan Howard and Roy Halladay to ride back from the disabled list to save it.

Howard and Halladay aren't back yet, although both are on their way.

Utley returned last week. Rival scouts and Phillies people agree that he looks healthy, if a little rusty. He homered in his first at-bat of the season, but he's 2 for 12 after getting three hits since getting three hits in that first game.
More on Phillies-Mets
Related links
More MLB coverage


"He's definitely running better than he was last year," manager Charlie Manuel said.

"Watching him, you wouldn't think he had been hurt," said a scout who saw the Phillies over the weekend.


Last year, Utley ran and hit and fielded well enough that the Phillies went 64-36 in games he started during a 102-win season.

This year?

Entering play Tuesday, the Phils are winless in the four games Utley has started, and they have a six-game losing streak that began the day he returned from the disabled list.Monday, in an 11-1 loss to the Mets, they looked like a team lacking any spark, from Utley or from anyone or anything else, as they fell to 10 games under .500 for the first time in 10 years.Even before Monday, Phillies officials had been calling around the league in preparation for a possible sell-off before the July 31 non-waiver trading deadline. Needless to say, this losing streak has helped the argument to sell, and not the argument to keep at it with this group.

History certainly suggests that they won't come back. The Phillies were 36-45 through their first 81 games. In the 17 years of the wild-card era, 133 teams have gone 36-45 or worse the first 81 games of the season. Only three recovered to finish over .500, and none of the three made the playoffs (and even with a second wild card, none would have).

In fact, in all the years baseball has used a 162-game schedule, only one team went 36-45 or worse over the first 81 games and ended up in the postseason. That team was the 1973 Mets, who went 82-79 and won a weak National League East.

This year, even with a second wild card, the Phillies will need more than 82 wins to continue their string of five consecutive playoff appearances. They would need a lot more than 82 wins to continue their string of five consecutive division titles.

But the Phillies can't worry about where they'll be in September or October. In some ways, July is their September, because if they don't win a bunch of games real soon, general manager Ruben Amaro will have no choice but to market Cole Hamels, Shane Victorino and others.

"We've got to go out and show them we can win," Manuel said. "We've got to show people we can still play good enough to win."

Theoretically, that's easier to do now that Utley is back and will be even easier to do once Howard and Halladay return.

But half a season of losing has removed most of what made the Phillies special. As Manuel said last month, opponents no longer fear this team. You watch the Phillies, and you no longer expect that they'll find a way to win a game.

"This team is good enough to rattle off 15 of 20," Victorino said. "We can. But have we done it? We control [what will happen]. The problem is we haven't done it.

"And everything that is talked about and said is totally understandable."

For weeks, what we talked about was whether the Phillies could get healthy when Utley and Howard got healthy.

Now, we talk about how soon they'll start trading players away.
Davis should help fortify the Red Sox outfield

Whether or not Mike Matheny will adjust is to be seen

Hammerin' Hank wants to see Kaepernick get another shot in the NFL
Will Tanaka or Upton try their luck in free agency again in the offseason?

Pujols smacked his 610th career home run Tuesday night

Who will be the wild cards? Who will be most healthy? Who will be hot? This could be fun.