American League MVP Watch: Trout's lead increases
Once again, it's time to check in on the major individual awards and see how they're shaping up with less than a month to go in the regular season. Here's the AL MVP race.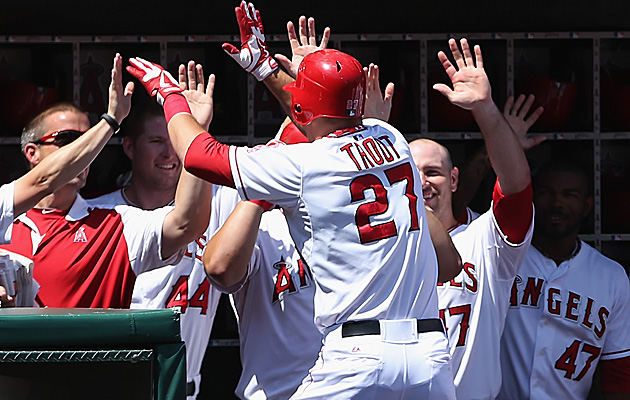 Mike Trout's stranglehold on the AL MVP field is increasing. (Getty Images)
It's time, once again, to check in on where the race for American League MVP stands.
This surely will fall on deaf ears, but it's worth reminding the readership that these are not necessarily my picks. This is an educated list based upon historical MVP voting standards. For example, I don't care about win-loss record for starting pitchers, but the voters historically very much do.
As things stand, this appears to be a three-horse race, with one sporting a multilength lead.
Frontrunner
Mike Trout, Angels: The Angels have won 11 of their last 12 and are only one game out of a playoff spot while Trout has homered in consecutive games and is back on track. I believe he wins this award with ease, anyway. But if the Angels make the playoffs and the Tigers don't (Cabrera, see below), Trout is an utter lock. He leads the majors in runs and stolen bases -- despite not having been called up until late April and leads the AL in batting average. Team that with 27 homers, superb defense and the Angels being 20 games over .500 when Trout starts, and it's not difficult to understand why this looks like a landslide.
Stock Rising
Adrian Beltre, Rangers: In his last 24 games, Beltre is hitting .389/.422/.863(!) with 11 homers and 24 RBI. He routinely puts on defensive clinics at third base, too, but the hunch here is the Rangers vote goes to a certain high-profile outfielder.
Adam Jones, Orioles: The longer the Orioles surprise by hanging around in the playoff race, the more we must consider they'll have a factor in MVP voting. Jones has played in all 140 games to date (starting 139) and hit .288/.334/.514 with 29 homers, 32 doubles, 74 RBI, 86 runs and 13 stolen bases. He's a great defender in center field, too. If he gets hot down the stretch and reaches, say, 35 homers, 90 RBI, 100 runs and 20 steals while the Orioles win the AL East, Jones could be looking at a top-five finish.
Status Quo
Miguel Cabrera, Tigers: He's still the strong runner-up, with 35 homers, 116 RBI and an AL-best .980 OPS. Now, this is where Tigers fans -- or people who hate the Angels or Trout for whatever reason -- kick and scream about how there's no way Cabrera shouldn't win. It's pretty simple, really. The edge that Cabrera has in power (which is only 17 points in slugging percentage, by the way) is more than mitigated by Trout's superiority in every other facet of the game, and the RBI difference is due to lineup construction (Trout hits leadoff and has far fewer RBI chances).
Robinson Cano, Yankees: Obviously in the mix, I don't love his chances at winning as things stand. Of course, we've seen how hot Cano can get. If he goes nuts in the last three weeks and the Yankees run away with the East, he'll have a legitimate shot.

Josh Hamilton, Rangers: With six homers and 12 RBI in his last 14 games, Hamilton now leads the majors with 40 bombs and 119 RBI. He appears to be firmly slotted as No. 3 at this juncture, but things easily easily change in the last three weeks. Red-hot Septembers often propel players to victory in the voting -- especially when said player is the offensive anchor for the best team in baseball.
Derek Jeter, Yankees: Jeter has a few things in his favor. First, he's leading the AL in hits with 191. Second, he's hitting .324 for a first-place team. Finally, the 38-year-old all-time great has never won an MVP award (should have won in 2006, in my opinion), so would the narrative of Jeter taking the MVP this season win out? If the Yankees win the East and Jeter leads the AL in hits and average, it's possible.
Josh Reddick, Athletics: If the A's make the playoffs, they'll surely have a top-10 finisher in MVP voting, and Reddick is about to go over 30 homers.
Stock Falling
Justin Verlander, Tigers: He's having an excellent season, but with a 13-8 record -- wrong or not -- he's cooked in MVP voting. No repeat here.
For more baseball news, rumors and analysis, follow @EyeOnBaseball on Twitter, subscribe to the RSS feed and "like" us on Facebook.
The former Braves star served as a race official for the Daytona 500

He'd be a good fit in the Bronx, but can they make it work and still stay under the luxury...

The slugger had shoulder surgery in November
Tebow reported to spring training with Mets position players on Sunday

Santa Clara senior Jake Brodt did the honors Saturday

Eric Hosmer's eight-year contract with San Diego has wide-ranging ramifications