An open secret no more? Red Sox GM appears to confirm Bobby V.'s likely firing
On a radio interview, Boston GM Ben Cherington appeared to talk openly about the team's managerial search this winter. But Cherington later responded regarding his comments, saying, 'It had nothing to do with Bobby.'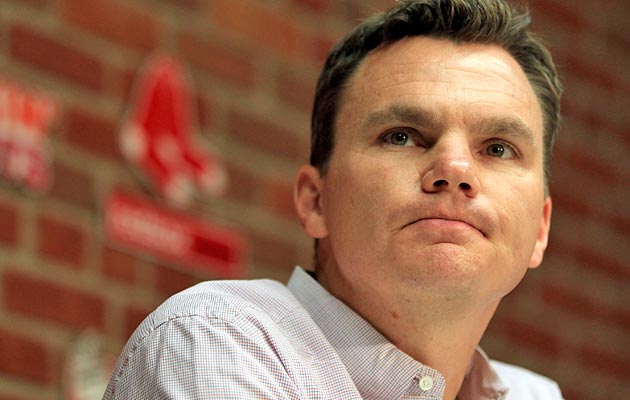 Red Sox GM Ben Cherington might have been premature in discussing a managerial search. (Getty Images)
It has been an open secret Bobby Valentine will be let go by the Red Sox at the end of the season.
But suddenly, it didn't sound like such a secret anymore. Red Sox GM Ben Cherington was asked about a prospective managerial search this winter in an interview Thursday morning on WEEI in Boston, and Cherington seemed to talk openly about how he will approach this winter's managerial search.
"I'd always rather get the decision right than rush it," Cherington said on the radio. "But what we need to do is hit the ground running this offseason. One of the things that, as I look back on last offseason, that didn't go so perfectly was simply the amount of time we spent on the manager search and what that did to the rest of the offseason and I would like to spend less time on it this offseason, that's for sure."
Now, the Red Sox's upcoming managerial search was no great secret, though Valentine himself told Red Sox writers only a day earlier he hadn't heard anything and suggested he was hopeful to return. Even putting aside Valentine's stance, no one expected any Red Sox bosses to comment on the strategy to replace Valentine, at least not until Valentine is actually fired.
People can misspeak, and Valentine's critics would say he did so a time or two this year, and perhaps Cherington didn't mean to say what he said. But if you're not changing managers, why talk about wanting to spend less time on the search this offseason? Why not just say, thankfully we have a manager, so we won't have to spend any time on the search?
Cherington responded to his seeming implication that Valentine was gone for sure, saying via text, "It had nothing to do with Bobby. But if it came across that way, my mistake."
Valentine's supporters will say Cherington's comments on the radio were just the latest bit of evidence Valentine never had the support of his bosses. That it fits into a season where it was a split decision to hire him, with Cherington being steered by ownership to Valentine after he targated Dale Sveum and several others. That it fit into a season's theme of disrespect. Valentine's supporters might cite these other three occurrences ...
1. Cherington sided with Kevin Youkilis after Valentine suggested in a broadcast interview that he was surprised not to be getting the ususal effort from Youkilis.
2. A couple of the coaches were not punished in any way for acting like they didn't want Valentine to be the manager.
3. The owners met with 17 players at a secret gathering sans Valentine in New York to discuss issues with the manager and perhaps the coaching staff.
Again, Cherington texted to explain his comments Thursday, saying it "had nothing to do with Bobby," and that's really about all he can say. (Valentine declined to discuss the radio comments.)
Perhaps Cherington merely got confused for the moment, but it's hard to really understand how he was talking about an upcoming managerial search that wouldn't affect the current manager.
One of the most celebrated programs in baseball is looking to continue its run

A closer look at the teams in the Cactus League and Grapefruit League

Spring training baseball gets underway Friday
Christopher Crawford weighs in on all things prospects

Pawol is expected to umpire in the minors again come the regular season

No. 3 Texas Christian is looking to ruin Long Beach State's return home