Analyzing the crowded 2014 Hall of Fame ballot
The 2014 Hall of Fame ballot is going to spark plenty of debate over the next several weeks because there are so many strong candidates.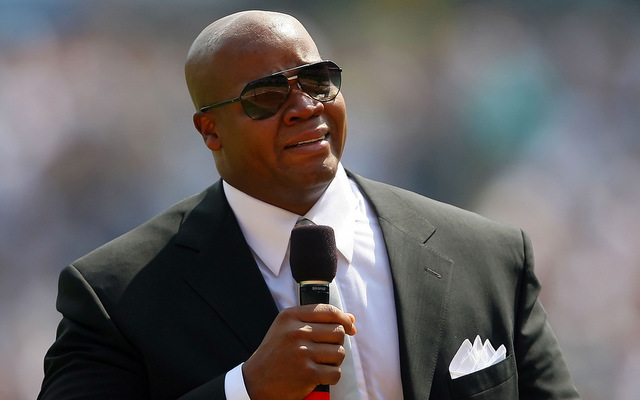 On Tuesday, the BBWAA announced their 2014 Hall of Fame ballot, which runs 36 players deep. Voting will be conducted in the coming weeks and players need to appear on 75 percent of the ballots to be inducted. The voting results and Hall of Fame class will be announced on Jan. 8.
This year's ballot is very deep and that's something of a problem. Voters are only allowed to vote for 10 players maximum and there appears to be more than 10 players worthy of Hall of Fame induction on the ballot. Several players are going to get squeezed off individual ballots due to the numbers game, fairly or unfairly. Here's a breakdown of the 2014 Hall of Fame candidates. First-timers denoted with an asterisk (*).
Sure Things: Greg Maddux*, Tom Glavine*
Both guys are no-brainers. They're both 300-game winners -- pretty much an automatic ticket into Cooperstown at this point -- and among the best pitchers of their generation. Maddux is legitimately one of the 10 best pitchers in the history of the game -- he's eighth all-time with 104.6 WAR -- and the best hope for a unanimous Hall of Fame inductee in the near future. I don't think that will happen though, several ballots are sent in blank every year in an attempt to make some kind of statement. I look forward to hearing the explanations when Maddux is inevitably left off some ballots.
Safe Bets: Frank Thomas*, Craig Biggio
Biggio appeared on 68.2 percent of the ballots last year and looks like a safe bet to jump over the 75 percent threshold this winter. It feels like only a matter of time before he gets in. Thomas was a two-time MVP and brilliant hitter who ranks 14th all-time with a career .974 OPS and 19th all-time with a 156 OPS+. That's tied with Willie Mays and just ahead of Hank Aaron (155 OPS+). His defensively short-comings -- 971 career games at first base and 1,351 at DH -- could work against him, however.
On The Bubble: Mike Mussina*, Jack Morris, Tim Raines, Jeff Kent*
This will be the final year on the ballot for Morris, who appeared on 67.7 percent last year. He could benefit from some kind of "last year on the ballot" push. Raines will be appearing on the ballot for the seventh time and he has made steady progress each year, topping out at 52.2 percent last winter. On merit, I think he belongs. It would take a big jump to get him in this year, however.
Mussina has a sneaky good Hall of Fame case -- he's 28th all time with 82.7 WAR, sandwiched between Hall of Famers Fergie Jenkins (82.8) and Bob Gibson (81.9). He also has a 270-153 career record, and every pitcher who finished their career with a record 100+ games over .500 is in Cooperstown. The lack of a Cy Young Award (he was in the top five of the voting six times) and only one 20-win season (out of 18 seasons) hurts his case a bit.
Like Mussina, Kent as a surprisingly strong Hall of Fame argument. His 377 home runs are the most ever by a second baseman (by a lot) and he's also 16th all-time at the position with 55.1 WAR. Kent won an MVP and has been an All-Star a bunch of times, so he has the hardware as well. The four players in this group could easily go either way. I don't think it would be a shock if they were inducted or left on the outside looking in this year.
Long Shots: Moises Alou*, Luis Gonzalez*, Don Mattingly, Edgar Martinez, Fred McGriff, Kenny Rogers*, Curt Schilling, Lee Smith, Alan Trammell, Larry Walker

Quality players who had great careers, all of 'em. That said, with all due respect, it's tough to see any of them getting the required 75 percent for enshrinement. Schilling, Martinez, Trammell and Smith stand out as having the best chance to get in from this group, but they were on the ballot last winter and didn't appear on even 50 percent of the ballots. They would need to make a huge jump.
No Real Chance: Armando Benitez*, Sean Casey*, Ray Durham*, Eric Gagne*, Jacque Jones*, Todd Jones*, Paul Lo Duca*, Hideo Nomo*, Richie Sexson*, J.T. Snow*, Mike Timlin*
Thousands of players would give anything to have the career these guys had. They just aren't Cooperstown worthy. Several will receive fewer than 5 percent of the vote and fall off the ballot next year. Maybe all of them.
PED Crew: Barry Bonds, Roger Clemens, Jeff Bagwell, Mike Piazza, Mark McGwire, Sammy Sosa, Rafael Palmeiro
In terms of on-field performance, every single one of these players deserves to be in Cooperstown. No question about it. They all have some kind of PED stain, however, which has hurt their candidacy. McGwire admitted to using banned substances and both Bonds and Clemens were investigated, for example. Palmeiro failed a drug test in 2005.
Bagwell and Piazza were left off ballots last year simply because of speculation -- several voters acknowledged they did not vote for them because they appeared to be the type of player who used PEDs, meaning a slugger who hits home runs, basically.
If voters are free to speculate that Bagwell used PEDs, what about Thomas? He fits the profile, no? It's a very slippery slope.
* * *
The PED guys are the reason the ballot is so crowded this year. If it weren't for the drug ties, all of them would have been in Cooperstown some time ago. Instead, they're still on the ballot and will inevitably draw votes, meaning there will be fewer votes for guys like Mussina and Schilling and Raines.
Voters can put a maximum of 10 players on their ballots, a rule is that beyond archaic at this point. If there are more than 10 Hall of Fame worthy players in a given year -- which there are this year, in my opinion -- the voters should be allowed to vote for them. Ten is an arbitrary cutoff point, it's just a nice round number. That's all. Several deserving players are going to get left off ballots this year simply because there aren't enough spots to go around and that's a shame.
Collins has been Mets manager since the start of the 2011 season

The Cincinnati ballpark will have expanded netting in place by Opening Day 2018

The Baltimore third baseman is eligible for free agency following the 2018 season
The clubs breaks ground on Globe Life Field next week

The fan struck at Wednesday's Twins-Yankees game was hospitalized

The Yankees are almost certainly headed to the postseason as a real threat to win the World...