Anatomy of a 10-2 record: Why the Brewers have baseball's best record
The Brewers have baseball's best record at 10-2. How have they done it? Several ways.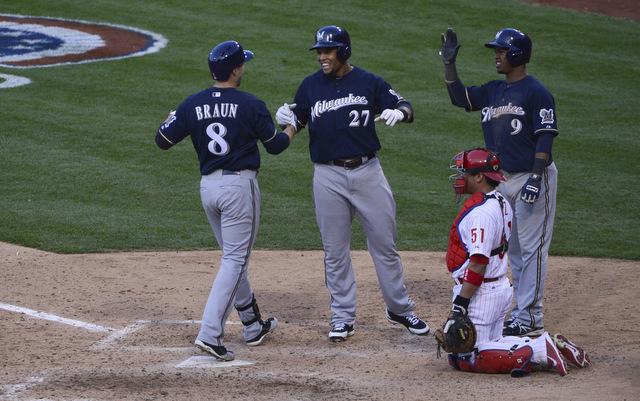 More MLB: Scoreboard | Standings | Probable Pitchers | Sortable Stats | Odds
As of Sunday afternoon, the Milwaukee Brewers have the best record in baseball at 10-2. The Dodgers came into Sunday with eight wins and were the only other team with more than seven wins. Remember, Los Angeles started their season early in Australia and have played more games than everyone else.
The Brewers have won each of their last nine games, outscoring their opponents 53-23 in the process. That stretch includes a three-game sweep over the defending World Series champion Red Sox in Fenway Park and another sweep over another 2013 postseason team, the Pirates. One year after having the eighth worst record in the game, the Brew Crew have been baseball's best team early in 2014.
How have the Brewers done it? Well, obviously winning eight straight games at any point of the season requires more than one thing going right. You can't hit or pitch your way to eight straight wins. You need both. Here are a few reasons why the club has gotten off to such a hot start.
Righties Who Mash Righties
The Brewers are averaging 4.8 runs per game (sixth highest in MLB) even though manager Ron Roenicke has just one left-handed hitter in his regular lineup: second baseman Scooter Gennett , who beat out the incumbent Rickie Weeks for the job in spring training. Everyone else in the regular lineup is a right-handed hitter.
Clubs usually like a balance of lefties and righties, but the righty-heavy order has not hurt their offense because they have righties who crush right-handed pitchers. In fact, the Brewers have a .796 OPS against righties as a team this year, the fourth highest in baseball. When you look at their starting lineup, it's easy to understand why:
2012-14 Platoon Splits for Brewers' right-handed bats
Player
Overall OPS
OPS vs. RHP
OPS vs. LHP
C

Jonathan Lucroy

.835
.789
.974
1B

Mark Reynolds

.738
.739
.732
SS

Jean Segura

.723
.726
.716
3B

Aramis Ramirez

.876
.840
.984
LF

Khris Davis

.884
.848
.956
CF

Carlos Gomez

.827
.850
.880
RF

Ryan Braun

.952
.882
1.139
Davis has less than a full year in the big leagues, so don't pay too much attention to his numbers. Otherwise, just about every one of the team's regulars remains productive against same-side pitchers. Lucroy and Braun have huge platoon splits, but a .789 OPS and an .882 OPS are nothing to be ashamed of. Remember, Lucroy is being compared to other catchers too, and catchers usually don't hit much.
The regular Brewers' lineup is a matchup nightmare for the opposing manager. The only thing you definitely don't want to do is use a lefty against Lucroy and Braun (and Ramirez, for that matter), but otherwise there is no way to neutralize these bats by matching up with relievers. These guys can hit anyone.
Welcome Back, Yovani Gallardo
From 2009-12, Gallardo was as steady as they come. He threw 185+ innings with an ERA somewhere in the 3.52-3.84 range every year like clockwork, and there is a ton of value in that kind of reliability. Gallardo wasn't elite but he was damn solid.
That changed last season, when the 28-year-old had a career-worst 4.18 ERA in 180 2/3 innings. His strikeout rate (7.2 K/9) and swing and miss rate (6.9 percent) were both his lowest in full seasons, ditto his 90.7 mph average fastball velocity. There were rumblings the Brewers would look to trade him before his value dipped further.
Through three starts this season, Gallardo has allowed two runs in 18 2/3 innings (0.96 ERA). His strikeout rate (6.3 K/9), swing and miss rate (5.1 percent) and fastball velocity (90.5 mph) are actually worse than 2013, but Gallardo is getting more ground balls (career high 53.6 percent) and allowing fewer walks (career low 1.5 BB/9) than ever before.
Obviously a 0.96 ERA is not sustainable, but Gallardo has made real improvement because he has changed his approach. He is throwing more sinking two-seam fastballs (29.0 percent) than ever before, and he is pounding the strike zone (42.5 percent of pitches are in the zone, up from 39.6 percent from 2012-13). Gallardo has made tangible changes to his pitching style.
If this new two-seam heavy/pound the zone approach sounds familiar, it's because Kyle Lohse reinvented himself the same way with the Cardinals years ago. Lohse, of course, is now Gallardo's teammate. Is Gallardo's new style a coincidence? Probably not.
Shutdown Bullpen
Milwaukee had a sneaky good bullpen last summer. Their 3.19 ERA was the third lowest in the NL and the fifth lowest in baseball overall, though their collective strikeout (7.7 K/9) and walk (3.0 BB/9) rates were nothing too special. Solid but unspectacular.
This season, Brewers relievers have allowed four runs (three earned) in 32 2/3 innings, good for an MLB-best 0.83 ERA. Their strikeout (11.6 K/9) and walk (2.2 BB/9) rates have also improved dramatically. Heck, they're even getting more ground balls (44.2 percent vs. 51.5 percent). Look at these individual performances:
• RHP Francisco Rodriguez : Has gone 4-for-4 in save chances, allowing just one hit and one walk in six scoreless innings while striking out 11. That's vintage K-Rod.
• RHP Jim Henderson : Last year's closer has allowed one unearned run in 4 1/3 innings, striking out seven and walking only two.
• RHP Brandon Kintzler : Broke out last season (2.69 ERA) and has thrown five scoreless innings in 2014. He was just placed on the DL with a shoulder problem, however.
• RHP Tyler Thornburg : Has emerged as a bullpen force, striking out 10 in 7 2/3 scoreless innings. He has not walked anyone.
• LHP Will Smith : Left-handed batters have gone 1-for-11 against him with six strikeouts.
With that many relievers throwing the ball so well, Roenicke almost can't make a wrong move. He's got it made. Everyone is doing the job right now, from the setup crew to the lefty specialist to the closer in the ninth.
* * *
The Brewers have been baseball's top team in the early going because of a simple yet devastatingly effective formula: a deep lineup with no real platoon split, effective starters ( Matt Garza , Wily Peralta and Marco Estrada all have sub-2.60 ERAs as well) and a dominant bullpen. Most teams hope to have two of three at any given time, but right now the Brewers have all three working for them. It won't last all season, but these wins are already in the bank and they have a nice headstart on the competition.
Closer Wade Davis pitched two innings in Game 4 to help force a Game 5

Also, how much did the Cubs increase their chances?

Los Angeles will have another chance to close the series out on the road
They're alive in the NLCS after their Game 4 win over the Dodgers

You never know what you might get from Arrieta, but what we got was brilliance in Game 4

The 2017 World Series begins Oct. 24