Anatomy of a 2014 World Series team: Kansas City Royals
The Royals are going to the World Series for the first time since 1985. Here's how the 2014 team was built.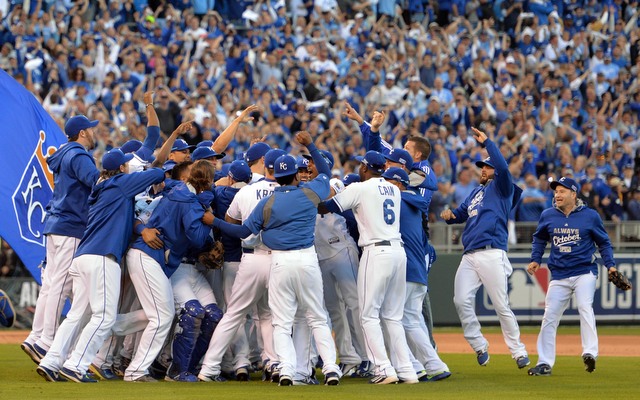 For the first time since 1985, the Royals are going to the World Series. They've won all eight postseason games they've played this year -- the AL wild-card game, three ALDS games, four ALCS games -- after not going to the postseason at all from 1986-2013. They've won their past 11 playoff games overall.
It has taken a long time and lots of hard work to get the Royals back to the Fall Classic. There have been rebuilds and tear downs, more rebuilds and tear downs, and another rebuild after that. Kansas City wasted a lot of high draft picks and made a lot of ill-advised free-agent signings over these past three decades. For every step forward, there was a step or two back, it seemed.
GM Dayton Moore, who was said to be on the hot seat as recently as midseason, found the right mix in 2014 and the team has played an exciting and winning brand of baseball for the past three or four months now. Put the ball in play, run like crazy and catch everything in the field. That has been their mantra. Let's break down how the 2014 Royals were built.
The Big Trade, Sellers Edition: Four years ago, during the 2010-11 offseason, staff ace Zack Greinke made it known he was sick of losing. He wanted to play for a contender and the Royals were still several years away from even thinking out a serious postseason run. The team's hands were tied. They either had to trade Greinke or deal with an unhappy star.
After several weeks of rumors, the Royals traded Greinke (and Yuniesky Betancourt) to the Brewers on Dec. 19, 2010, for a package of four players: Lorenzo Cain, Alcides Escobar, Jeremy Jeffress and Jake Odorizzi. Cain is now the team's center fielder and No. 3 hitter. Escobar is their starting shortstop and leadoff hitter. Jeffress flamed out, but keep Odorizzi's name in mind. We'll talk about him again in a second.
Top-three picks: The Royals were pretty bad for a while there, so bad that they held one of the top three picks in each draft from 2005-08. They used those picks to take University of Nebraska third baseman Alex Gordon (second overall, 2005), ex-University of Tennessee righty Luke Hochevar (first overall, 2006), California high school third baseman Mike Moustakas (second overall, 2007), and Florida high school first baseman Eric Hosmer (third overall, 2008).
That's quite a collection of players, and you know what? You could argue all four have fallen short of expectations. Gordon has turned into a terrific player but not the George Brett clone he was (unfairly) expected to be. Moustakas and Hosmer have yet to hit consistently at the MLB level. Hochevar couldn't hack it in the rotation and was a dominant setup man in 2013 before blowing out his elbow in spring training and undergoing Tommy John surgery. He hasn't thrown a pitch in 2014.
Other first-rounders: Those four top-three picks get most of the attention, but there are other first-round picks on Kansas City's roster: DH Billy Butler (14th overall out of a Florida high school in 2004), backup infielder Christian Colon (fourth overall out of Fullerton in 2010), and lefty Brandon Finnegan (17th overall out of Texas Christian in 2014).
Butler is the longest-tenured player on the Royals' roster. Colon, like some of the team's other top picks, has fallen short of expectations. He has managed to carve out a niche on the bench, however. Finnegan was just drafted this year. The Royals called him up in September to see what he could do in a relief role, and he pitched well enough to get a spot on the postseason roster even though he has been pitching non-stop since last October.
International signings: Under Moore, the Royals have emerged as a powerhouse in Latin America and it shows with their current roster. No. 2 starter Yordano Ventura was signed for a mere $28,000 signing bonus as a 17-year-old out of the Dominican Republic in 2008. He threw in the upper-80s at the time, but he filled out his frame and improved his mechanics so much in the minors that he now sits in the upper-90s.
Starting catcher Salvador Perez was another small bonus signing -- he received $65,000 as a 16-year-old out of Venezuela back in 2006. He zoomed through the minors, especially for a catcher, and is already a two-time All-Star who has played parts of four seasons in the big leagues despite not turning 25 until next May.
The Royals also signed ace setup man Kelvin Herrera as a 16-year-old out of the Dominican Republic back in 2006. His original signing bonus is unknown. Like Ventura, Herrera filled out his small-ish frame and added about 10 mph to his fastball after turning pro. The right-hander now regularly tops triple digits.
Lower-round draft picks: As is the case with any contender, the Royals have a number of mid-to-late draft picks on their roster who are playing important roles. Closer Greg Holland was a 10th-round pick out of Western Carolina Universiy in 2007 who has simply blown all reasonable post-draft expectations out of the water. Lefty Danny Duffy was a third-round pick in 2007 out of a California high school. Like Herrera and Ventura, he added some velocity after turning pro.
In Jarrod Dyson and Terrance Gore, the Royals have two elite base-stealers on the bench for pinch-running situations. Dyson was a 50th-round pick in 2006 -- the 1,475th player of 1,502 drafted that year -- out of Southwest Mississippi Community College. Gore was selected out of Gulf Community College in the 20th round of the 2011 draft. Both guys ran their way to big leagues.
The Big Trade, Buyers Edition: On Dec. 9, 2012, almost two years to the day after trading away Greinke, Moore and the Royals swung a blockbuster to add an ace. They shipped Odorizzi, Wil Myers and two other minor leaguers (Patrick Leonard, Mike Montgomery) to the Rays for James Shields, Wade Davis and Elliot Johnson.
Many people (myself included) criticized Moore for giving up Myers, a top prospect who looked very much like a future impact player, in the trade at a time when it felt like contention was a stretch. That criticism only grew louder after Myers was named AL Rookie of the Year last season while the Royals again missed the postseason.
There is no criticism now. Shields has been at the front of Kansas City's rotation during this incredible run and Davis has become one of the best relievers in baseball after a(nother) failed stint as a starter in 2013. Johnson spent a few months with the team in 2013 before being dropped off the roster. Shields and Davis have been arguably the two most important pitchers on the staff this year. Moore would do this trade again in a heartbeat. Hats off to him.
Free agency: The Royals dipped into free agency and made two notable signings this past offseason. They gave veteran left-hander Jason Vargas and infielder Omar Infante four-year contracts worth $32 million and $30.25 million. Vargas had a strong season and solidified the rotation. Infante missed time with various injuries and didn't have a great regular season. They're both good veteran presences for an otherwise young team.
Minor trades: Moore did a lot of tinkering with minor trades over the past few years, and especially over the past 12 months or so. He acquired right fielder Norichika Aoki from the Brewers for lefty Will Smith last offseason. Aoki is the team's classic put-the-ball-in-play No. 2 hitter.
The Royals also acquired little lefty Tim Collins from the Braves at the 2010 trade deadline as part of the deal that sent Rick Ankiel and Kyle Farnsworth to the Braves. Current Giants outfielder Gregor Blanco went to Kansas City in that trade as well, coincidentally.
At the 2012 trade deadline, Moore made a "my problem for your problem" trade that sent Jonthan Sanchez to the Rockies for Jeremy Guthrie. Guthrie had a strong second half with the Royals that year and re-signed with the team as a free agent following the season. They gave him a three-year, $25 million contract that has since been restructured to free up some up-front cash for the team.
And finally, Moore went to town improving the margins of his roster at the trade deadline this year. He acquired reliever Jason Frasor from the Rangers for minor leaguer Spencer Patton in the middle of July and backup catcher Erik Kratz from the Blue Jays (with Liam Hendriks) for Danny Valencia in late July. Josh Willingham was acquired from the Twins in an August waiver deal for minor leaguer Jason Adam.
Final breakdown: Like the Giants from the NL, the Royals are expected to use the same 25-man roster in the World Series that they used in the ALCS, barring something unexpected. Here's the final breakdown of how those players were acquired:
Drafted (10): Butler, Colon, Duffy, Dyson, Finnegan, Gordon, Gore, Holland, Hosmer, Moustakas
Trades (10): Aoki, Cain, Collins, Davis, Escobar, Frasor, Guthrie, Kratz, Shields, Willingham
International free agents (3): Herrera, Perez, Ventura
MLB free agents (2): Infante, Vargas
It's pretty interesting the Royals have as many drafted players on their roster as they do players who were acquired in trades. The core -- Butler, Gordon, Holland, Hosmer, Cain, Davis, Escobar, Shields, etc. -- comes from both groups too. That's something to remember about farm systems. They're there for two reasons: to fill your roster and to trade for other players. Moore has done a great job at both.
CBS Sports HQ Daily Newsletter
Get the best highlights and stories - yeah, just the good stuff handpicked by our team to start your day.
Please check the opt-in box to acknowledge that you would like to subscribe.
Thanks for signing up!
Keep an eye on your inbox for the latest sports news.
Sorry!
There was an error processing your subscription.
The lefty hitter taught the visiting Marlins a lesson Monday night

Here is everything you need to know about the day in baseball

When it comes to extra-base hits, not many have done what Mike Trout has done through age...
Machado intends to appeal the suspension that stems from Saturday's incident

Also, watch SportsLine on CBS Sports HQ live at 6 p.m. ET for all today's best bets

The road is Omaha is complete, now it's time for the College World Series