Anatomy of a 2014 World Series team: San Francisco Giants
The Giants are going to the World Series for the third time in the last five years. Here's how the 2014 team was built.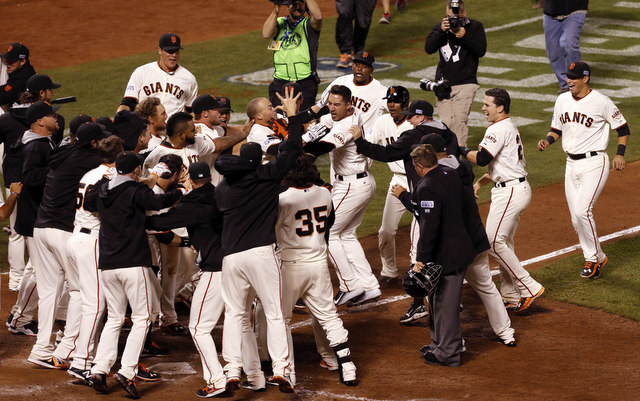 Thanks to Travis Ishikawa's memorable three-run walk-off home run in Game 5 of the NLCS on Thursday night, the Giants are going back to the World Series for the third time in the past five seasons. We're going to have to start talking about this team as a dynasty pretty soon, especially if they win another championship this year.
This Giants team is built both the same and differently than their 2010 and 2012 World Series counterparts. The same core -- Buster Posey, Pablo Sandoval, Madison Bumgarner, etc. -- is still in place but other parts of the roster have changed. In fact, if they do win the World Series again this year, they'll have done it with a different ace/closer combination all three years: Tim Lincecum/Brian Wilson in 2010, Matt Cain/Sergio Romo in 2012, and Bumgarner/Santiago Casilla in 2014.
Now that San Francisco has once again punched its ticket to the Fall Classic, let's look at how GM Brian Sabean -- the longest-tenured GM in baseball has been at it since 1996 -- has built his current team.
Top-10 picks: The best place to start is with the Giants' super-high draft picks. There were a some lean years in the mid-2000s and that meant top-10 picks. In 2006 they used the 10th overall pick on Lincecum, a skinny little guy out of the University of Washington who scared some teams away with his funky delivery. There was concern his frame and delivery weren't built to last, and you know what? Maybe they were right. Lincecum did win two Cy Young awards before falling off, however.
The Giants again held the 10th overall pick in 2007, and they used it to select Bumgarner out of a North Carolina high school. There's not much of a backstory here -- Bumgarner was one of the top prospects in the draft class and San Francisco took him at an appropriate slot. The year after that, the Giants held the fifth overall pick, which they used on a Florida State catcher named Buster Posey. It's hard to believe Posey lasted until the fifth pick, isn't it? The four players taken ahead of him were Tim Beckham (Rays), Pedro Alvarez (Pirates), Eric Hosmer (Royals) and Brian Matusz (Orioles).
San Francisco had another top-10 pick in 2009, but they used that player (Zack Wheeler, sixth overall) to acquire Carlos Beltran at the 2011 trade deadline. Beltran didn't help the team to the postseason. Those top-10 picks from 2006-08 sure did though, and they've all played major roles in the team's 2010 and '12 World Series titles. Bumgarner and Posey are still leading the charge in '14.
Developed from within: The top-10 picks are the sexy selections everyone likes to talk about, but clubs build depth through the middle and late rounds of the draft. The Giants' entire postseason infield is homegrown: first baseman Brandon Belt was a fifth-round pick in 2009, second baseman Joe Panik was a first-round pick in 2011 (29th overall) and shortstop Brandon Crawford was a fourth-round pick in 2008.
Third baseman Pablo Sandoval was not drafted; he was signed as an international amateur free agent out of Venezuela. The Giants signed him as a 16-year-old way back in 2003. Sandoval climbed the minor-league ladder as a catcher and he initially broke into the big leagues behind the plate, but, when it was apparent his defense wasn't big-league caliber, the team shifted him to third base, where he has become a top-notch defender and middle-of-the-order bat.
The current bullpen includes just one homegrown player: Sergio Romo, who was drafted in the 28th round of the 2005 draft out of Mesa State College in Colorado. He used his frisbee slider to get to the big leagues and eventually assume a late-inning relief role. The bench includes backup catcher Andrew Susac (second round, 2011), infielder Matt Duffy (18th round, 2012) and outfielder Juan Perez (13th round, 2008).
It's worth noting Matt Cain, who is not on the roster this postseason following elbow and ankle surgery, was the 25th overall pick in the 2002 draft. He is obviously a key part of the team even though he is unable to play this October.
Homegrown, sorta: The Giants originally drafted both Ishikawa (21st round in 2002) and Ryan Vogelsong (fifth round in 1998), but they took the scenic route to the 2014 team. Ishikawa played sparingly with San Francisco from 2006-10, was released following the 2010 season, then bounced from the Brewers to the Orioles to the Yankees to the White Sox to the Pirates from 2011-14. The Giants signed Ishikawa to a minor-league contract this April after Pittsburgh released him, and here he is, starting left fielder in the postseason.
Vogelsong was a highly touted prospect once upon a time and he made a handful of appearances with the Giants in 2000-01. They traded him to the Pirates as part of the package for Jason Schmidt at the 2001 trade deadline. After parts of four unsuccessful years in Pittsburgh, he was released after the 2006 season. Vogelsong spent the 2007-09 seasons in Japan before returning to the states on minor-league deals with the Phillies and the Angels. The Giants signed him to a minor-league contract in 2011, called him up that April, and he has been in the rotation ever since.
The trade market: Sabean is not shy about making trades. His most recent big trade was acquiring Hunter Pence from the Phillies for three players (Seth Rosin, Tommy Joseph, Nate Schierholtz) at the 2012 trade deadline. This summer Sabean grabbed Jake Peavy from the Red Sox for two prospects (Edwin Escobar, Heath Hembree) and he has since emerged as their No. 2 starter behind Bumgarner. Javier Lopez was brought on board in a 2010 deadline deal with the Pirates, which cost the Giants two spare parts (John Bowker, Joe Martinez).
We also have to acknowledge center fielder Angel Pagan was originally acquired in a trade. Sabean acquired him from the Mets during the 2011-12 offseason in exchange for Ramon Ramirez and Andres Torres. Pagan, who is currently out following back surgery, re-signed with the Giants as a free agent following the 2012 season.
The free-agent market: Free agency is one of the least efficient ways to build a roster but it is also a necessary evil. No team has the solution to every problem in the farm system. The Giants did well by signing ace lefty reliever Jeremy Affeldt to a two-year, $7.5 million contract during the 2008-09 offseason. He has since signed two contract extensions to remain in San Francisco.
Michael Morse has been relegated to pinch-hitter duty this postseason -- he wasn't on the wild-card or NLDS roster because of an oblique injury, but was on the NLCS roster and will be on the World Series roster -- but he was the team's regular left fielder and part-time first baseman this season. He signed a one-year, $8 million contract with the Giants last winter and rewarded them with a 130 OPS+.
This past offseason the Giants shored up their rotation by signing veteran Tim Hudson to a two-year contract worth $23 million. It was a risky signing because not only is Hudson approaching 40 (turned 39 in July), but he was also coming off the gruesome ankle injury that ended his 2013 season. The first year of the contract has gone quite well, however.
The scrap heap: One thing Sabean has done as well as any GM in baseball is get value from unlikely places. Beyond Ishikawa and Vogelsong, the Giants signed current closer Santiago Casilla (January 2010), long man Yusmeiro Petit (January 2012) and middle reliever Jean Machi (February 2011) as minor-league free agents. Casilla was cut by the Athletics, Petit had bounced around Triple-A with several organizations, and Machi spent a year pitching in Mexico before joining San Francisco.
Furthermore, hard-throwing September revelation Hunter Strickland was claimed off waivers from the Pirates in April 2013. (The Giants and Pirates seem to have a thing, huh?) Coincidentally, the Pirates dropped Strickland from their 40-man roster to make room for former Giants lefty Jonathan Sanchez. Between Strickland, Casilla, Petit and Machi, Sabean built basically half his bullpen by grabbing guys on the cheap after they had run out of chances elsewhere.
The Giants signed Gregor Blanco as a minor-league free agent during the 2011-12 offseason and he has since become an integral part of the team. He was the regular left fielder in 2012 and this year he has taken over as the starting center fielder and leadoff hitter following Pagan's injury. Backup infielder Joaquin Arias also signed a minor-league deal with the team during the 2011-12 offseason. He has been a mainstay on the bench ever since. Arias was once traded for Alex Rodriguez, you know.
Final breakdown: Unless something unexpected happens these next few days, the Giants will use the same roster in the World Series as they did during the NLCS. Here's the final breakdown of how those 25 players were acquired:
Drafted (10): Belt, Bumgarner, Crawford, Duffy, Lincecum, Panik, Perez, Posey, Romo, Susac
Minor-league free agents (7): Arias, Blanco, Casilla, Ishikawa, Machi, Petit, Vogelsong
Trades (3): Peavy, Pence, Lopez
MLB free agents (3): Affeldt, Hudson, Morse
International free agents (1): Sandoval
Waivers (1): Strickland
It all starts with the homegrown players for the Giants. They built their core from within thanks to some high draft picks from 2006-08 and some not-so-high draft picks from a much larger period of time. Sabean then supplemented the roster with trades and free agency. He really deserves a ton of credit for finding so many productive players on cheap minor-league contracts.
CBS Sports HQ Daily Newsletter
Get the best highlights and stories - yeah, just the good stuff handpicked by our team to start your day.
Please check the opt-in box to acknowledge that you would like to subscribe.
Thanks for signing up!
Keep an eye on your inbox for the latest sports news.
Sorry!
There was an error processing your subscription.
Price tossed six scoreless innings on short rest in ALCS Game 5

Devers has driven in seven runs in limited postseason action

From Alex Cora to Dave Dombrowski, there's a lot of history on the line
The Red Sox defeated the reigning champion Astros 4-1 in the American League Championship...

Cora turned 43 on the same day the Red Sox clinched the ALCS

It's quite a pivot for a player who struggled at the plate during the regular season