Anatomy of a draft pick: How the Mets landed Matt Harvey
The Mets were sweating during the 2010 draft: Would Matt Harvey get to them at No. 7? For once, Jon Heyman says, things went the Mets' way.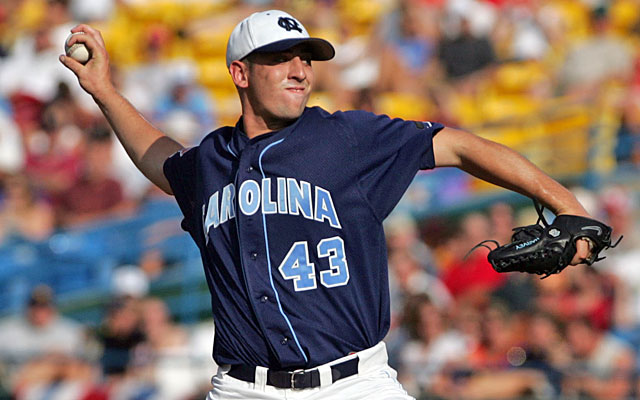 On the first day of the 2010 MLB Draft, Mets decision-makers huddled with the hope that University of North Carolina right-hander Matt Harvey would still be there for them at No. 7.
They didn't know, of course, that only three years later, Harvey would become such a force that he would be compared to Dwight Gooden and -- my goodness -- all-time Mets great Tom Seaver.
But they did know they would have no chance at Bryce Harper, Jameson Taillon or Manny Machado. They also knew, after looking closely at Cal State Fullerton shortstop Christian Colon, Ole Miss pitcher Drew Pomeranz, Florida Gulf Coast University pitcher Chris Sale and University of Arkansas third baseman Zack Cox, among others, that Harvey was their guy.
They prayed no one who picked from fourth to sixth felt the same.
All the Mets' key scouts and honchos at the time -- from area scout Marlon McPhail all the way to then-GM Omar Minaya -- endorsed Harvey, who has yet to lose in 12 starts for the 2013 Mets, a losing team. He's 5-0 with a 2.17 ERA and 87 strikeouts. Back then, Mets people all marveled at how Harvey wouldn't get rattled despite playing for a bad team (a good prep for the 2013 Mets?).
But perhaps no one was more enamored than veteran scout Bryan Lambe, who according to then-Mets scouting director Rudy Terrasas wrote a report suggesting Harvey could be another Justin Verlander -- a buzz name for any of the 30 teams, but especially the Mets since they missed their chance to take Verlander six years earlier by one pick. When the Tigers made Verlander the No. 2 overall pick, the Mets were left with a consolation prize of Phil Humber, whose only noteworthy Mets moment came when he was thrown into the trade package for Johan Santana.
"At the end of the day, we were hoping [Harvey] was going to be there," Terrasas recalled. "There was a lot of luck involved because there were [three] other teams before us [once Harper, Taillon and Machado were selected]. That's the guy we were hoping to get to us, and he fell into our laps. We weren't real happy with the other options."
The decision was absolutely vital, it turns out. The 2010 first round is marked by some obvious home runs -- Harper, Machado, Harvey and Sale plus a few who are showing great potential, such as Taillon, Christian Yelich, Michael Choice, Zach Lee, Delino Deshields Jr. and Jesse Biddle, plus several who might not produce a thing at the major-league level.
Terrasas, who has since been replaced as scouting director by new GM Sandy Alderson and moved into a pro scout role, recently called Lambe, who's now with the Blue Jays, to thank him for the tout, which was hard to top. Other Mets scouts and bigwigs Sandy Johnson, David Lakey, Russ Bove, plus Minaya himself, affirmed the original recommendation of area scout McPhail.
The consensus of the Mets' top decision-makers was that Harvey was potentially a No. 2 starter in the making, with his above-average fastball, curveball and slider and still-developing changeup. All, that is, except Lambe, who invoked the Verlander name and sealed the deal for Terrasas. Terrasas is so appreciative of Lambe's conviction he called him a few days ago to tell him, "I owe you."
Terrasas eventually liked Harvey so much he was actually in a dead heat for third on his board, tied with Taillon, behind only Harper and Machado, two wunderkinds who are already establishing themselves as 20-year-old stars (though Terrases admits he didn't predict such quick stardom for Machado). With no reasonable chance at Harper, Taillon or Machado, their charge was clear: identify the fourth-best player in the draft.
They took a long look at Colon, a big-time infield star at a baseball powerhouse who they projected as a surefire major leaguer. But some Mets people cautioned against picking someone who didn't project as a star but only as a starter.
"If everything turned out, he was Luis Alicea or Placido Polanco," one Mets scout said.
Today, Colon might slowly be working his way toward Polanco territory and is with the Royals' Triple-A Omaha team.
Pomeranz was big, left-handed and a star in the SEC at Mississippi, all pluses. But a red flag was raised when he was shut down briefly. Then Lambe went to see him, and staked to a 6-0 lead, Pomeranz didn't get out of the second inning. As luck would have it, he picked Pomeranz's one off night.
Pomeranz has shown some potential but, after a couple cups of coffee in the majors, is pitching for the Rockies' Triple-A team at Colorado Springs a couple of years after they got him from Cleveland in the Ubaldo Jimenez trade.
The Mets loved Sale's stuff but worried that his unorthodox delivery could spell trouble. (As it turned out, Sale would have been an excellent pick, as well; he made the All-Star team last year as the ace of the White Sox.)
Cox was a very good hitter at Arkansas. But he didn't show much speed or power. One of the Mets people remarked he would have had to be another Wade Boggs, and there's only one Boggs. (Turns out he isn't, and he has already been traded, from the Cardinals to the Marlins, where he's with the Double-A team at Jacksonville, Fla.)
Terrasas wasn't blown away by any of the others. It was only Harvey he wanted.
"He's big and strong. He has physical tools," Terrasas said. "His body is built for innings. We knew we were going to be getting a horse."
Harvey was the one player Terrasas personally interviewed. And it's easy to see how he won the day. He's very confident, and very focused. "Very straightforward," Terrases recalled.
Mets people so much loved Harvey they worried about him as if he were already their own. One day, Terrasas and Johnson went to see Harvey at UNC, and he was at 150 pitches and still throwing for the Tar Heels.
"We were hot. We were [ticked]," Terrasas recalled. "What if he gets to us, and he's broken down? We were hoping if we do get him, he didn't break down from abuse."
But the real issue was this: There's no way they could know for sure they would be getting Harvey. The right-hander had a bit of an up-and-down college career, struggling a bit his sophomore season in a repeat of his senior year in high school, when he dropped from the top high school pitcher in the country to a third-round pick of the Angels.
But he had once been considered the best prep pitcher in the country, he had a strong junior season, and he threw up to 96 mph, with an 87 mph slider (now 98 and 90-91). That was enough to worry he might go.
After Harper, Taillon and Machado became the first three picks, as predicted, the Royals tabbed Colon at No. 4, the Indians took Pomeranz at No. 5 and the Diamondbacks took right-hander Barret Loux from Texas A&M at No. 6. For a change, the ball bounced the Mets' way.
Harvey himself was so disillusioned from his first draft go-round that he had no belief the system would work for him in 2010. Three years earlier, he wound up making what was at the time a "tough" decision as an 18-year-old to turn down the offer of a $1 million signing bonus from the Angels, a decision that was to pay off in 2010 -- though he still wasn't sure he made the right call when draft day 2010 rolled around.
"I didn't have any expectations," Harvey recalled. "I learned [from the first draft] that not much works out. I learned baseball was a business."
But three years later, after the Mets tabbed him in the 2010 draft, he felt much better about things. At the time he turned down the $1 million offer, naturally he had a few doubts at first as to whether he did the right thing. But after three years at North Carolina, he was able to up the offer of $2.525 million from the Mets, which he accepted.
Harvey remarked that he wouldn't change a thing from how things actually turned out.
Suffice to say, the Mets feel the same.
The ballparks in Cincinnati, San Diego and Seattle will have expanded netting in place by Opening...

Thursday brings us plenty of stretch-drive MLB action, so keep it right here

Mondesi spent six years as the mayor of San Cristobal in the Dominican Republic after reti...
The veteran skipper has been Mets manager since the start of the 2011 season

The Baltimore third baseman is eligible for free agency following the 2018 season

The clubs breaks ground on Globe Life Field next week