Anatomy of the 2013 Pirates: How the streak-breaking team was built
Thanks to strong drafts, shrewd trades, and a little bit of luck, the Pirates have finally built a team good enough to post a winning season and advance to the playoffs.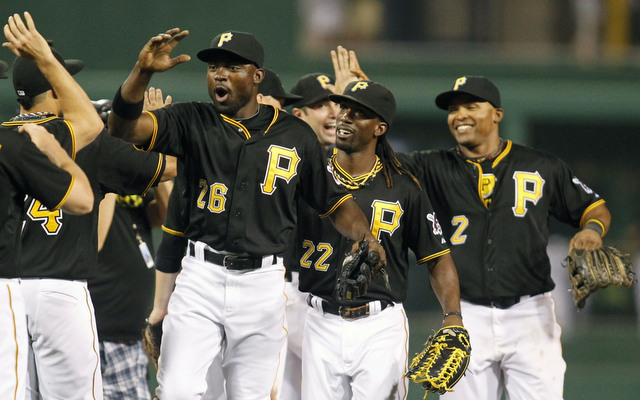 More MLB: Scoreboard | Standings | Probable Pitchers | Sortable Stats | Odds
With Monday night's victory against the Rangers, the Pirates have broken the longest non-winning season streak in baseball history. They won their 82nd game of the year with 19 games to spare, so they didn't cut it close either. In fact, they sit in second place in the NL Central and it's a foregone conclusion they will qualify for the postseason for the first time since 1992, which also happens to be the last time they had a winning record.
Needless to say, this has been a very special season for the franchise and its fans. PNC Park is jam-packed for every home game and there's a buzz around the team that hasn't existed since ... well, that 1992 season. The rebuild and re-rebuild and re-re-build was a long and arduous process that is just now bearing some fruit. How did this streak-smashing team come to be? Let's take a look at how the core of the 2013 Pirates was built.
Draft Picks: Pedro Alvarez, Gerrit Cole, Andrew McCutchen, Jordy Mercer, Neil Walker, Tony Watson, Justin Wilson
The Pirates named Neal Huntington general manager in September 2007, and while he deserves a ton of credit for putting this team together, a few of their key contributors predate him. Both Walker (2004) and McCutchen (2005) were the 11th overall picks in their respective drafts, but both were selected by then-GM Dave Littlefield. That's two pretty important up-the-middle players who were holdovers from the previous regime.
Alvarez was the second overall pick in 2008 and the team's first selection under Huntington. In addition to adding high-end talent -- Alvarez leads the NL with 32 home runs -- the Pirates were also making a statement about their seriousness to rebuild. They blew a lot of high first round picks in the late 1990s and early 2000s by going cheap and taking "safe" players over potential impact players. The Alvarez selection was a sign the team was willing to spend the money it takes to land elite amateurs. Cole, who got the win on Monday and was the first overall pick in the 2011 draft, was another example.
First round picks build the top of the rotation and the middle of the lineup, but it's important to get value out of those mid-to-late round picks as well. Wilson and Watson have been two of the most durable and dominant left-handed relievers in baseball this year, and they were selected in the fifth round (2008) and ninth round (2007), respectively. Turning two fifth-or-later round picks in two key relievers is a huge return on the investment. Mercer was a third-round pick (2008) and has taken over as the everyday shortstop.
Trades: A.J. Burnett, Jeanmar Gomez, Jeff Locke, Mark Melancon, Charlie Morton, Wandy Rodriguez, Gaby Sanchez, Jose Tabata
After trading Jason Bay away at the 2008 trade deadline, Nate McLouth took over as the most popular player in Pittsburgh. Huntington caught a lot of heat when he traded McLouth to the Braves the following year, but that deal netted the team two-fifths of its starting rotation in Locke and Morton. Morton missed a year with Tommy John surgery and Locke hit a wall after being an All-Star in July, but the two have provided way more value to the Pirates than McLouth would have. The unpopular trade was a big win for the Bucs.
In Burnett and Melancon, Huntington bought low on two talented pitchers who had been through the AL East gauntlet. Burnett was a pure salary dump by the Yankees -- they ate a ton of money and took two non-prospects in return -- and the change of scenery (and division) has treated him very well this last two years. Melancon looks much more like the 2011 Astros version of himself than the 2012 Red Sox version, which was a disaster. He's been far better than Joel Hanrahan -- the former Pirates closer he was traded for -- who had elbow surgery earlier this year. Huntington and his staff identified two players who were likely to improve their performance going forward and struck while their stock was down.
MLB Free-Agent Signings: Francisco Liriano, Russell Martin
I wouldn't call them under-the-radar signings, but the Pirates certainly didn't steal any headlines when they signed Martin and Liriano to two-year contracts this past winter. In fact, Liriano created more headlines when he broke his non-pitching arm trying to scare his kids over the winter. The two sides reworked their agreement, and since returning to the club in May, he's pitched like a Cy Young candidate and figures to get the ball in their first playoff game in more than two decades.
Martin has been one of the best catchers in the game by WAR, lengthening Pittsburgh's lineup while shoring up their defense behind the plate. Like many of the veteran players Huntington has acquired to help the team in recent years, Martin also brings playoff experience and a reportedly great competitive drive. The core of the team is the young homegrown guys like Cole, Alvarez, Walker and, obviously, McCutchen, but having a roster full of young players is one thing. Having a roster full of young players and surrounding them by the right veterans in the clubhouse is another matter entirely. Huntington hit the nail on the head in that regard.
International Signing: Starling Marte
He wasn't a draft pick, but the Pirates did sign Marte as a 19-year-old out of the Dominican Republic in January 2007. He's the team's dynamic leadoff man and another Littlefield holdover. Pittsburgh hasn't had too much success internationally over the years, but Marte is an incredibly valuable member of the current Pirates.
Minor League Signings: Jason Grilli, Garrett Jones
Maybe it's luck, maybe it's good scouting, maybe it's something else entirely, but nearly every contender has a player or three who came almost out of nowhere to play a significant role. The Pirates signed both Jones (December 2008) and Grilli (July 2011) to minor league contracts and watched both become key contributors. Grilli has been an elite reliever for more than two years now and an All-Star closer in 2013 while Jones has hit in the middle of the team's lineup since 2009. Sometimes guys just show up and play a bigger role than expected.
* * *
Unlike the 2003 Royals, who were a fluky veteran-laden team that fooled almost no one, the current Pirates are built to last long-term. McCutchen is one of the five best players in the world and the trio of Marte, Alvarez and Cole are all age 26 or younger. They also have more top shelf prospects on the way in Jameson Taillon, Gregory Polanco, Tyler Glasnow and others to ensure the talent pipeline keeps producing. Huntington & Co. have built the team that finally broke the losing season streak, but more importantly, they built a team poised to be a perennial contender.
No, you're not imagining things. This MLB offseason has been very slow compared to the last...

Francesa will retire from radio next month, so he'll have plenty of free time next summer

Get your sports fans something that they'll wear all year
Get 15 percent off any order of more than $75 at CBS Sports Shop

The Twins need help in the rotation, and they may look to the trade market to find arms

Here are the bullet-points of what went down Tuesday regarding MLB and the Braves' punishm...