Andrelton Simmons, Manny Machado win Platinum Gloves
Rawlings now goes a step further than the Gold Glove, giving a Platinum Glove to the single best defensive player in each league.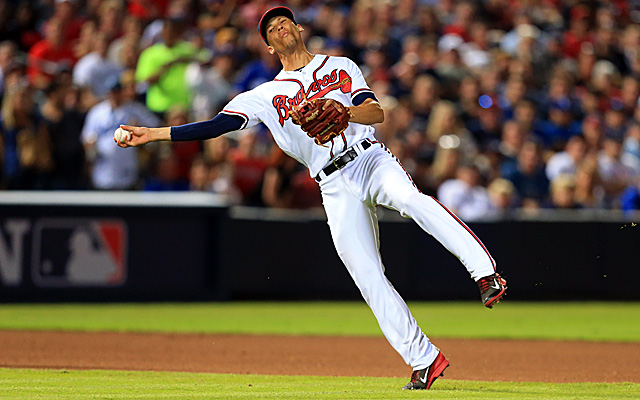 More: Gold Glove winners | Gold Glove Finalists | Fielding Bible Awards
No longer content to stop with Gold Gloves, Rawlings takes the nine Gold Glove winners in each league and holds fan voting -- in conjunction with SABR (the Society for American Baseball Research) -- to determine the subjective top defensive player in each league. The winner is given the Platinum Glove for the season.
The NL winner is Braves shortstop Andrelton Simmons.
The AL winner: Orioles third baseman Manny Machado.
On Simmons, anyone else would have been a mistake. He was the best defensive player in baseball in 2013. He set a record for defensive runs saved in a season, though it's only been measured for the past 10 years. On baseball-reference.com, Simmons tied Terry Turner (1906) for the highest single-season defensive WAR (5.4) in baseball history. For comparison's sake at short, Ozzie Smith's highest mark ever was 4.7.
Over on Fangraphs.com, Simmons' Ultimate Zone Rating (UZR) was second only to ... Machado.
Machado's 31.2 mark actually dwarfed Simmons' 24.6 UZR. Machado trailed only Simmons, Carlos Gomez and Gerardo Parra in defensive runs saved, so he's obviously a fine choice as well.
And if you don't like advanced metrics, you're left with basically just the eye test -- because you can't judge range on errors/fielding percentage.
So here you go:
And here you go:
Another team rumored to be interested in Stanton has confirmed their interest

Chris Woodward has spent the last two seasons with the Dodgers

We heard about it being awful for years, but was it?
Then again, three trades in four days might be behind Jerry Dipoto's usual pace

Ohtani is arguably the best hitter and pitcher in Japan

The O's need rotation help, and Cobb is available for hire