Andrew McCutchen: Lower-income families being left behind by baseball
In an article at The Players' Tribune, Pirates star Andrew McCutchen writes that baseball is leaving kids from lower-income families behind.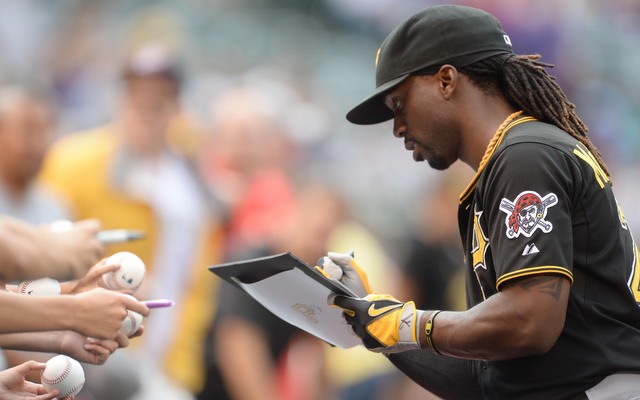 Aside from Mike Trout, Pirates center fielder Andrew McCutchen is arguably the best player in baseball today. He led MLB with a .410 on-base percentage and the NL with a 168 OPS+ last season. That's better than the .404 on-base percentage and 157 OPS+ McCutchen put up in 2013, when he was named NL MVP.
McCutchen's rise to stardom followed the ideal script. He was a first round pick (11th overall in 2005) and a highly touted prospect in the minors (peaked at No. 13 on Baseball America's annual top 100 prospects list) who reached the big leagues and dominated almost instantly. It's the scenario every team dreams about.
Before all that though, McCutchen grew up in tiny Fort Meade, Florida -- population: 5,626 according to the 2010 census -- in a lower-income household. His family could barely afford to get him new bats and gloves when he was growing up, nevermind pay thousands of dollars to send him to national showcase events for scouts.
In an article at The Players' Tribune on Friday, McCutchen wrote about his upbringing and how baseball is leaving lower-income families behind. Here's a snippet of the must-read piece:
Thankfully, an AAU coach by the name of Jimmy Rutland noticed me during an All-Star game when I was 13-years-old and asked my father if I'd ever been on a travel team. At that point, I had barely left the county. My dad told him that it was just too expensive, and coach Rutland basically took me in as if I was another one of his sons. He helped pay for my jerseys and living expenses. My parents took care of what they could, which was basically just money for food.

...

And you know what's crazy? Even despite all the breaks I got with baseball, I probably wouldn't be a Major League player right now if I didn't tear my ACL when I was 15. I thought I was going to play college football. Why? Economics. If I could've been a wide receiver for a D-I school, I would have chosen that path because of the promise of a full scholarship. The University of Florida offered me a baseball scholarship, but it only covered 70 percent of the tuition. My family simply couldn't afford the other 30 percent. The fact is, no matter how good you are, you're not getting a full ride in baseball.
Colleges are allotted 11.7 scholarships for baseball and many schools don't even fund that many. Baseball gets fewer scholarships than football (85), basketball (13), cross country (12.6), lacrosse (12.6), hockey (18) and heck, women's softball (12).
For many kids from lower-income families like McCutchen, an athletic scholarship is their best chance to go to college, and since baseball scholarships are limited, many of the best athletes are winding up in other sports. That's not good for baseball at all. MLB needs to work to bring more of the best athletes to the sport.
Here's more from McCutchen:
Fixing (the economic) problem is complicated, but when I was a kid, I looked at baseball players growing up in Latin America with a lot of envy. If you're a talented kid in the Dominican Republic or Puerto Rico, a team can come along and say, "We're going to sign you for $50,000 and take you into our organization and develop you, feed you, take care of your travel." To me, as a 14-year-old kid whose family was struggling, that would have meant everything to me. I would have taken that deal in a second.
Baseball is not alone when it comes to leaving lower-income families behind. Football and hockey equipment is pretty damn expensive as well. That doesn't mean it isn't a problem worth fixing, of course.
That said, I'm not quite sure how to go about fixing this issue. MLB has outreach programs like RBI (Reviving Baseball in Inner Cities) but those only do so much. Getting noticed is the hardest part and many families can't afford to send their kids to where they need to be to get noticed. It's bad for baseball.
Now that McCutchen, who is one of the most genuine and likeable players in the sport, has spoken out about this issue, hopefully MLB springs into action and is able to affect positive change.
CBS Sports HQ Daily Newsletter
Get the best highlights and stories - yeah, just the good stuff handpicked by our team to start your day.
Please check the opt-in box to acknowledge that you would like to subscribe.
Thanks for signing up!
Keep an eye on your inbox for the latest sports news.
Sorry!
There was an error processing your subscription.
Stanton slammed his knee sliding into a base Tuesday night against Toronto

Also, watch SportsLine on CBS Sports HQ live at 6 p.m. ET for all today's best bets

Here is everything you need to know about the day in baseball
Adam Thompson has locked in his pick for Wednesday's national championship between Vanderbilt...

The family is also looking into potential legal action

The road to Omaha is complete, now it's time for the College World Series