Angels above .500 for first time since April 1, 2013
The Angels are above .500 for the first time since being 1-0 last season. There are reasons for optimism, too.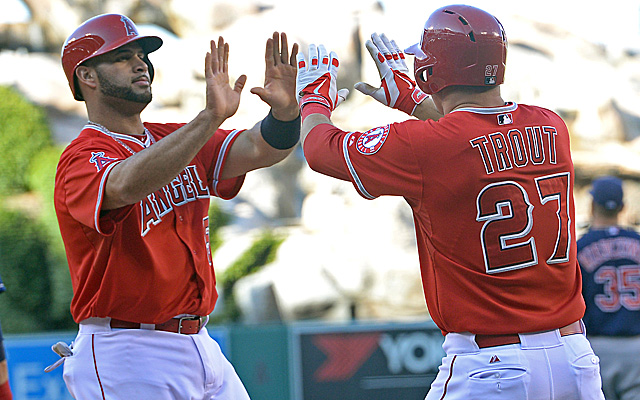 More MLB: Power Rankings | Expert Picks | Latest news & notes | Fantasy news
After opening the season by getting swept, at home, by the Mariners, the Los Angeles Angels have finished April with a winning record at 14-13. It was previously a bit of an uncrossable line for this bunch.
Already this season, in just the first month alone, the Angels had evened their record at .500, only to lose and fall back below the break even point five times. The sixth time was the charm, though, as the Angels were able to even things at 13-13 and then get a resounding 7-1 victory Wednesday night.
The winning record now marks the first time the Angels have been above water since starting last season 1-0 with a victory on April 1, 2013.
The winning April also reverses a negative trend from the past two seasons in Anaheim.
The 2013 Angels were 9-17 through April and would actually have a winning record (69-67) the rest of the way. It was the start that buried them, though one could argue that they weren't playoff caliber the rest of the way anyway. Because, really, they weren't. 
The 2012 Angels, however, were, post-April. After an 8-15 April, the Angels went 81-58. They would end up missing out on the playoffs by four games and it's pretty easy to draw the conclusion that the poor April cost them.
So while 13-12 is definitely nothing to celebrate, it's a net positive for the Angels. Consider the aforementioned poor starts in each of the last two seasons, sure, but also consider the injuries to Josh Hamilton (who was hitting .444/.545/.741 at the time) and breakout candidate Kole Calhoun.
Now, the question is, can the Angels finally put that gigantic payroll to use in October? Well, actually, we can't do that. It's way too early for that. Let's just examine if they have enough to contend.
Offensively, there's no question. They're one of the top offensive teams in baseball and that shouldn't change. In fact, getting Hamilton back behind studs Albert Pujols and Mike Trout in the lineup will make them even stronger.
The pitching is where the questions need to be answered.
As far as the rotation, I think it should be enough. Jered Weaver and C.J. Wilson aren't an elite 1-2 punch. Weaver used to have that capability, but instead these guys are a step behind some of the better front-line duos in baseball. Of course, given the offensive support they'll get, who cares? They're fine here.
Garrett Richards has been excellent so far. His peripherals indicate he's been a little lucky, but he has great stuff and plenty of ability to be a worthy third starter on a good team. Tyler Skaggs was a top prospect for a while and he's shown flashes of his ability to this point, too. Hector Santiago's had a rough go so far this year, but he had a few good spurts last season for the White Sox and had a great seven-inning outing earlier this year against the A's. Plus, he's just the fifth starter.
Again, I think the rotation is plenty good considering the ample run support they'll get.
The bullpen could be a problem. It has blown four saves in eight opportunities. Ernesto Frieri has already been replaced with Joe Smith. Smith, Fernando Salas and Michael Kohn have been relatively effective overall. There's potential there with some other guys, even Frieri, to improve, too. They may need to add a few arms via trade in July if they're still hanging around, because while this group isn't as bad as it has been late, it needs to be better.
If Mike Scioscia can find a good mix at the back-end of games, the Angels can hang around in contention. They are 14-13 right now, but only 2-7 in one-run games. They have the second-best run differential in baseball, too, after the A's. These types of things tend to even out over the course of 162 games, unless you've got some kind of black-and-orange magic the Orioles were using in 2012. And, yes, the bullpen woes contribute to making those figures out of whack. Still, I'm betting there's a course correction there.
So, to bottom line it, yes, I think the Angels hang around in contention this time around. They have too much talent not to and this time they've avoided the dreadful, season-crushing start that they did each of the past two seasons. That's a start -- which is something they couldn't say in either of the past two seasons.
Marcell Ozuna figures to be the next Marlins star on the move

Several relievers have signed in the last two days

Several teams are interested in the switch-hitting first baseman
Neshek and the Phillies are closing on a two-year contract

And the team that first drafted Cole is interested

This scout was SUPER into Jeter