Angels' C.J. Wilson has struggled in the second half
After making the All-Star team, Angels left-hander C.J. Wilson has gone 3-5 with a 5.74 ERA in the second half.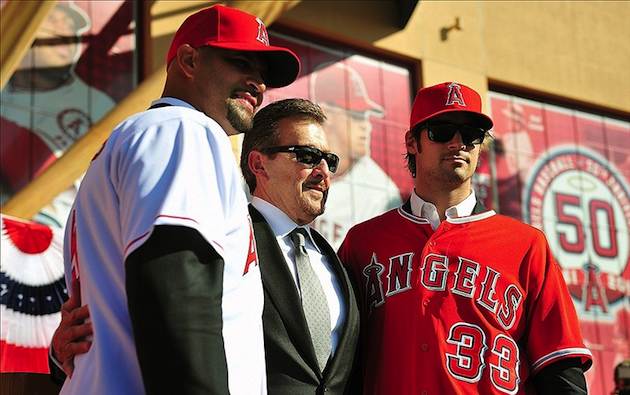 The Angels were all smiles (or at least said they were) after signing Albert Pujols and C.J. Wilson. (US Presswire)
Remember the circus scene at Angels Stadium last December as the Angels announced the signing of Albert Pujols and C.J. Wilson? It was supposed to be the day Los Angeles locked up a postseason berth in 2012.
It seemed like it would work; the team nabbed the top offensive player in the game and perhaps the best starter in the free agent market. And at times, it's seemed like it's worked -- it's just too bad the moves have worked at different times.
We all know Albert Pujols had a slow start, hitting below .200 with just one home run after 35 games of the season. He improved in late May and through June. At the All-Star break, one he spent at home, Pujols was hitting .268/.334/.460 with 14 home runs in 85 games.
On the other hand, C.J. Wilson was in Kansas City for the All-Star Game. And he deserved to be. In the first half he was 9-5 with a 2.43 ERA and batters were hitting just .202/.297/.275 against him.
The second half has seen Pujols return to form -- he's hit .313/.361/.606 with 16 homers in 62 games. Meanwhile, Wilson has struggled, going 3-5 with a 5.74 ERA and batters have feasted to the tune of .283/.351/.458 against him.
With his next-to-last start before the break, Wilson started a streak of 11 starts without a victory -- not that a pitcher's wins are the best barometer of his performance. In the second half, he's gone just 3-5 despite a hefty run support of 5.93 runs per start from his teammates, the fourth most among pitchers with 60 or more innings pitched in the time frame.
Twice this season, he's been pulled into the manager's office and told to simplify his approach. The idea is that if he throws fewer pitches, he'll be more successful. Wilson has long had a reputation of trying to be too fine, too cute and nibble with his pitches.
His latest call to the principal's office came after he threw 66 pitches in 2 2/3 innings in a loss to the Rangers. Overall this season, he's averaged 17.02 pitches per inning. During his 11-game winless streak, he averaged 18.4 pitches per inning, while he averaged just 15.91 pitches per inning in an eight-game streak from May 22 to July 1 that saw him go 5-0.
Wilson's first call into Mike Scioscia's office during that 11-start streak without a win from July 6 to Aug. 23. In those 11 starts, he was 0-5 with a 6.45 ERA.
He finally won on Aug. 29, and in that game and the two that followed, he averaged 15.96 pitches per innings, going 3-0 with a 2.41 ERA. But in the three starts since then, he's averaged 18.46 pitches per inning with a 6.23 ERA.
Wilson has gone eight innings three times this season, but not since June 8, when he beat the Rockies using just 101 pitches. He's thrown 101 pitches or more in 22 of his 33 starts, but gone seven inning or more just 11 times, and only twice since the All-Star break.
The Angels outbid the Marlins at the last minute to reel in Wilson, giving him a five-year, $77.5 million deal and at times he's looked like he could live up to that contract. And since there's four years (and $65.5 million) left, he still has plenty of time -- just not in 2012.
For more baseball news, rumors and analysis, follow @EyeOnBaseball on Twitter, subscribe to the RSS feed and "like" us on Facebook.
Gallardo spent the first eight years of his career in Milwaukee

MLB revenues are at a record high right now, but teams aren't spending it on players

Chicago added Tyler Chatwood earlier this offseason but might not be done adding to the ro...
The Dodgers and Braves pulled off a whopper on Saturday

Sabathia will reportedly spend a 10th season in the Bronx

Fowler suffered a knee injury at Chicago's Guaranteed Rate Field