Angels close ranks as Pujols, Hatcher work toward putting incident behind them
If Albert Pujols met with hitting coach Mickey Hatcher to discuss the sanctity of private meetings, as he promised a night ago that he would, the principles weren't saying so on another day in Angel Stadium when the home team worked to regain its balance. ...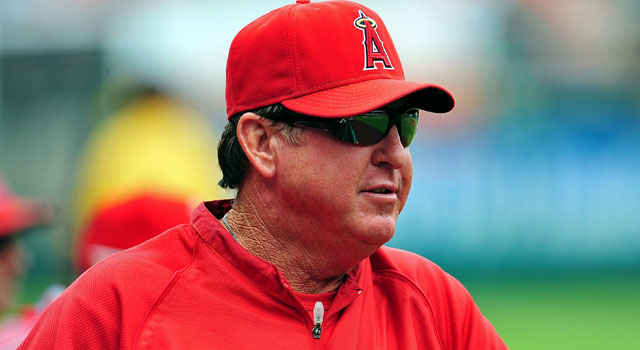 Mickey Hatcher has been with Mike Scioscia from the beginning in 2000.
(Getty Images)
ANAHEIM, Calif. -- If Albert Pujols met with hitting coach Mickey Hatcher to discuss the sanctity of private meetings, as he promised a night ago that he would, the principles weren't saying so on another day in Angel Stadium when the home team worked to regain its balance.
If the culture is changing around here, with the Big A standing for -- or beginning to tilt toward -- Albert instead of Angels, the home team is not acknowledging it.
"There's nothing to resolve," manager Mike Scioscia said Tuesday. "Albert is fine. Mickey is fine.
"There's nothing to resolve."
End of story.
But is it?
Hatcher has been manager Mike Scioscia's hitting coach, right-hand man and consigliere in Anaheim for 13 years, since Day One of Scioscia's tenure in 2000.
With the manager signed through 2018, Hatcher, a periodic target of unhappy fans when the team isn't hitting, has been as bulletproof as any coach in the game.
Question is, do the dynamics now change with Pujols, his 10-year, $240 million contract and an offense that badly underachieved through the season's first month?
That became an issue Monday night only after the slumping slugger expressed displeasure with Hatcher for relaying some innocuous, positive comments from a pre-game hitters' meeting to the media. Pujols said he would talk with Hatcher.
A day later, the Angels quickly closed ranks.
"Come on, man, all that stuff is personal," Pujols told CBSSports.com when asked whether he had talked with Hatcher. "We don't discuss that in the media."
Speaking to a group of reporters, Hatcher started to decline comment ... then couldn't help himself.
"I'm not talking about it," Hatcher said. "It's ridiculous, it really is.
"Everybody's laughing about it. Anyway, I am."
Neither Pujols, who is down to .208 and 96 homerless at-bats this year after going 0 for 4 in the Angels' 4-0 win over Minnesota on Tuesday, nor his team have had much to laugh since opening day. They matched their 1976 club for the worst 22-game start in history at 7-15. And Hatcher, the suddenly embattled hitting coach, had the heat turned up on him after Pujols ignited the flame.
The two appeared to be coexisting just fine during batting practice before Tuesday's game with Minnesota. But despite Scioscia's saying "there's nothing to resolve", you can bet he addressed the issue behind closed doors. If he didn't, he's not doing his job. Part of a manager's job description is to extinguish brush fires before they become infernos.
The Angels knew they were about to embark upon a season unlike any other, one of heightened expectations and intense pressure, after signing the man who pretty much is acknowledged by all as the game's best player over the past decade.
As such, change -- both significant and, at times, uncomfortable -- is unavoidable.
Hatcher essentially has been bulletproof for than a decade in Anaheim ... but Pujols is one man who now could make him vulnerable.
Pujols essentially has been in his own climate-controlled cocoon in St. Louis ... but the new contract, new league and new surroundings has ripped him from his comfort zone.
In St. Louis, manager Tony La Russa always had Pujols' back, whether the slugger was right, wrong or indifferent to a situation.
Following Game 2 of last year's World Series, Pujols committed a crucial ninth-inning error that hurt the Cardinals in a 2-1 loss and then left Busch Stadium before speaking with reporters. The Cardinals' company line, led by La Russa, was that Pujols had been in the clubhouse kitchen and when nobody asked to speak with him, he left.
Which was utterly absurd. Neither Pujols nor the Cardinals should have needed to be told that the media horde covering the World Series would have liked the opportunity to ask him about that ninth inning play. It was not their first rodeo.
But that was the Cardinals, and La Russa. They came equipped with automatic airbags that protected Pujols from any dangerous or uncomfortable collisions.
As one of the greatest sluggers ever, Pujols for 11 years has mostly acted as his own batting coach. His mantra always has been "I trust my hands", and 99 percent of the time during his career, those hands have not betrayed him.
Among his hitting coaches in St. Louis, he had a complicated relationship with the late Mitchell Page, who was dismissed following the 2004 World Series and subsequently underwent treatment for alcohol dependency.
He was OK with former St. Louis hitting coach Hal McRae and, during the past few seasons, was said to have been fine with current Cardinals' hitting coach Mark McGwire, a teammate during Pujols' rookie season in 2001.
Mostly though, when it came to hitting, he was his own coach. Which worked exceptionally well for all involved. (Once, believe it or not, his wife, Diedre, actually helped bring him out of a slump when she noticed that he was jumping out at pitches).
Pujols appeared to be closest with Jose Oquendo among St. Louis' coaches. The two spent enough time together that, among those in uniform, Oquendo is said to probably know Pujols better than anyone else.
But, of course, those days are over. Pujols is getting to know an entirely new organization, and an entire organization is familiarizing itself with him.
How the Angels react from here will be just as telling as what Pujols does.
In St. Louis, Pujols usually was the proverbial tail that wagged the dog. La Russa and the Cardinals made sure he was happy first, then took care of other issues.
In Anaheim, with owner Arte Moreno having become frustrated enough to clean house in the front office last winter and hire a new general manager in Jerry Dipoto, Scioscia's kingdom doesn't seem as vast as it once was.
Understandably, the Angels have worked overtime to make Pujols feel comfortable and at ease since he joined them this spring. The flip side of it is, Pujols immediately has the juice to change the organization's culture more dramatically than anybody since Scioscia.
If he doesn't want Hatcher speaking with the media, as the hitting coach told
MLB
.com, then you can bet Hatcher will become wary of what he says. If he doesn't want Hatcher as hitting coach, period, then ... hmmm.
The irony of this very public flap with Hatcher is that, under Scioscia, the Angels have been as secretive and behind-the-scenes as any organization in the game. If Pujols doesn't want details of private meetings emerging, he signed in the right place.
But what's also true here is, he's the one who turned this into a story. Had he followed his own advice and simply gone to speak with Hatcher privately, instead of telling reporters he was "not disrespecting Mickey, but that stuff should stay behind closed doors", adding that he intended to speak with Hatcher about it, it never would have blown up.
A little culture shock always was going to be inevitable when Pujols and the Angels -- two enormous and enormously proud corporations -- became partners.
Question is, will it simply be a culture shock ... or will it turn into a full-blown culture change?
The superstar slugger is eligible for free agency after next season

The veteran second baseman remains a useful regular

The Indians may be seeking a left-handed hitter in return
NBC Sports California has cut ties with the former A's slugger after a string of inappropriate...

Pineda figures to miss most of the 2018 season after undergoing Tommy John surgery

Keep tabs on the top 50 free agents right here