Angels' Hamilton primed for monster year -- but holds no grudges
New Angels star Josh Hamilton seems happy and at peace after leaving the place where he had thrived for a greater (financial) guarantee.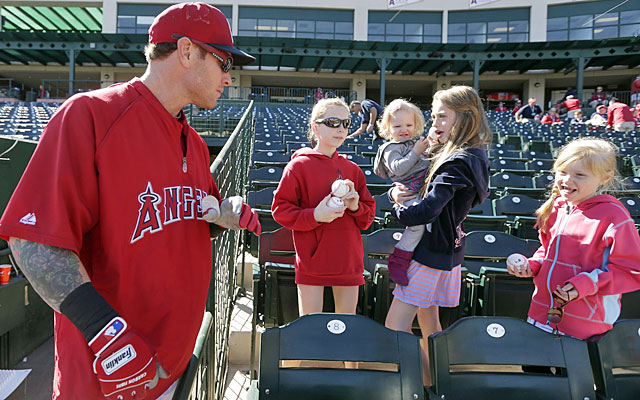 TEMPE, Ariz. -- New Angels superstar Josh Hamilton looks like he's ready to erupt with a big year, judging by the light-tower power he's regularly showing in batting-practice sessions here. One Rangers official, citing what he imagines to be a "chip on his shoulder" over the failure to make a deal with Texas, predicted that Hamilton just may hit 50 homers in year one in his new environs in Anaheim.
Hamilton, looking fit, almost thin, like the air here that carries his batting-practice drives at Tempe Diablo Stadium out toward I-10, insisted, "I don't have a chip. ... How can I have a chip on my shoulder over a place I still call home? Texas is still our home. I'm just not working there anymore."
The Rangers and Hamilton formed a wonderful half-decade partnership that helped push the Rangers into prominence and resuscitate the career and life of perhaps baseball's most talented player. Except for the stray early spring comment about Dallas-Fort Worth not really being a baseball town, which Hamilton suggests was nothing more than a statement of fact, he has almost no negative thoughts to relay about his old place of work or the former bosses who didn't prioritize his return at the top of their winter to-do list.
"I'm not upset at 'em. I'm not mad at 'em," Hamilton asserted.
Hamilton's relationship with the Rangers was, in fact, a pairing that worked wonderfully despite some bumps and issues along a mostly glorious road. But perhaps their parting was for the best.
Hamilton's five-year stay ended with three straight playoff seasons, including the Rangers' first two World Series appearances. But by the end, it started to become clear the two parties weren't agreeing on much.
That included a contract that never came close to getting done in Texas. Hamilton, who signed a quick, under-the-radar, take-it-or-leave-it $125 million, five-year contract with the rival Angels, as is their style, liked the certainty of their offer. For weeks he listened to overtures that came with incentives.
Yet another AL West team, the Mariners, loved the idea of Hamilton coming to improve the worst offense in the league three years running and offered about $90 million guaranteed on a four-year deal that included vesting options for fifth and sixth seasons. That wasn't going to tempt him.
The Rangers -- cautious and perhaps a little weary after a five-year relationship filled with big achievements but occasional frustrations and worries over the player that had been banished from baseball for substance abuse -- offered a six-year deal with only the first three guaranteed at the $20 million-plus-a-year rate commensurate with his extraordinary skill level. Hamilton viewed the offer as a three-year guarantee, and still does; he affixed a look of puzzlement when it was characterized to him by a reporter as a six-year deal.
The Rangers all along made clear they sought to have him "share the risk." He told them that unless market forces forced him to share, he would have to look elsewhere. Just another example of the parties not quite seeing eye-to-eye, not in the end anyway.
Rangers people clearly believed Hamilton needed "a carrot," and still do. A carrot now may be revenge on the Rangers, at least in their mind.
Hamilton suggests that's not part of the equation. He says he's at peace, and offers a simple explanation for why his choice was no choice for him.
"I've done the incentive thing," he said.
While technically he never had incentivized deals, it's fair to say he was paid at a bargain rate, based on his outsized production in his second life after coming back following his banishment from the game for multiple drug offenses. Maybe being a Texas-sized bargain drove him to get the big guarantee.
After he already shook hands on an Angels deal, Hamilton and the Rangers (or at least chairman Nolan Ryan) got a rare chance at a post-mortem when Hamilton kept a pre-arranged meeting with Ryan that happened to be scheduled for the day after he committed to the Angels. The Rangers couldn't have been too shocked he went elsewhere. A week or so earlier, with negotiations not going how Hamilton envisioned them, he told Rangers general manager Jon Daniels he thought it might be time to go. But the timing surely threw Rangers brass off a bit since he and Ryan were about to sit down.
Hamilton and Ryan kept what amounted to an exit interview, and Hamilton called it a "pleasant meeting," during which Ryan and Hamilton expressed how much they appreciated each other's contributions. Hamilton said Ryan told him he understood and was not upset at him. If anything, Hamilton relayed that "he was more upset they kind of [dragged] their feet" in talks.
If Ryan was being polite, it might not have been necessary. Hamilton seems calm about his call to go west. Some assume Hamilton wasn't thrilled to be something less than first on the Rangers' winter wish list (Zack Greinke clearly was, and Texas offered him a deal close to the $147 million, six-year Dodgers contract, though without the three-year opt-out provision.)
"I didn't have in my mind that they need to come after me first. I didn't feel that way," Hamilton said. "I wasn't mad. I wasn't irritated. I just felt the Lord has me where he wants me to be. After praying a lot, I felt my time [in Texas] was done. God directed us, like he always has."
If the Rangers were surprised, the ending was a surprise for Hamilton, as well. He expected to stay, he said.
To outsiders, it looked at first that they needed each other, the reforming slugger and the nurturing team. If Hamilton's career was rescued from the rockpile in Cincinnati, it finally took off in Texas. Not only did he win an MVP and a batting title and lead the team to two World Series, with the Rangers' considerable help the player who had been banished for drugs that threatened to waste an all-time talent, limited his substance relapses to two public episodes.
If he didn't quite win a World Series, he re-ignited his career, and rehabilitated his rep.
"It was a great five years," he said.
Now he's hoping for five to match in Orange County. But, ultimately, Hamilton concluded, "God takes you out of your comfort zone sometimes."
Hamilton's latest "life coach," Shane Kelley, went with him. But the key, according to those around the Rangers, is that his new teammates are supportive, that they allow for his idiosyncrasies, such as an occasional punctuality problem or a missed BP session here or there. As long as they focus on his productivity, and allow for a fair amount of flexibility, things could work, they say.
The Rangers, for the most part, gave him his room. But that doesn't mean there weren't dustups over a variety of issues that cost Hamilton games here and there but didn't prevent him from posting 43 home runs and 128 RBI in 2012, both second best in the American League to MVP and Triple Crown winner Miguel Cabrera. There was nothing, he thought, that would prevent him from continuing his career in Arlington.
Hamilton apologized after a wild night in a winter relapse before the 2012 season. He took heat from Ryan for slumping when he tried to quit his chewing tobacco habit. Perhaps the most talented player in the game, he looked as lost as an A-ball player the last week of the season as the Rangers frittered away a big AL West lead, eventually fading to a game behind the upstart Oakland A's.
No matter, Hamilton still envisioned a reunion. "I was comfortable where I was at," he said. "They really didn't believe I would entertain thoughts to go somewhere. I live in Texas, my family lives in Texas. I think that kind of hurt their thought process.'
His own thought process didn't include any upset over the Greinke chase, the Justin Upton pursuit or the James Shields try (Texas' unwillingness to part with top prospect Jurickson Profar kept them from getting Shields, and Profar or Elvis Andrus hurt their chances to land Upton.) But by the time Hamilton met with Daniels in early December, he started to suspect his Rangers days were about over. He hadn't met yet with the Angels, but he had a inkling, or at least a feeling.
"I felt like as time went on, it was just getting easier to say it wasn't meant to be," Hamilton said.
If Hamilton holds a grudge, he hides it well. He seems at ease in his new environment, batting behind two of the other most talented players in the game, Mike Trout and Albert Pujols, plus the luckiest No. 2 hitter in baseball, whoever that may be, and just in front of Mark Trumbo, like Hamilton one of the two or three most powerful hitters in the game.
Hamilton called his first days in Tempe "a little weird." He likely felt a bit like an interloper after seeing the Angels as the devil for half a decade.
He may still feel strange. The Angels' room seems bigger and quieter. They are all just getting to know the former enemy. He's trying to fit in. He made only one request. He said he told longtime Angels manager Mike Scioscia, "I'd like to be in the field, it doesn't matter where."
Scioscia has two of the fastest outfielders in baseball, and has installed Trout in left field and Peter Bourjos in center, with Hamilton having less ground to cover in right. Hamilton said it reminds him of when there was Rocco Baldelli and Carl Crawford in the Rays' outfield (though Hamilton never got a chance to play real games with them.) "It's going to be pretty cool," he said.
The bat remains about the biggest in the game. The drives seem to disappear into the camouflaging skies here by the enormous light tower in right. With Trumbo and Pujols here, he's in his element on the lovely field bracketed by the Buttes.
"I'm where I want to be," he said. "And I'm where God wants me to be."
If he holds a grudge over the incentive-heavy offer or any perceived feet dragging, he doesn't say so. He won't suggest he blames the Rangers' reaction to a year that started perfectly and ended ingloriously. "My production slowed down as far as getting hits," Hamilton said in an understatement.
If he blames all-time iron man/all-time great Ryan for not getting it when he tied trying to quit chewing tobacco to Hamilton's slump, he doesn't say it. "He was looking at the bigger picture," Hamilton said.
Some may wonder if Hamilton saw the big picture when he left the place where he rebuilt his career. But for now, he seems serene and happy in his new larger-market environs. Everything appears wonderful here, but as Hamilton has to know by now, there are few guarantees in life -- beyond his new contract, that is.