Angels have the look of a strong postseason team
Sure, lots of things could go wrong, but the Angels look to have a great offense along with a good rotation, good back-end of the bullpen and postseason pedigree come October.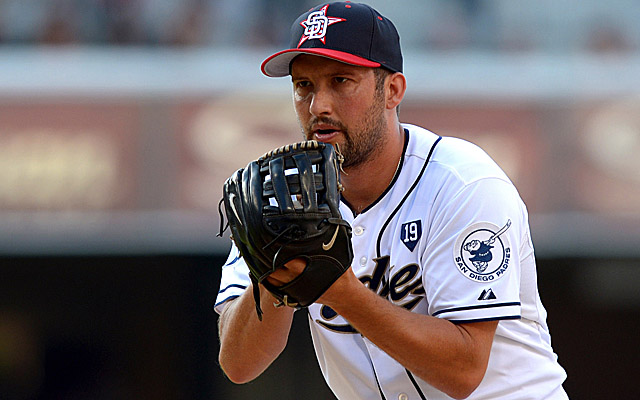 RELATED: Street traded to Angels
After a disappointing 2012 season and a woefully disappointing 2013 season, the Angels entered the post-All-Star break portion of the 2014 season with the second-best record in all of baseball. Sure, they were trailing a fellow AL West ballclub for that top billing, but suffice it to say, things were going pretty well in Anaheim this time around.
With the addition of Huston Street, the Angels are now set up for things to be even better this coming October. The Street deal alone certainly doesn't guarantee anything -- they could easily miss the playoffs or lose in the wild-card game, for example -- but they have a roster that has the look of an October contender.
Here's how.
Rotation
The Angels won't be mistaken for the Nationals, Tigers or Dodgers any time soon when looking at the entire 1-5 rotation, but let's speak strictly about playoff rotation. Each team only needs to count on three starters for a decent-to-big workload and maybe a fourth for a spot start or two. An ace would help matters, too.
The Angels have Garrett Richards (11-2, 2.55) sitting at the top right now. We can argue how one defines an ace, but we can agree that Richards is definitely not a bad option at the top when considering the Angels have one of baseball's best offenses. He works fine. Behind him? Jered Weaver and C.J. Wilson are better than adequate when viewed as a postseason two and three.
Maybe Tyler Skaggs or Matt Shoemaker inspire more confidence as a number four, come October, but it's not a stretch to say that Richards, Weaver and Wilson is a quality top three for the playoffs. If the Angels square off with, say, the Orioles, this would be a distinct advantage. And, honestly, I'm not sure the A's would definitely be better with Sonny Gray, Scott Kazmir and Jeff Samardzija. Maybe marginally, but it's not a blowout -- especially given Gray's workload concerns.
Power/Getting on base
What can turn a postseason series on its head, especially early in the series? A well-timed, late-inning home run -- especially if there are multiple players on base (ahem, David Ortiz last fall). 
Not only do the Angels have two guys already at the 20-homer mark in Mike Trout and Albert Pujols, but Josh Hamilton is plenty capable of boosting his power and Kole Calhoun has 10 homers in just 60 games this year. C.J. Cron has nine homers in 53 games, too. Overall, the team entered Friday fourth in the AL in homers and second in slugging percentage.
Also, the Angels came into Friday leading the AL in on-base percentage. If they need a three-run homer, there are few clubs better suited to being in that position late in the game.
Back-end of bullpen
To go back to the 2013 postseason well with an example, how good were the Cardinals at bringing in seemingly a half-dozen pitchers off the assembly line in the late innings last October? The Angels, of course, won't be confused for the Cardinals, but they're in far better shape than they were back in April.
The Angels have blown 12 saves in 2014, but things are a bit more solidified now. Street could well be a lock-down closer for them. He has been elite the past two years for San Diego. Joe Smith has been excellent for most of the season. Kevin Jepsen and Mike Morin have been very solid in their own right. And what if Jason Grilli (1.29 ERA since being traded to Anaheim) gets even close to his dominance last season with the Pirates?
It's not too difficult to see the Angels having a very reliable late-inning bullpen in October.
Clutchness/postseason pedigree
Though I'm not a huge fan of this, it's worth mentioning that Albert Pujols, Josh Hamilton and David Freese aren't exactly strangers to big postseason hits. Jered Weaver has a 2.61 ERA in six postseason appearances. C.J. Wilson doesn't have a great overall postseason track record, but he has a 2.95 ERA in 18 1/3 World Series innings.
Also, I have no doubt that many will claim Trout hasn't proven himself in the postseason, but I have no doubt he'll be just fine. Great players like him at such a young age have an incredible track record. Doubt him at your peril.
Finally, I'd again say I'm not a huge fan of bringing this into the argument, but manager Mike Scioscia has tons of postseason experience and plenty of success.
What's great about the MLB postseason is that it's unpredictable. The teams that have all the above ingredients sometimes fail, while some upstart team might well cruise past the teams with the best ingredients. It happens. And there are probably some teams better set up for October than these Angels.
But one thing is certain, now that the Angels have dealt with their bullpen sufficiently: they should be a major player in October.
MLB can unilaterally implement rule changes

If the MLBPA wants to fix MLB's economic system, it should push for more money for young p...

Fans aren't happy Gerrit Cole and Andrew McCutchen have been traded away
Acuna is arguably the best prospect in baseball

Kent had a good career, particularly with the bat

This would undoubtedly be the worst trade in Miami Marlins history