Angels headed for title, or Moreno's Most Spectacular Failure Yet
Despite a 9-5 clunker to Oakland in their home opener, if these Angels are not playing in the World Series it will be owner Arte Moreno's Most Spectacular Failure Yet. ...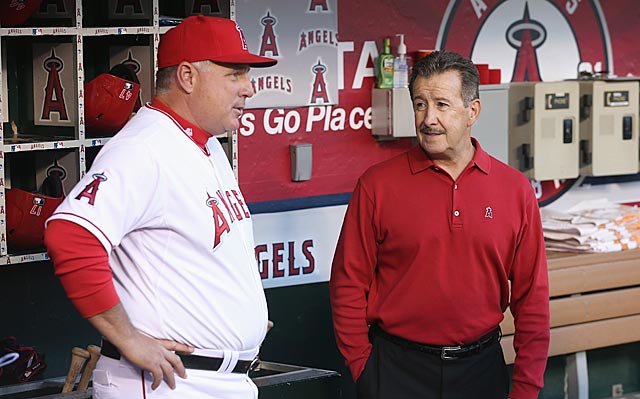 ANAHEIM, Calif. -- They raised the curtain at home Tuesday night, and there was gold.
They cracked the seal on Angel Stadium for 2013, and there was brawn.
They turned on the lights, and from here until October all you can see is power and thunder and championships.
Losing ace Jered Weaver for the next month should be but a mere inconvenience.
With Josh Hamilton, Albert Pujols, Mike Trout and an opening day payroll of $153.5 million, these next 155 games should serve only as a series of small speed bumps as the Angels steamroll into October.
If this team is not playing in the World Series, it will be owner Arte Moreno's Most Spectacular Failure Yet.
If these Angels do not roll to the American League pennant, general manager Jerry Dipoto might find himself parking cars nightly by the light of the Big A.
And manager Mike Scioscia might find himself fulfilling the remaining five years on his contract (through 2018!) working in the ticket office.
The enormous payroll, the ginormous collection of talent inside the clubhouse … this is an organization bursting at the seams with an embarrassment of riches. It should be popping champagne corks in late October … or it will collapse under its own weight.
There is no in-between.
Hamilton is past the weekend booing in Texas. Pujols is past the offseason surgery that cleaned out his right knee. Speedster Peter Bourjos is past an apprenticeship that badly stunted his growth last summer when he was limited to just nine – count 'em – plate appearances after Aug. 7.
The Angels can only hope his game and, especially, his psyche is not irreparably damaged as a result.
In Weaver's absence, the Angels have a capable stand-in in Garrett Richards, the club's 2009 first-round draft pick. Richards even has Weaver's hair, just more curly.
"When you can pick a guy like Garrett Richards and put him in the rotation, that's a significant amount of talent you're putting into your rotation," Dipoto said.
Yes, it is.
Besides, they're already paying C.J. Wilson like an ace at $77.5 million.
He's long overdue to pitch like one.
"If he can start to get untracked like he did in the first half of last year, that's important to us," Scioscia said. "Whether we have Jered or don't have Jered."
Wilson's first half in 2012: 9-5 with a 2.43 ERA and a 1.159 WHIP.
His second half: 4-5, 5.54, 1.571.
Even given that, the Angels elected over the winter to dump most of their money -- $125 million -- into Hamilton's wheelbarrow instead of pursuing Zack Greinke.
So clearly, having added Jason Vargas, Tommy Hanson and Joe Blanton to the rotation, they think they've got plenty of pitching.
Fact is, with this lineup, the Angels should still bludgeon everything in their path even if their rotation is five Kardashian sisters.
Are you kidding? They've got brawn in Hamilton, Pujols and Mark Trumbo. Speed in Trout, Bourgos and Erick Aybar.  Versatility with Howie Kendrick and Alberto Callaspo.
No excuses this year. Especially not after collapsing into a third-place heap last year.
Yeah, yeah, they were ugly in Tuesday's 9-5 loss to the Athletics.
The Evil Second-Half C.J. showed up, surrendering four runs by the second inning.
"Still, we had a lead," Scioscia said.
See? Unleash the firepower.
The Bad Early Bullpen from 2012 arrived after the Angels had taken that 5-4 lead, and Scott Downs and Kevin Jepsen gave up five more runs to seal the loss.
"We had a lot of opportunities with runners in scoring position, but we didn't get it done tonight," Scioscia said.
There will be other nights. Many nights.
These guys should roll out of bed and have nine runs before their feet hit the floor in 90 percent of their games.
And they should win. Often.
Should.
Even, initially, without Weaver.
"They seem to have some resources to be able to withstand that," Athletics manager Bob Melvin said. "Especially on the offensive end."
No kidding. Given that the Angels waved off Greinke and deployed their resources elsewhere, surely there are more than enough resources to keep it together without him.
"You're always going to have to scramble the jets in situations like this when you lose a player like Jered," Dipoto said.
Even scrambled, these guys come at you with trumpets blaring and trophy case waiting.
"This is all hands on deck," Dipoto said. "We're trying to win a championship here."
Anything less, call it what it will be:
A colossal, abject failure.
Boston wants to add two big bats to their lineup, not just one

Even more relievers signed on the final day of the Winter Meetings

Keep tabs on the top 50 free agents right here
The league is not happy Ohtani's medical information leaked

Kansas City and Baltimore were quite busy at the Rule 5 Draft

Piscotty's mother was diagnosed with ALS earlier this year