Angels players say they would welcome a deal for Greinke
The Angels say they still aren't sure how much they want to trade for a starting pitcher, but Angels players say they'd welcome a deal for Zack Greinke, if he becomes available. The Angels are hopeful that Dan Haren can make a strong comeback from the disabled list and that Ervin Santana can bounce back from a bad month, but they've already shown interest in Greinke.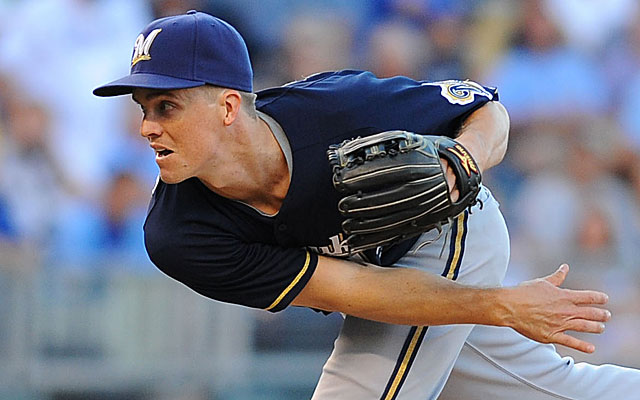 With a shortage of pitchers, the Angels have expressed interest in the Brewers' Zack Greinke.
(US Presswire)
NEW YORK -- Until they see whether Dan Haren can overcome his back trouble and whether Ervin Santana can overcome his command issues, the Angels don't know how badly they need to add a starting pitcher.

Already, though, Angels players know what they'd think about adding Zack Greinke.

They love the idea.

"Obviously, we think we're pretty good," Jered Weaver said Friday. "But I think we could always use a guy like Greinke."

Weaver said he's not getting his hopes up, and that's reasonable. It's still no sure thing that Greinke will even be available in a trade, since the Brewers want to see how they can do in the first nine games after the All-Star break, and also want to take one more stab at signing Greinke.

But as CBSSports.com reported this week, the Angels have already expressed interest in the Brewers right-hander. Angels general manager Jerry Dipoto wouldn't discuss that interest, but he certainly didn't deny it, either.

Dipoto suggested that he doesn't expect to make a major addition this month, but that was based at least in part on believing that Haren can come back healthy. Dipoto also said that he has no problem with the idea of a rental player, and said that adding a significant contract wouldn't be a problem.

"We've never been at a shortage for resources since I've taken the job," Dipoto said.

He also admitted that he takes notice of everything that the division rival Rangers do. The Rangers also have some interest in Greinke, although it's believed that they would be even more interested in Phillies left-hander Cole Hamels.

"The Rangers are go-getters about now," Angels right fielder Torii Hunter said.

Hunter said Greinke would be "a nice addition," but he stopped short of asking the Angels front office to make a deal.

"They don't have to," he said. "If Haren comes back healthy, if Santana figures it out, we might be all right. It's not a necessity."

The Angels entered the second half with baseball's best record over the last 66 games (since they called up Mike Trout from Triple-A). But their rotation has struggled over the last month, with a 4.70 ERA entering play Friday.

In fact, in the last 27 games not started by ace Jered Weaver, the Angels rotation had a 5.47 ERA.

Weaver and C.J. Wilson, both named to the American League All-Star team, give them a formidable 1-2. Haren would fit in, but an 8.67 ERA over his last five starts convinced him to admit to the back trouble that forced him onto the disabled list.

Haren felt good in a Thursday bullpen session, and manager Mike Scioscia said that if another bullpen session Saturday goes well, Haren could be ready for a minor-league rehab start.

Santana's 7.83 ERA over his last eight starts could be a bigger concern, because both pitcher and team insist nothing is wrong physically.

"Just a little command issue," Santana said Friday.

If Haren gets healthy and Santana gets fixed, the Angels' need for pitching will be less urgent. That doesn't necessarily mean they'd turn down a chance for Greinke, who could be a significant upgrade, but it may mean that they don't broaden the search if Greinke doesn't become available to them.

"We need these guys to be productive," Scioscia said. "But the answers are probably in-house."
Jonathan Singleton was suspended after a third positive test for a drug of abuse

Rodriguez will join Jessica Mendoza and Matt Vasgersian on the "Sunday Night Baseball" boo...

Jeff Wilpon talked about payroll on Tuesday, and it won't make any Mets fan happy
Yelich's agent recently asked the Marlins to trade him before the spring

I've only been in the BBWAA three years, but here's what my ballot would've looked like this...

In the last two votes, Clemens has gained nearly 17 percent in Hall of Fame voting