Angels retain manager Mike Scioscia, GM Jerry Dipoto
It was thought for most of the season either general manager Jerry Dipoto or manager Mike Scioscia would be fired. Instead, each man has kept his job.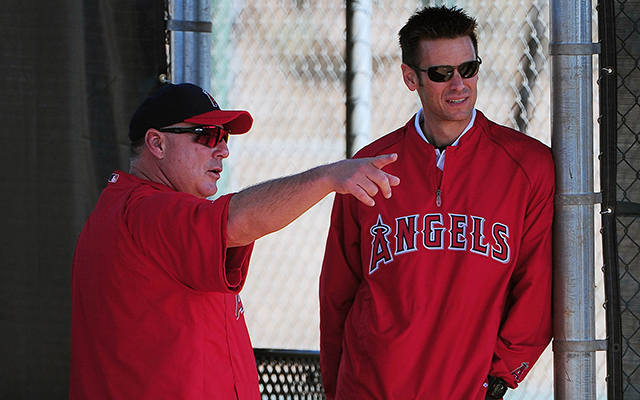 The Los Angeles Angels announced changes to their staff Tuesday night in a press release. They have decided to relieve bench coach Rob Picciolo and hitting coach Jim Eppard of their duties.
In the release, it mentions that the announcement was made by manager Mike Scioscia and general manager Jerry Dipoto, indicating the two power figures will remain in their respective posts heading into next season.
For much of the Angels disappointing 2012 season -- following their disappointing 2011 season -- it's been thought that either Dipoto or Scioscia would be the scapegoat for owner Arte Moreno. Maybe even both.
In each of the past two offseasons, the Angels have made a gigantic, nine-figure signing -- Albert Pujols prior to the 2012 season and Josh Hamilton prior to this season. They also have the most dynamic young player in baseball in Mike Trout and a bona fide, highly-paid ace in Jered Weaver -- not to mention highly-paid No. 2 starter C.J. Wilson.
And yet, the Angels missed the playoffs in 2012 and finished below .500 this season.
There's also been reported tension between Dipoto and Scioscia at times, so Moreno keeping both is a bit of a surprise.
The Twins have already fortified the bullpen with Addison Reed, and now they want to address...

The Orioles likely want pitching, and the Indians have plenty of it

Halladay died in a November plane crash off the coast of Florida
The power-hitting outfielder is headed to Toronto

Martinez could add some power to a Boston lineup void of it

It's almost that time of the year again, time for the Tebow madness to return