Angels sign Josh Hamilton: Overreaction, or sound strategy?
This is nuts. Crazy. Eye-popping, intriguing, grist for wild daydreams of summertime -- but absolutely and positively insane. The Los Angeles Angels of Holy Overreaction, Batman, let Zack Greinke take a walk -- and grab Josh Hamilton instead? ...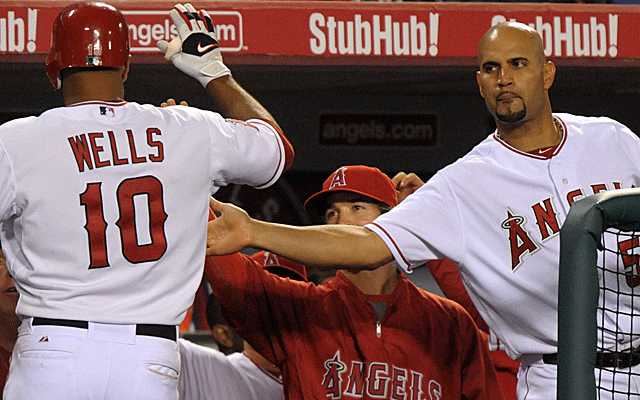 The Angels are now paying almost $70M to Josh Hamilton, Albert Pujols and Vernon Wells.
(US Presswire)
This is nuts. Crazy. Eye-popping, intriguing, grist for wild daydreams of summertime … but absolutely and positively insane.
The Los Angeles Angels of Holy Overreaction, Batman, let Zack Greinke take a walk … and grab Josh Hamilton instead?
The Los Angeles Angels of We Collect Sluggers by the Barrel now will be committing close to $70 million in each of the next two seasons to three players: Hamilton, Albert Pujols and Vernon Wells?
These guys finished third in the AL West last summer and missed the playoffs because they didn't have enough pitching. Josh Hamilton doesn't pitch.
Specifically, they didn't have a strong enough bullpen: The Angels tied with Boston for the most blown saves in the American League at 22. Josh Hamilton doesn't close (Ryan Madson does, and that's another story).
Cut that blown saves total even in half, and the Angels would have cruised into the playoffs and, who knows, maybe even won a World Series.
Everyone had them zeroed in on Greinke this winter, yet Greinke said the other day that he pretty much had zero serious contract discussion with the Angels since late October.
So now out of Arte Moreno's clear blue -- yes, the place from which he's launched so many similar moves (Vladimir Guerrero, Pujols, C.J. Wilson) -- comes this.
In one swing of the bat, the Angels wound the AL West rival Rangers -- who already were badly in need of a cut man this winter -- and add another MVP-caliber player to the heart of their order.
Clearly, Peter Bourjos or Mark Trumbo -- possibly both -- now must go.
For that reason alone, it's impossible to evaluate the Hamilton signing as a stand-alone deal. You still can't look at these Angels as a finished product for 2013.
If they move to improve their pitching, it's great.
If not … it's not.
Even though they're not commenting publicly on Hamilton and his five-year, $125 million deal until he passes his physical examination, these Angels clearly are thrilled with where they are. And that includes on the mound.
They lost Dan Haren and Ervin Santana to free agency but signed Joe Blanton and acquired Tommy Hanson from the Braves.
The key part of GM Jerry Dipoto's jigsaw puzzle construction as it relates to Angels pitching is this:
Combined, Haren and Santana last season went 21-26 with a 4.75 ERA in 354 2/3 innings pitched.
Blanton (pitching for the Phillies and Dodgers) and Hanson (Braves) went 23-23 with a 4.60 ERA in 365 2/3 innings.
Given that, the Angels are not viewing the losses of Haren and Santana as a particularly serious blow.
True, the Haren-Santana numbers are eerily similar to Blanton-Hanson. But one significant difference is the exchange rate that Blanton and Hanson will pay pitching in the AL, which likely will worsen their numbers.
For this Hamilton signing to work its magic, the Angels still need more pitching depth. Wilson was not exactly Mr. Consistent last summer.
That's where Bourjos and/or Trumbo come in. Best thing for the Angels would have been, had they closed the Hamilton deal before the Rays traded James Shields to the Royals, then moved in that direction. Big Game James lining up behind Jered Weaver would have been a killer. Now, it will have to be someone else.
Had the Angels simply re-signed Torii Hunter to a shorter term deal (than Hamilton) and gone all-in on Greinke, they probably could have retained more flexibility than they have now and had a better rotation. Weaver-Greinke-Wilson is far superior to Weaver-Wilson-Hanson as a front three.
But that's the other thing to know with Moreno: Not only is he passionate, he is extremely emotional. People who know him say he has been agitated at being overshadowed by the Dodgers, who pretty much have hogged the Los Angeles spotlight since the deep-pocketed Guggenheim group purchased them last May.
When Moreno makes a decision, however impetuous it might be, he moves in swiftly and demands an answer immediately. No doubt, that's why Hamilton did not circle back to the Rangers and give them a final chance to match, as Texas people say he promised he would.
Hamilton is a game-changer but also a gamble. He's 31, but his body seems much older given his history of substance abuse and injuries. He has played in as many as 135 games only once since 2008. He fell into a two-month slump last summer after an historic May.
As he himself said during a trip through Anaheim in September, he seems to play only four out of six months each season … yet his numbers in the end are elite, anyway.
Furthermore, he's leaving Texas' hitter-friendly ballpark for one that ate Pujols whole last April and May. And it wasn't so friendly to Hamilton, either: In seven games in Anaheim last season, he hit .143/.226/.179 with no homers and no RBI.
Pujols, 33, right now stands as the oldest player in the Angels' projected '13 lineup. Mike Trout will be around for all of April this time. You would think that, a year later, Pujols won't do a six-week slow crawl from the starting line.
As for those bullpen issues, they signed Madson earlier this winter -- though he is coming off of Tommy John surgery last April and might not be ready on opening day. They also signed free-agent Sean Burnett this winter. Ernesto Frieri, acquired in a trade with the Padres last May, will be here this April, too.
What the Hamilton signing does is guarantee the Angels the same thing that Pujols did last year: Absolutely nothing (as it turned out).
They remain dangerous. But will the durability questions dogging Hamilton recede? This deal has all the trappings of an extreme overreaction. It will be up to the Angels' still-questionable pitching staff to prove it's not.