Angels still have big pitching problems after using top trade chip
The Angels sent Peter Bourjos to the Cardinals for David Freese on Friday, meaning they used their top trade chip to address something other than their biggest need.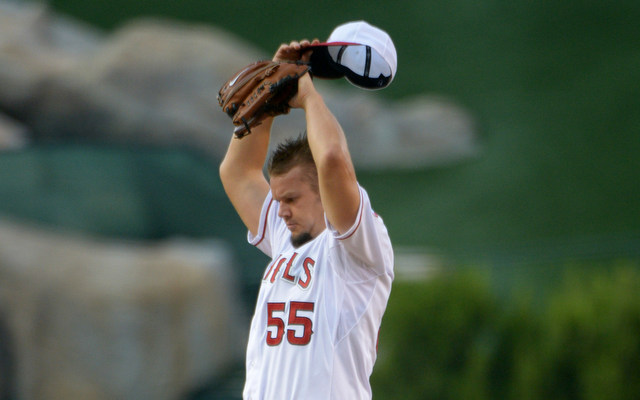 MORE: Angels, Cardinals swap Bourjos, Freese | Trade improves Cards' defense at two spots
Third base has been something of a problem for the Angels in recent years as Alberto Callaspo was both serviceable and eminently replaceable. On Friday, they addressed that need by acquiring former World Series MVP David Freese from the Cardinals. He should be a nice upgrade despite his down 2013 season.
By landing Freese, GM Jerry Dipoto used his best trade chip to do something other than address his biggest need, meaning his pitching staff. Gold Glove center fielder Peter Bourjos is now in St. Louis while the likes of Joe Blanton and Jerome Williams continue to occupy rotation spots in Anaheim. Freese is a solid player and will help the team, but third base was further down in the priority list.
Normally, this wouldn't be much of an issue. You have to give something to get something and Bourjos for Freese is reasonably fair value. The problem is that the Angels have very limited resources this winter. John Manuel of Baseball America notes they have the worst farm system in baseball -- one of their better prospects, outfielder Randal Grichuk, went to the Cardinals in the trade -- while MLB.com's Alden Gonzalez estimated their available payroll at $14 million before the Freese addition. Now it's closer to $10 million.
Ten million bucks won't buy very much in the current market. The Angels can free up quite a bit of cash in a number of ways, however, specifically by trading second baseman Howie Kendrick ($9.35 million in 2014) or first baseman Mark Trumbo (projected $4.7 million). Both Williams and Tommy Hanson come with projected $3.9 million salaries and are prime non-tender candidates. Cutting ties with those two alone frees up $7.8 million of payroll space. It's something but not much.
The Angels did talk to the Red Sox about Bourjos before sending him to the Cardinals, according to Brian MacPherson of the Providence Journal. Boston has pitching to spare and could have offered 26-year-old Felix Doubront, who had a 3.51 ERA in his final 16 starts this past season. He is under team control through 2017 and would have filled a big need for the Halos in addition to being more of a long-term asset than Freese. I'm just thinking out loud here; there's no indication Bourjos-for-Doubront was actually on the table at some point.
After two expensive winters and two disappointing seasons, the Halos are in a bit of a roster bind right now. They don't have much money to spend and their farm system offers little to no help. Bourjos was their best trade chip and while he was used to fill a need, he might have been better used to fill a different, more pressing need. Either way, Dipoto has a lot of work ahead of him this winter and not a whole lot to work with.
Bruce Maxwell of the A's has been kneeling during the national anthem

Iowa and Missouri are two programs mixing technology and analytics

Sunday's MLB roundup features the D-Backs clinching a postseason spot and the Mariners going...
The 2017 season has been, by far, the worst season of Cabrera's career

The Mariners were eliminated from postseason contention with Sunday's loss

Maxwell became the first MLB player to kneel during the national anthem Saturday