Angels trade Kendrys Morales to Mariners for Jason Vargas
Two AL West clubs have agreed to a trade. The Seattle Mariners will acquire first baseman/designated hitter Kendrys Morales. In return, the Los Angeles Angels will receive starting pitcher Jason Vargas.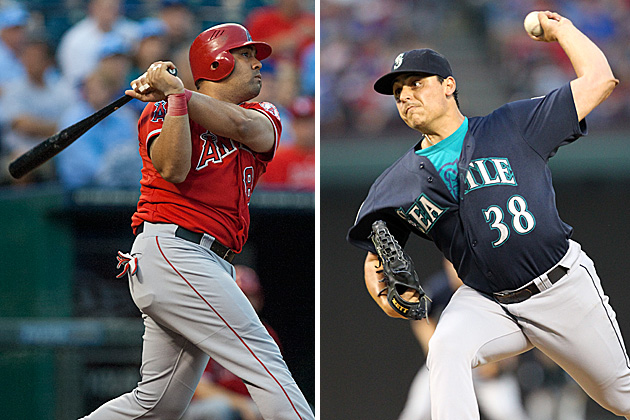 Morales and Vargas have been swapped. (Getty Images)
Two AL West clubs have agreed to a trade. The Seattle Mariners acquired first baseman/designated hitter Kendrys Morales from the Los Angeles Angels for starting pitcher Jason Vargas. The Mariners announced the move as official Wednesday afternoon.
More on Angels
Analysis

Scott Miller
There always was going to be another move after Josh Hamilton. Had to be.
Read More >>
Related links
Morales, 29, hit .273/.320/.467 with 22 homers, 73 RBI and 61 runs in 522 plate appearances last season. It was his first MLB game action since he sustained a broken leg in May of 2010. In 2009, Morales finished fifth in AL MVP voting after hitting .306/.355/.569 with 34 homers and 108 RBI. So he's clearly capable of big numbers.
"We have been focused on adding offense this offseason, and feel that Kendrys will be a middle-of-the-order bat for us. He's a switch-hitter with power who has played, and hit, in the AL West," Mariners general manager Jack Zduriencik said in a statement. "He's familiar with the teams and parks and is a proven run-producer. We hate to part with Jason, and really appreciate everything he's done for us, but we are in a situation where we had to give up talent to acquire talent."
Vargas, a 29-year-old left-hander, was 14-11 with a 3.85 ERA, 1.18 WHIP and 141 strikeouts in 217 1/3 innings pitched last season. He's actually a decently useful pitcher, though the Mariners could afford to spare him in adding offensive help.
With Vargas out of the picture, the Mariners still line up like so: Felix Hernandez, Hisashi Iwakuma, Erasmo Ramirez, Blake Beavan and Hector Noesi. Also note that pitching prospects Danny Hultzen, James Paxton and Taijuan Walker are highly-touted and will be added to the mix at some point.
Offensively, the Mariners appear to have replaced Justin Smoak. It is unlikely they'll plan on using Jesus Montero behind the plate every day, so he'll need to be the DH while John Jaso serves as the primary catcher. That leaves Morales to play first base and Smoak without a spot in the order.
Over in Anaheim, the Angels recently signed Josh Hamilton, creating a bit of a logjam. With Morales cleared, the Angels can play Hamilton, Mike Trout and Peter Bourjos in the outfield while using Mark Trumbo as the primary DH. Vernon Wells and his albatross contract continue to linger, at least for now.
Meantime, Vargas appears to round out the Angels' five-man rotation, along with Jered Weaver, C.J. Wilson, Tommy Hanson and Joe Blanton.
Both Morales and Vargas are set to hit free agency after the 2013 season.
Overall, it appears both teams dealt from strength in order to fill a need for next season. A true win-win trade, at least as things currently stand.
For more baseball news, rumors and analysis, follow @EyeOnBaseball on Twitter, subscribe to the RSS feed and "like" us on Facebook.
The Mets didn't want to trade a young outfielder for an older one

Josh Harrison doesn't sound pleased Gerrit Cole and Andrew McCutchen have been traded away

The team's media contracts expire following the 2019 season
San Francisco could use more help in the outfield and at the back of the rotation

The White Sox, Athletics, Orioles and Marlins are the holdouts after the Blue Jays and Angels...

Molina's deal expires after the 2020 season